A wave of social enterprises are trying to get people to eat insects instead of meat
By Lee Mannion
LONDON, Dec 5 (Thomson Reuters Foundation) - After watching locals in Malawi snacking on flying termites, British charity worker Shami Radia opened a pop-up restaurant in London with a seven-course menu dedicated to insects.
With 400 satisfied customers in five days, Radia and his friend Neil Whippey took the plunge in 2014 and set up Eat Grub, a business selling insect-based foods to major online retailers and supermarkets, including Ocado, Amazon and Planet Organic.
"We are trying to make people think about what they are doing," 35-year-old Whippey, a former television sound mixer, told the Thomson Reuters Foundation.
"If a family of four were to eat one meal with insects per week for a year, it would save 500,000 litres of water," he said, referring to the vast amounts of water needed to produce beef in an increasingly water-stressed world.
Eat Grub is among a wave of social enterprises, with an eye on a global looming protein shortage and climate change, that are tempting people to eat insects instead of meat.
The edible bug business is booming, with a global market of $33 million in 2015, according to the research firm Global Market Insights, which expects it to grow 40 percent by 2023.
"There's a certain age group now that really consider sustainability as a factor in their choices," Whippey said.
"There are many people who keep fit and are concerned about looking after the planet."
Methane from cows contributes to greenhouse gas emissions while clearance of land for cattle pasture also drives destruction of the Amazon, often described as the lungs of the planet.
Other industry leaders include Aspire Food Group, founded by five MBA students at Canada's McGill University who teamed up in 2013 to win the $1 million Hult Prize, the world's largest student competition for social good.
"We believe that insects are the protein of the future," its website says, describing the company as a global leader in the "edible insect movement".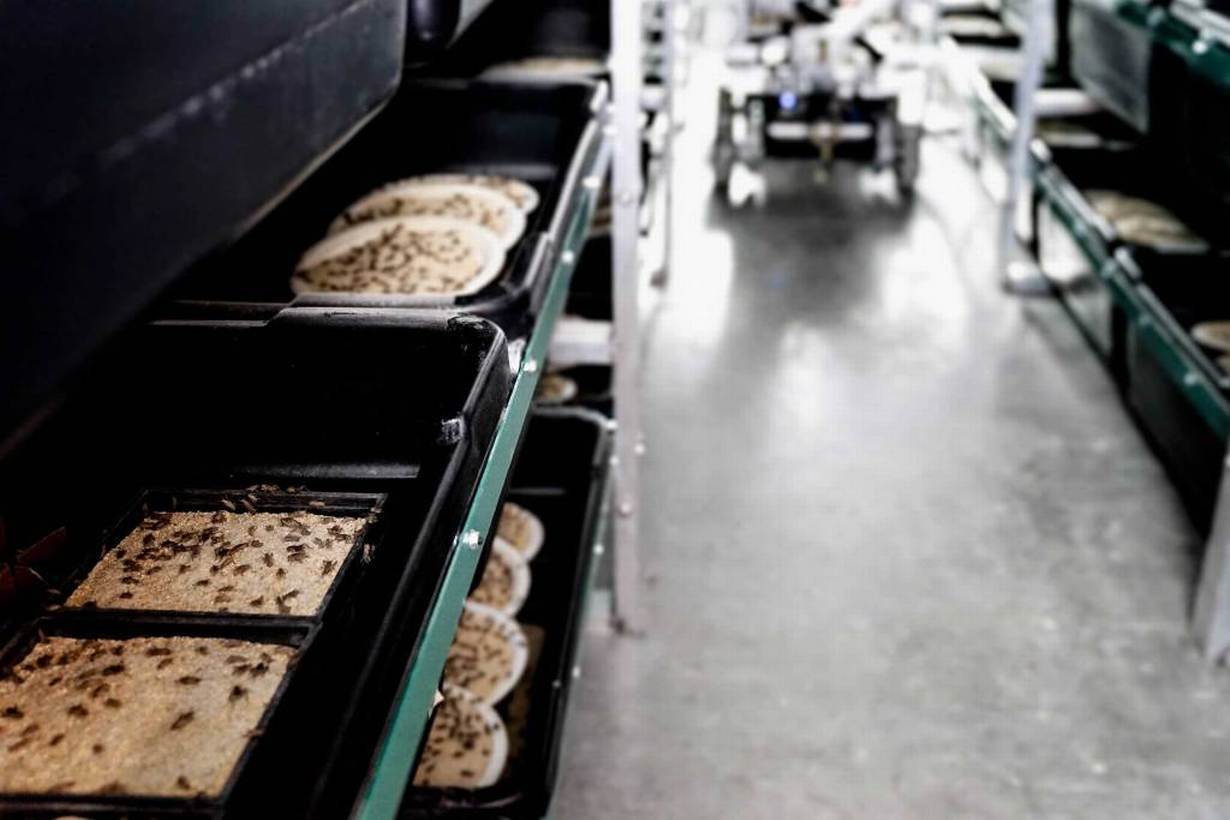 Aspire is doubling production on its Texas farm after toasted grasshoppers sold out in April among fans watching Seattle Mariners baseball games, its business development manager, Vincent Vitale, said.
Across the globe, another social enterprise, Cricket One, is boosting the earnings of impoverished Vietnamese farmers by paying them to grow crickets in shipping containers to meet rising local demand for edible insects.
The U.N. Food and Agricultural Organization (FAO) says eating insects could help keep global malnutrition at bay, as the world's population swells to 9 billion by 2050.
People have been eating insects for centuries, and up to 80 percent of the world outside Europe and North America still rely on insects for some part of their diet, it says.
"Insects are one important solution as they offer a rich source of protein, amino acids, fatty acids and micronutrients," said Giulia Muir, an FAO expert on edible insects.
Eat Grub's most popular retail products are energy bars made with ground up crickets, sold by Ocado - Britain's first national grocer to stock an insect-based food product.
It also sells cricket flour for pasta and protein drinks and whole crickets, grasshoppers and mealworms, which come with suggested recipes.
The company plans to launch a range of piri piri, smokey barbecue and sweet chilli flavoured crickets - a nod to the inspirational Malawians who were "knocking them back with beer, after having fried them with chilli and lime", Whippey said.
"What we can do is change the mindsets of people around food," he said. "It can be something that tastes great, is great for us but is also great for the planet at the same time."
(Reporting by Lee Mannion; Editing by Katy Migiro. Please credit the Thomson Reuters Foundation, the charitable arm of Thomson Reuters, that covers humanitarian news, women's rights, trafficking, property rights and climate change. Visit http://news.trust.org to see more stories.)
Our Standards: The Thomson Reuters Trust Principles.