Village chief Steve Bob is determined to move his 200 residents to higher ground as sea levels threaten their homes
By Lin Taylor
SOUTH RIVER, Vanuatu, Dec 20 (Thomson Reuters Foundation) - Villagers in South River, a palm-fringed coastal community in the low-lying South Pacific island nation of Vanuatu, are used to battling cyclones, floods and tsunamis but are now facing a new threat - rising seas.
Worldwide, seas have risen 26 cm (10 inches) since the late 19th century, driven by melting ice and the expansion of water warmed by climate change, United Nations data shows, and scientists predict a rise of another metre or more by 2100.
With the risk that rising seas could eventually swamp South River on Erromango island, village chief Steve Bob is determined to move his 200 residents to higher ground but getting people to shift an hour's walk inland is proving to be an uphill battle.
Although the new land on offer is larger and at a site where their ancestors once lived, only one family has relocated since Bob proposed the idea a year ago.
"It's hard for me to convince everyone to move up. It's only when we're facing a flood or natural disaster that people are open to the idea," Bob said in Bislama through a translator to the Thomson Reuters Foundation.
"When there's nothing happening, everyone is less concerned about moving, and they don't worry about the potential danger that they can be in."
Vanuatu, one of the world's poorest nations, is a sprawling cluster of more than 80 islands and around 270,000 people, 2,000 km (1,250 miles) northeast of the Australian city of Brisbane.
Perched on the geologically active "Ring of Fire", it suffers frequent earthquakes and tsunamis and has several active volcanoes in addition to threats from storms and rising seas.
It is also one of the nations most at risk from rising sea levels which menace coastal cities and communities around the world, with low-lying islands having the most to lose as most - or all - of their land could disappear beneath the waves.
Higher sea levels also aggravate the impact of worsening storms such as Cyclone Pam. In 2015, the category 5 cyclone devastated Vanuatu, including South River where palm-leaf thatched huts, cattle and boats were swept away.

"IT WON'T BE THE SAME"
Having lived through cyclones and floods, villager Stephanie Nonokinas knows how deadly climate change-related disasters can be but the 23-year-old said young people did not want to move.
"It's sad and it will be hard for us to live up there because we grew up here, we were born and bred here. It won't be the same anymore," she said.
For Freddy Sei, 15, being able to swim in the river, canoe in the sea, and fish with his friends on a whim, are a few of the things he would miss if families move uphill.
Last year, 24 million people globally fled at least temporarily to another area of their country because of a storm, flood, wildfire or other natural disaster, according to the Internal Displacement Monitoring Centre (IDMC), part of aid agency Norwegian Refugee Council.
Natural disasters displaced three times as many people as conflicts in 2016, according to IDMC data, and migration experts warn displacement around the world as a result of unchecked climate change could eventually dwarf other migration flows.
A 2015 global climate pact promised to limit global warming to "well below" 2 degrees Celsius above pre-industrial times, with an ambition of limiting temperature rises even further to 1.5 degrees - a level seen as key to protect low-lying islands.
Currently, however, the world is on track toward a 3 degree rise in temperature - though the 2015 Paris climate deal includes a mechanism to boost action and try to bring that down.
Pacific islanders say they are clearly seeing the impacts of that warming already.
"Sea level rise is increasing, which causes a lot of changes along coastlines in the Pacific region. I'm concerned that more villages have to relocate," said Isaac Savua, head of operations in Vanuatu for aid agency CARE International.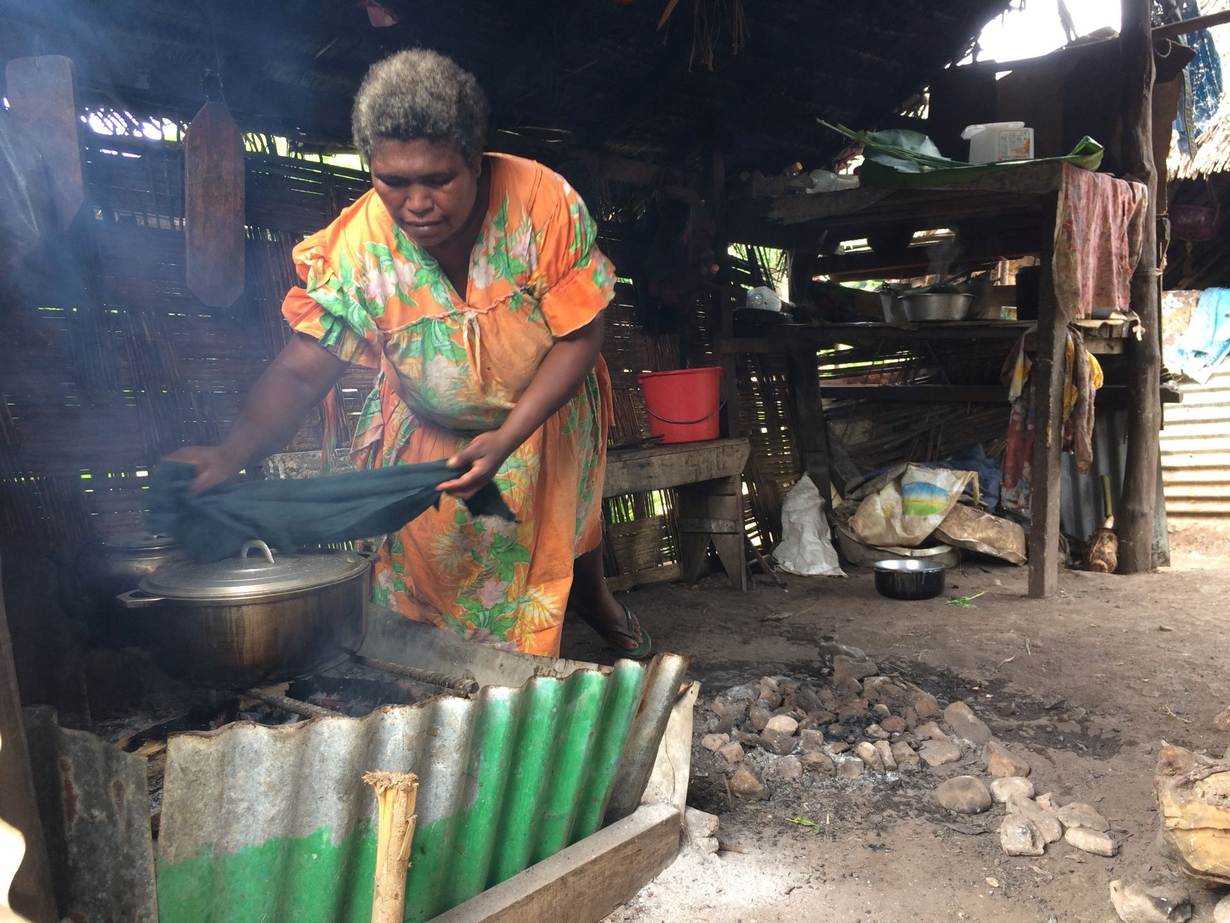 Seline Bob, the South River chief's wife, is worried too.
"Sometimes the sun is too strong, and sometimes it rains too much. I fear that there's going to be another cyclone, maybe the same category as Pam, or worse," she said.
But the lack of drinking water up the hill has kept her from embracing her husband's idea to relocate.
"Once the water is sorted out, I would fully agree to move up because this place is becoming a danger zone," she said, cradling a grandchild as a dog slept in the shade and chickens roamed by.
It may not be a popular decision but village chief Bob said remaining in a disaster-prone area is a risk he is no longer willing to take. He said he has started building new houses up the hill and is even planning for a church.
"We've all grown attached to this place. It's hard to move everything and go up to a new place and start a new home again," he said.
"But (last year's) flood nearly submerged the whole community, which is why I'm taking a stand that we should move to higher ground."
(Reporting by Lin Taylor @linnytayls, editing by Laurie Goering and Belinda Goldsmith; Please credit the Thomson Reuters Foundation, the charitable arm of Thomson Reuters that covers humanitarian issues, conflicts, land and property rights, modern slavery and human trafficking, gender equality, climate change and resilience. Visit http://news.trust.org to see more stories)
Our Standards: The Thomson Reuters Trust Principles.