Planting trees is "among the least painful ways" to meet the country's goal to slash carbon emissions, experts say
REYKJAVÍK, Dec 25 (Thomson Reuters Foundation) – An hour's hike across a vast expanse of dried lava leads to the top of Mount Bláhnjúkur, a nearly thousand-metre-high active volcano whose summit allows, on clear days, a sweeping view of a landscape dotted with vast glaciers and windswept moors.
A striking feature of this austere beauty in Iceland's southern highlands is that it features almost no trees. But that's not because the country is too cold for forests.
Archeological evidence indicates that over a quarter of the island's countryside was covered with trees until the 9th century, when Viking settlers arrived and began chopping them down for timber and to clear space for farmland and grazing.
Now the country's exotic, moonscape-like scenery is a lure for tourists. But the lack of trees has also caused problems – and now some Icelanders are committed to bringing them back.
Today, especially in southern Iceland, reforested sites are popping up with a variety of trees, from non-native spruce to native birch.
The efforts to reforest are overseen by the Icelandic Forest Service, a state-backed body that manages the National Forests. Thröstur Eysteinsson, the head of the agency, is in no doubt that replanting at least a small share of the nation's long-lost forests would do a lot of good.
"Over the past decades, the absence of vegetation to hold the soil caused farming and grazing to be nearly impossible in many parts of the country," he said. "This was further compounded by the nation's legendary strong winds, which contributed to severe soil erosion."
A larger share of land covered with trees could also play a role in helping the nation meet – with less economic pain – its aim to curb climate-changing emissions between 50 and 75 percent by 2050, as the government has pledged in its climate change strategy.
Iceland already gets about 85 percent of its energy supply from domestically produced renewable energy sources – mainly hydropower and thermal energy. That gives it the highest share of renewable energy in any national total energy budget, according to the Icelandic and Northern Energy Portal, an independent information source on energy issues in the Northern Atlantic and Arctic region.
But climate-changing emissions from industry and transportation are still high and need to be reduced. Trees, which capture carbon dioxide to grow, could help balance some of those continuing emissions.
"Afforestation is among the least painful ways of dealing with global warming" both in terms of its relatively low economic cost and the lack of need for people to change their behavior, Eysteinsson said.
"Changing behaviour is painful because it is so difficult. Someone who is used to driving their own car has a very hard time accepting that taking a crowded bus is better," he said.
Trying to cut emissions by instead reducing production and consumption, similarly, might hit the economy and "no politicians will accept solutions that reduce employment and GDP because then they will not get re-elected", Eysteinsson said.
Planting trees, by comparison, "only takes investment in terms of money and will pay for itself in time. Eventually, it will yield a profit. It is a win-win," he said.
Ironically, a warming climate might make reforestation easier in Iceland, allowing trees to grow at higher altitudes on mountainsides, he said.
But reforesting, even in a small country like Iceland, is a huge amount of work.
In recent years, Iceland has added as many as 3 million new trees annually, restoring about 123,000 acres of forests. But forests still cover only about 2 percent of Iceland's countryside, according to the Icelandic Forest Service.
"Our goal is to afforest 2.5 percent of Iceland by planting, and that natural regeneration will eventually reach 10 percent of Iceland's area. So we'll need to plant 200,000 more hectares," Eysteinsson said.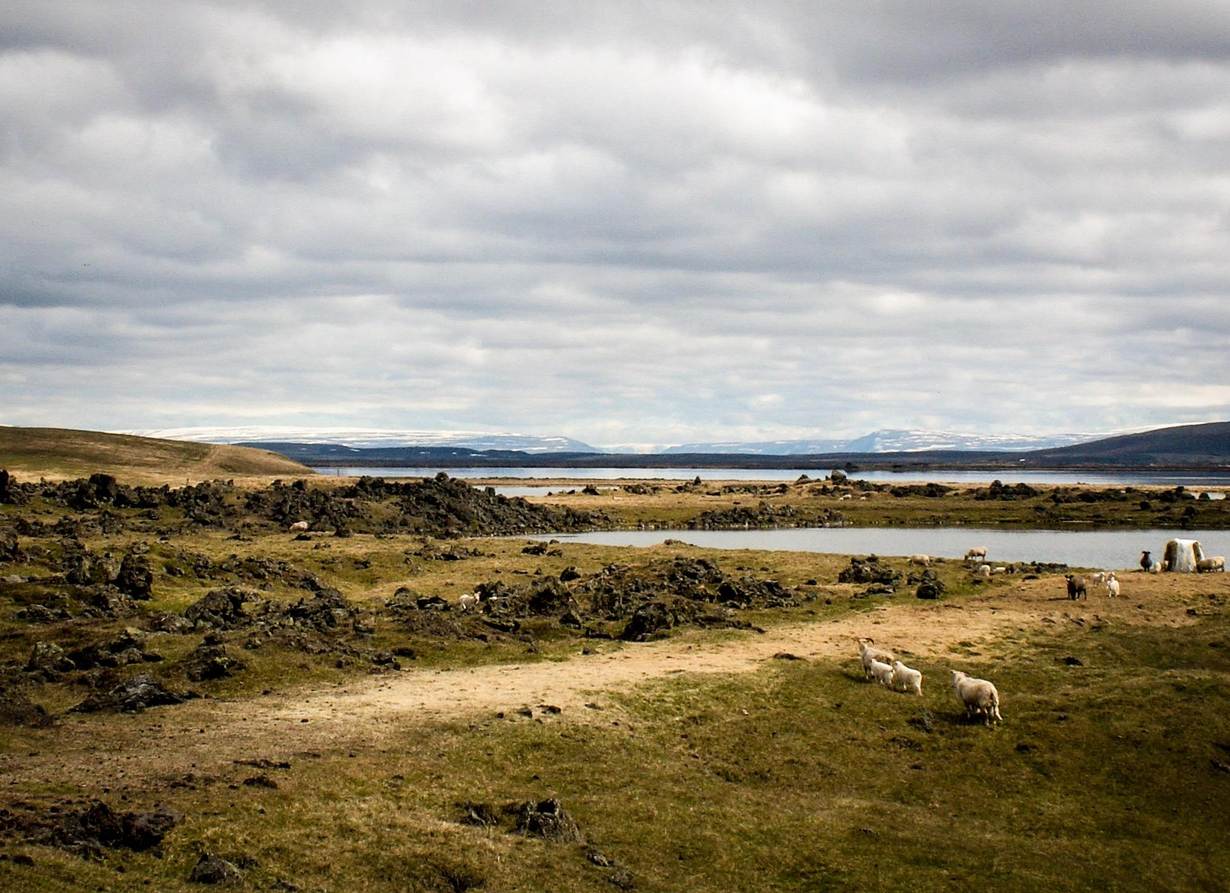 LITTLE CASH, PLENTIFUL SHEEP
Finding cash for the effort has been difficult. Support for reforestation efforts was cut after the catastrophic banking crash of 2008 and has not entirely come back, despite the economy having fully recovered, according to Eysteinsson.
Before the crisis, Iceland had funding to add as many as 6 million new trees annually, twice the current number, he said.
But "forestry has to compete with all the other worthwhile things that people want to use tax money for and will therefore continue to represent a very small part of the national budget," Eysteinsson predicted.
One problem in the country of 350,000 is that "we have a small population, which means fewer tax payers per acre than most countries", he said. To get 2.5 percent of Iceland replanted in forest – the country's goal – would take 200 years of planting work.
"Even if we triple planting, it will still take 70 years," Eysteinsson said.
And those aren't the only hurdles.
"Climate in Iceland is highly unpredictable, and conditions for forestry vary quite a bit between years, making for considerably slower growth rates (for trees) than other places on earth," said Ragnhildur Freysteinsdóttir, a project manager at the Icelandic Forestry Association, an umbrella organisation of more than 60 local forestry societies.
Iceland also has plentiful sheep, "whose appetite for saplings is legendary and can prevent the natural spreading of trees, which means that most areas that are to be forested have to be fenced in to start with. And it's expensive," he added.
Iceland's effort to replant relatively slow-growing trees is unlikely to have a significant impact on global climate emissions, said Christopher Martius, a team leader for climate change, energy and low-carbon development at Indonesia-based Center for International Forestry Research.
But "it would send a signal of solidarity with other countries and the international community and one of commitment to the goals of the Paris Agreement" on climate change, he said.
(Reporting by Marcello Rossi; editing by Laurie Goering :; Please credit the Thomson Reuters Foundation, the charitable arm of Thomson Reuters, that covers humanitarian news, climate change, resilience, women's rights, trafficking and property rights. Visit http://news.trust.org/climate)
Our Standards: The Thomson Reuters Trust Principles.