Locals say ruins contain thousands of civilian bodies
By Raya Jalabi
MOSUL, Iraq, Feb 5 (Reuters) - The Iraqis who have come home to Mosul's Old City knew it would be hard living in the rubble left by the battle against Islamic State, but there is one aspect of their surroundings they are finding unbearable seven months on.
"I don't want my children to have to walk past dead bodies in the street every day," said Abdelrazaq Abdullah, back with his wife and three children in the quarter where the militants made their last stand in July against Iraqi and U.S.-led coalition forces.
"We can live without electricity, but we need the government to clear the corpses – they're spreading disease and reminding us of the horrors we've just lived through."
The stench of death wafts from rubble-filled corners in the dystopian wasteland of what was once West Mosul, from rusting cars still rigged with explosives and from homes abandoned as those who could, fled the bloody end of the militants three-year rule.
The corpses lying in the open on many streets are mainly militants from the extremist Sunni group who retreated to the densely-packed buildings of the Old City, where only the most desperate 5,000 of a pre-war population of 200,000 have so far returned.
Local residents and officials in predominantly Sunni Mosul say there are also thousands of civilian bodies yet to be retrieved from the ruins, a view which has put them at odds with the Shi'ite-led government in Baghdad.
"There are no more civilian bodies to be picked up in Mosul," said Brig Gen Mohammad Mahmoud, the head of Mosul's Civil Defence, first responders who report to the Interior Ministry and are tasked with collecting them and issuing death certificates.
The Civil Defence says it had collected 2,585 civilian bodies by mid-January – many of them still unidentified - and has completed operations. It does not want to waste resources on the militants.
"Why should we have to give terrorists a proper burial?" Mahmoud said.
The standoff over the dead threatens to stoke the anger of a population already beaten down by a gruelling war and the militants' draconian rule in a place where Islamic State initially found some sympathy. The final civilian death toll is also a highly sensitive political issue in Iraq and beyond.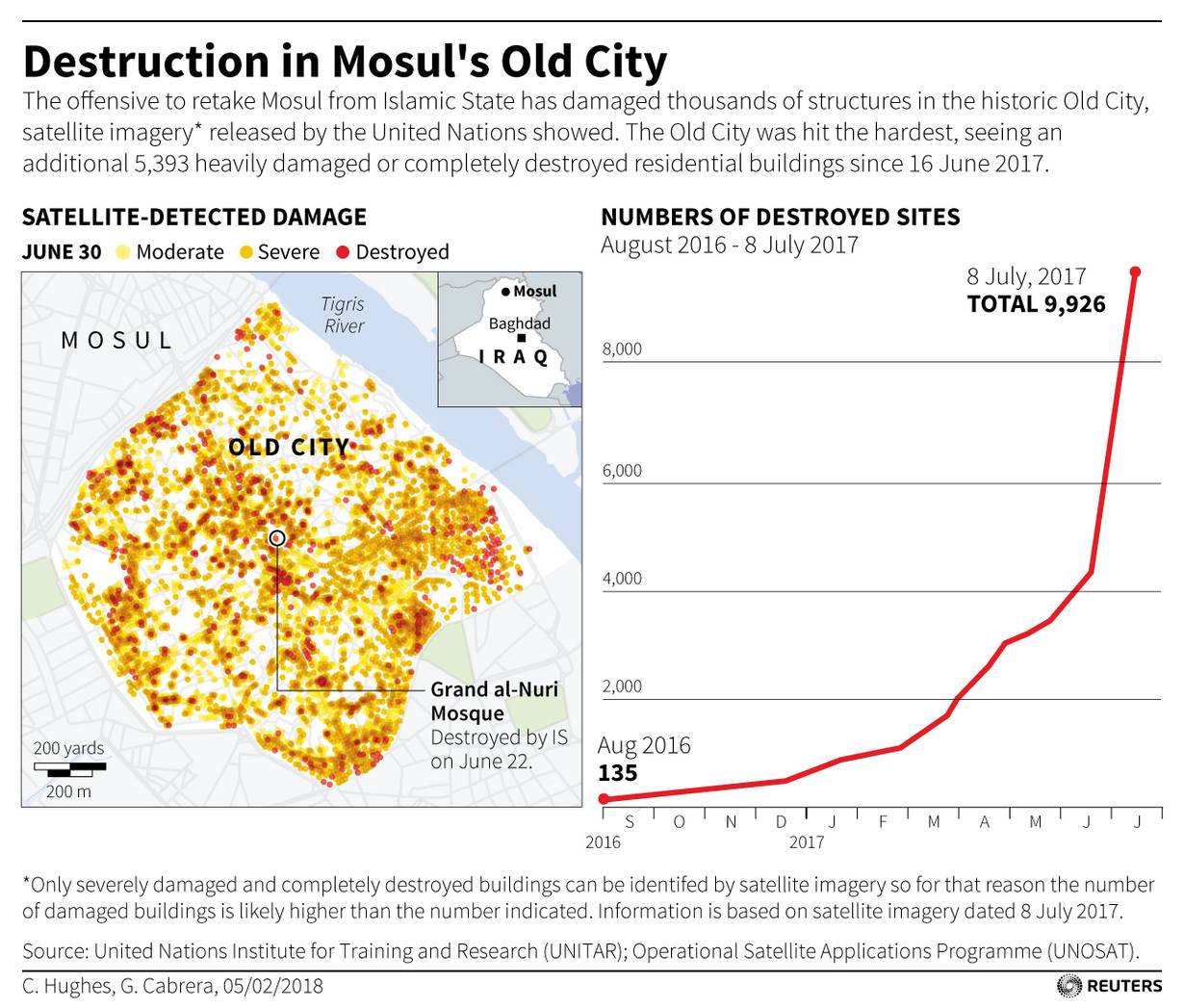 COMMON GRAVES
The municipal government has had to set up its own specialized team to field requests filed by city residents to find more than 9,000 missing people, most of them last seen in the Old City and assumed to be buried under the rubble.
The team is working through a backlog of 300 bodies, dispatching groups to collect them when it can. But these are just the ones where exact coordinates have been given by neighbours, family members or passers-by who saw the bodies.
"We don't know how many more are under the rubble," said Duraid Hazim Mohammed, the head of the municipal team. "If the family or a witness who saw the people die doesn't call us to tell us exactly how many bodies are at a site, we have no way of knowing if one, five or 100 bodies are buried there."
Locals say common graves were dug as the battle raged. In the courtyard of Um al-Tisaa mosque in the Old City, they say 100 of their neighbours were buried in groups of shallow graves.
"I buried between 50 and 60 people myself, by hand, as planes flew overhead and bombed the city," resident Mahmoud Karim said.
Several families have since come to excavate the bodies of their relatives, to bury them in proper cemeteries. "But others, we don't know where their families are," Karim said. Some are dead, while others are among the thousands lingering uneasily in refugee camps or paying high rents elsewhere in the city.
The municipal government in Mosul has not given an exact figure for civilian casualties, but its head, Abdelsattar al-Hibbu, told Reuters it coincided with estimates of 10,000 civilians killed during the battle, based on reports of missing people and information from officials about the dead. The toll includes victims of ground fighting and coalition bombing.
Asked for comment, a U.S. coalition spokesman directed Reuters to publicly available reports of incidents. A tally based on those reports showed that the U.S. military acknowledges 321 deaths based on "credible allegations" in dozens of reports of civilian casualties from coalition air strikes conducted near Mosul.
A further 100 reports of casualties from coalition air strikes near Mosul, each referring either to one or to multiple deaths, were still under investigation, the data showed.
FIGHTERS
While the most visible problem in Mosul is the corpses of fighters left in the streets, residents say they have also found bodies of suspected Islamic State family members in their homes.
The owner of a house in the Old City, who asked Reuters to withhold his name for fear of retaliation from officials, said he had asked the Civil Defence for weeks to come and remove two bodies from the main bedroom of his basement home.
They were badly decomposed but the clothing was clearly that of a woman and child.
"Civil Defence refused, because they say the woman and child are Daesh," he said using the Arabic acronym for Islamic State. "They said they're punishing me because they think I supported Daesh."
The municipality team has collected 348 bodies of militants so far, but there are many more still around. Residents regularly walk by them to collect water from temporary pumps and on one street, young children played not far from two corpses on a doorstep.
Some of the fighters are recognizable from their clothing, some were identified to the government by neighbours, some yet, were found clutching the weapons they used to make their last stand against surrounding Iraqi and coalition forces.
The municipal government team's efforts are hampered by very limited funds. On several days in January, they had to halt operations amid a shortage of gloves, masks and body bags.
Some families have resorted to digging out their dead themselves, like 23-year-old Mustafa Nader, who came back to look for his great-uncle Abdullah Ahmed Hussain.
"We weren't sure if we would find him here," Nader said of his elderly sculptor uncle, tears in his eyes after an hour of digging unearthed his body. "I thought maybe he could have left or gone to a neighbour's house."
Others still have resorted to drastic measures.
Ayad came back in early January after six months in a refugee camp and found the corpses of three Islamic State fighters rotting in what remained of his living room. "The flies, the smell, the disease," he said. "It was awful."
The municipality team said it would be weeks before they could get to him so Ayad asked a soldier on patrol to look over the bodies and make sure there were no explosives.
Then, Ayad set them on fire.
With most of his money spent on a tarp to cover the gaping hole where his front door once stood, he borrowed $20 from his sister, for bleach to try to erase the traces so his family of ten could move back in.
"The smell still hasn't fully gone away," he said.
(Additional reporting by Ahmed Aboulenein in Baghdad; editing by Philippa Fletcher)
Our Standards: The Thomson Reuters Trust Principles.