Kabul's first mobile library hopes to let some of Afghanistan's 3.5 million out-of school children - mostly girls - listen to stories and pore over picturebooks
By Zabihullah Noori
LONDON, March 21 (Thomson Reuters Foundation) - Undeterred by the risk of suicide bombers, 25-year-old Freshta Karim travels around Afghanistan's troubled capital every day in a big, blue bus to share the magic of reading with children.
After graduating from Britain's prestigious University of Oxford, she set up Kabul's first mobile library to let some of Afghanistan's 3.5 million out-of school children - mostly girls - listen to stories and pore over picturebooks.
"When I was a child, I did not have the opportunity to go to a library and read the storybooks I wanted to read," she told the Thomson Reuters Foundation by phone from Kabul.
"My goal is to enable them not only to think critically, but also to be able to question the wrongdoing they see."
Afghanistan has one of the world's lowest literacy rates, with only three in 10 adults able to read, according to the United Nations cultural agency, UNESCO.
The Taliban have been waging an insurgency to overthrow Kabul's Western-backed government since their 2001 ouster and control large parts of the country.
While the education system has made significant gains since the Taliban era - when girls were excluded from formal education altogether - worsening security has forced many school closures.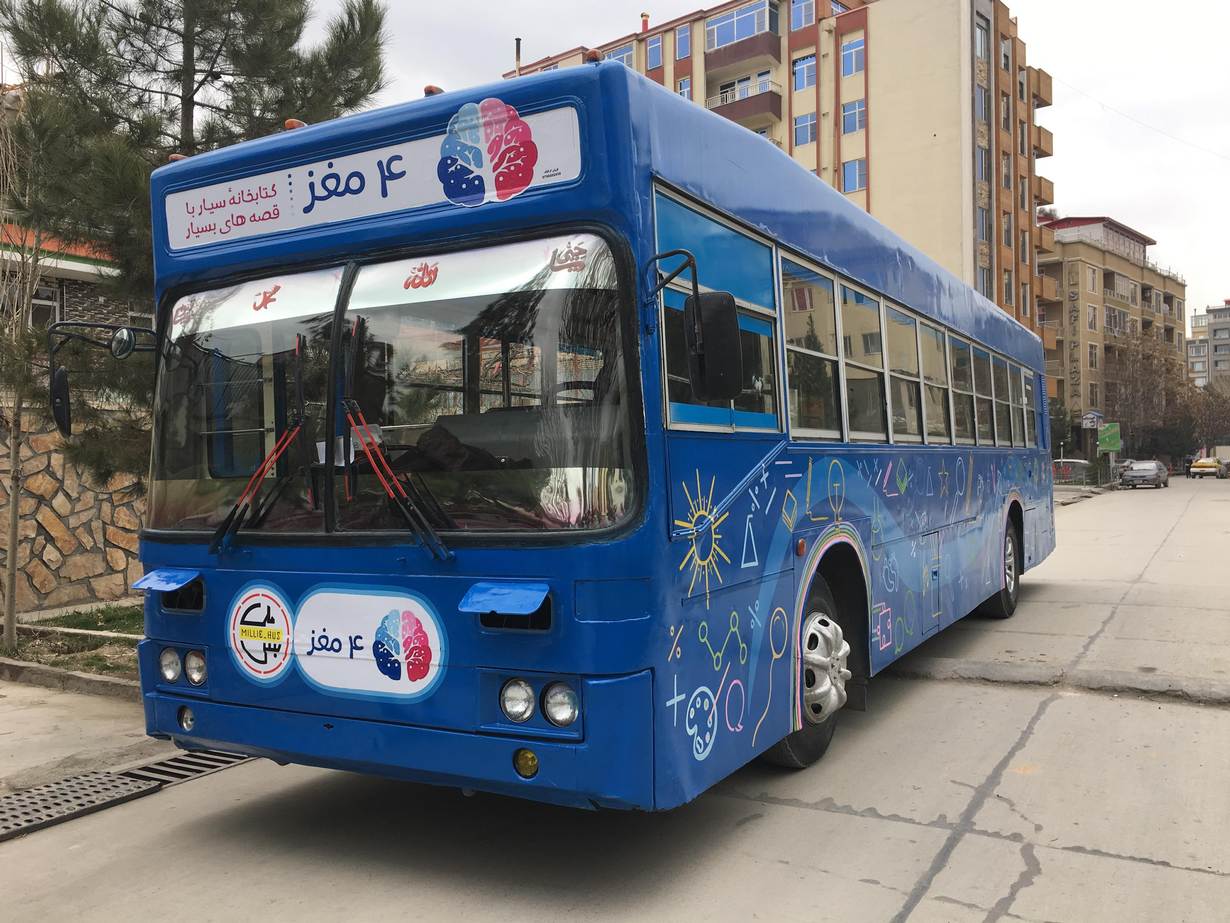 After decades of war, more than four in 10 Afghan children are not in school, government data shows, with many working to support their families.
Karim set up the Charmaghz - meaning walnut in Dari - mobile library with three friends in January in a bus rented from the government, and painted it with colourful symbols, stars, balloons and footprints to attract children.
They installed bookshelves above the windows and chairs and desks for children and adults to sit and read - a luxury in a country where four in 10 schools do not even have a building, according to Human Rights Watch.
A sign over the windscreen reads "4 Maghz", or four minds, to spark the interest of passers-by.
"We intentionally did it to provoke the people's thought -whether we mean a walnut or four minds," said Karim, who went to school as a refugee in Pakistan and then won scholarships to study abroad.
CLIMB ON BOARD
Residents of Kabul have welcomed the library on wheels, which stops for three or four hours at a time in different parts of the city so that children can climb on board to read hundreds of fiction and non-fiction books.
"I loved the mobile library," said Farid, a 9-year-old shoeshine boy who is his family breadwinner and, like many Afghans, goes by one name.
"I was there with another 10 children and the boy read a story to us. I really enjoyed my time there."
Naweed Hamidi, who lives in northern Kabul, heard about the mobile library from relatives in the west of the city.
"My 12-year-old son keeps asking me almost every day about the mobile library and when will it come to our area," he said.
Karim said she has not approached any international donors for support, preferring to rely on donations from friends and relatives, and plans to charge users.
"No matter how small, but I would like them to pay something," she said.
"By putting a fee for the service, I encourage the children to value their time they spend in the library."
Streetchildren who cannot pay can donate a drawing or painting, she said.
It is not yet clear whether locals will be able to keep the mobile library running, but Karim is optimistic.
"The other day an army officer brought his young son into the bus and read him a book," she said, adding that he donated 20 afghanis ($0.29).
"We decided to keep that money and frame it because this is very first donation that we got from the community."
($1 = 68.9000 Afghanis)
(Reporting by Zabihullah Noori, Editing by Katy Migiro. Please credit the Thomson Reuters Foundation, the charitable arm of Thomson Reuters, that covers humanitarian news, women's rights, trafficking, property rights, climate change and resilience. Visit http://news.trust.org to see more stories.)
Our Standards: The Thomson Reuters Trust Principles.