A study of hair samples from 1,000 women across 25 countries found more than 40 percent had unsafe mercury levels
By Dominic Kirui
NYATIKE, Kenya, March 28 (Thomson Reuters Foundation) - Scorching sun beats down on half a dozen women as they carry large sacks of crushed ore on their backs at the Osiri-Matanda gold mine near Kenya's border with Tanzania.
On wooden tables, they sieve the powdered ore into metal pans, add mercury, and heat the mixture over a charcoal fire. The air fills with fumes as the liquid metal evaporates - leaving behind a lump of gold.
The women complain the work is hard, hours long and wages meagre. But the job brings bigger concerns: exposure to toxic mercury could be killing them.
"Many women here know the risk," said Eunice Atieno, 40, dumping a sack by the side of her table at the mine in Kenya's southwestern Migori county.
"But we do not know what else to do for a living if we stop working here," she said, describing health problems, such as weight loss, body weakness and trembling hands, which she has experienced after a decade working in the mines.
Atieno is one of more than 1,000 women across 25 countries including Kenya, Myanmar and Indonesia, whose hair samples were tested for mercury by IPEN, a Stockholm-based network of charities focusing on health and environment.
IPEN found that more than 40 percent of those tested, including Atieno, had mercury levels greater than 1 part per million – exceeding the United States Environmental Protection Agency's safe exposure level.
High mercury levels can damage the nervous, digestive and immune systems and poison the lungs, kidneys, skin and eyes, says the World Health Organization. Pregnant women also risk giving birth to babies with congenital diseases.
Kenya's 2016 mining act outlaws the use of mercury.
But there are no easily available alternatives and many of its 250,000 small-scale gold miners - mostly in western Kenya around Lake Victoria - are unaware of the risks or too poor to care, campaigners say.
"Health workers and government officials should be resourced to conduct workshops among women involved in small-scale gold mining to explain the toxicity of mercury to women and the unborn children," said IPEN's researcher Lee Bell.
"They should also assess them for mercury intoxication and provide appropriate healthcare, demonstrate how they can minimise their exposure to mercury in the short-term and work with them to implement non-mercury gold extraction techniques."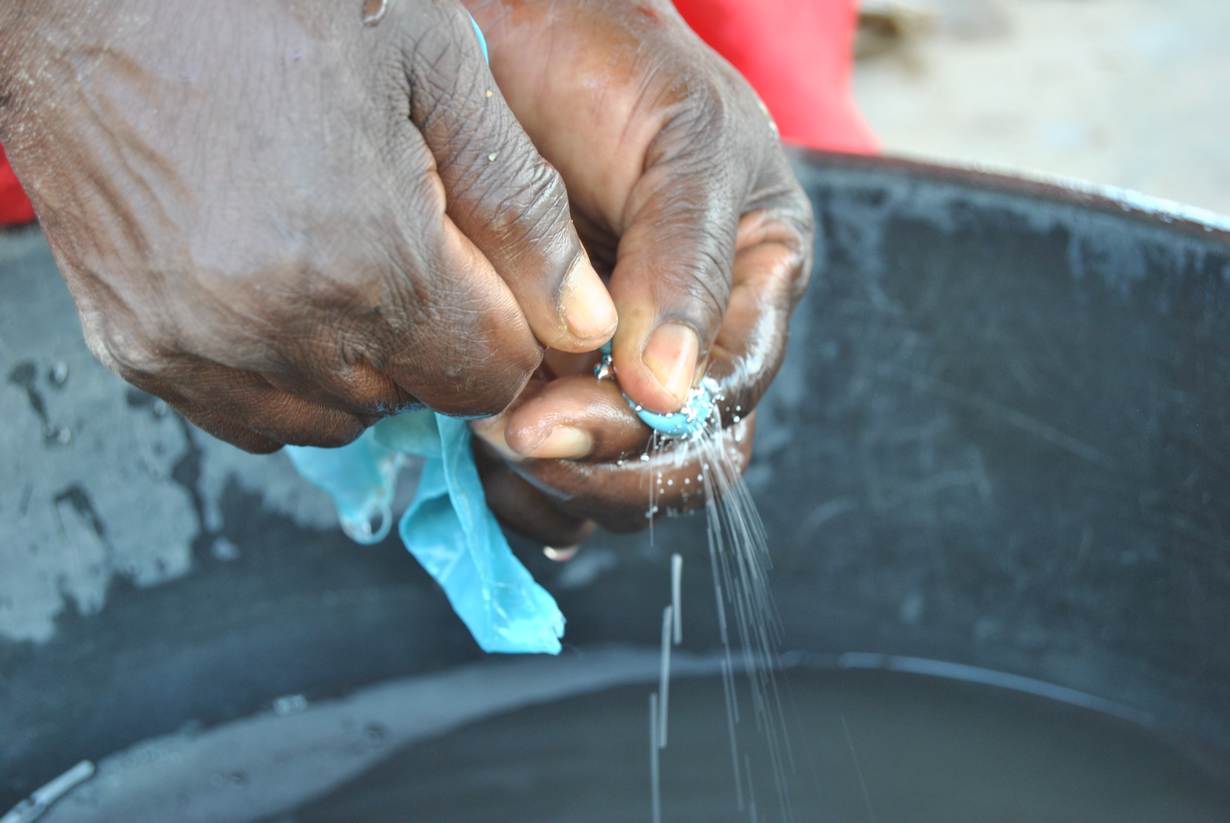 About 20 percent of the world's gold comes from small-scale mines, which employ up to 15 million people, including 5 million women and children, the United Nations says.
Mercury has been used to extract gold for centuries. It is inexpensive and simple - often allowing miners to produce gold in a single day.
Developed nations have adopted cleaner, safer alternatives for extracting gold, and enforced strict rules on mercury use.
But poor countries lag behind. Government officials, mine operators and workers often ignore the health risks of mercury exposure, citing a lack of capacity and expertise to better protect workers, experts say.
"We still do not have an alternative even though we are supposed to phase out the use of mercury," said Bismarck Onyando, owner of the Osiri-Matanda mine.
The only other way of separating gold from sand in Kenya is to use sodium cyanide, which can kill instantly, he said.
Beatrice Ondieki, 29, had been working at the Osiri-Matanda mine for just over a year when her family noticed she was ill.
First, her hands began to shake uncontrollably. Then she started stammering. When she began to have difficulty walking, her brother suspected her symptoms were linked to mercury.
"She was found to have high levels of mercury in her blood and the doctor commenced her treatment, giving her some tablets to reduce the mercury," said her brother Stephen Ondieki.
"She got better initially, but the side effects of the medication have caused her to have severe stomach pains and she now stopped the treatment and is at home in bed. The family is trying raise enough money to admit her to hospital."
ANOTHER WAY
In August, the Minamata Convention on Mercury, a global treaty to reduce the use of mercury, came into force. Ratifying countries must develop plans to eliminate harmful mercury use, promote mercury-free mining and improve miners' health.
While almost 130 nations signed the agreement, about 40 - including Kenya, Tanzania and Uganda - have not ratified it.
Kenyan officials say they are committed to the convention.
"We plan to phase out mercury, but first we are working on registering the miners, hopefully within three years," said Raymond Odanga, inspector of mines for Migori County.
"Then it will be much easier to deal with the mercury issue. Currently the miners are still using it. Getting them to change to other methods will take some time," he told the Thomson Reuters Foundation.
The United Nations Environment Programme and the Global Environment Facility, which provides grants, launched a project last year to finance and promote safer gold extraction technologies in eight countries, including Kenya.
Atieno - who started a support group for women miners after discovering the toll mercury is taking on their health - says it needs to act quickly.
"We depend on this job to put food on the table. But we are at a risk and cannot wait until we die from mercury exposure," she said, as the vapours rose into the air.
"We appeal to authorities to give us another way to extract gold without having to use mercury."
(Reporting by Dominic Kirui, Writing by Nita Bhalla, Editing by Katy Migiro. Please credit the Thomson Reuters Foundation, the charitable arm of Thomson Reuters, that covers humanitarian news, women's rights, trafficking, property rights, climate change and resilience. Visit http://news.trust.org)
Our Standards: The Thomson Reuters Trust Principles.