Farmers who had never tasted fish are now raising tilapia and catfish for factories producing fish sausages, samosas and kebabs
By Caroline Wambui
ITUGURURU, Kenya, May 4 (Thomson Reuters Foundation) - Kenya's often parched Tharaka Nithi County might seem an unlikely place to take up fish farming. But farmer James Muchangi thinks tilapia and catfish might be his crop of the future as climate change brings more unpredictable weather and worsening crop failures.
After a bit of research, "I realised that one can actually rear fish in dry desert regions by investing in raised ponds, which I also realised don't require much space," said the farmer. He now has 400 fish in four pounds on his two-and-a-half acre piece of land.
As farmers around the world look for alternatives to crops that are struggling as climate patterns change, some are settling on unusual – but potentially successful – choices.
Muchangi, for instance, had never even tasted fish until he began raising them in 2012 after talking over the idea with a farmer friend from western Kenya, who had already give it a try.
"Since I was born, I had never known fish to be a delicacy. All I had known was that fish are aquatic animals that survive in large volumes of water," he admitted.
But, by digging into his savings, he built a wooden framework for a raised pond, and installed a waterproof lining. He then hooked up a pump to circulate water through the pond, and added 2,000 young tilapia hatchlings, and later catfish as well.
He also installed a plastic cover for the pond to protect the fish from both predators and harsh weather.
"In the greenhouse the temperatures are regulated ensuring that the water is always warmer thus promoting the growth of fish," Muchangi explained.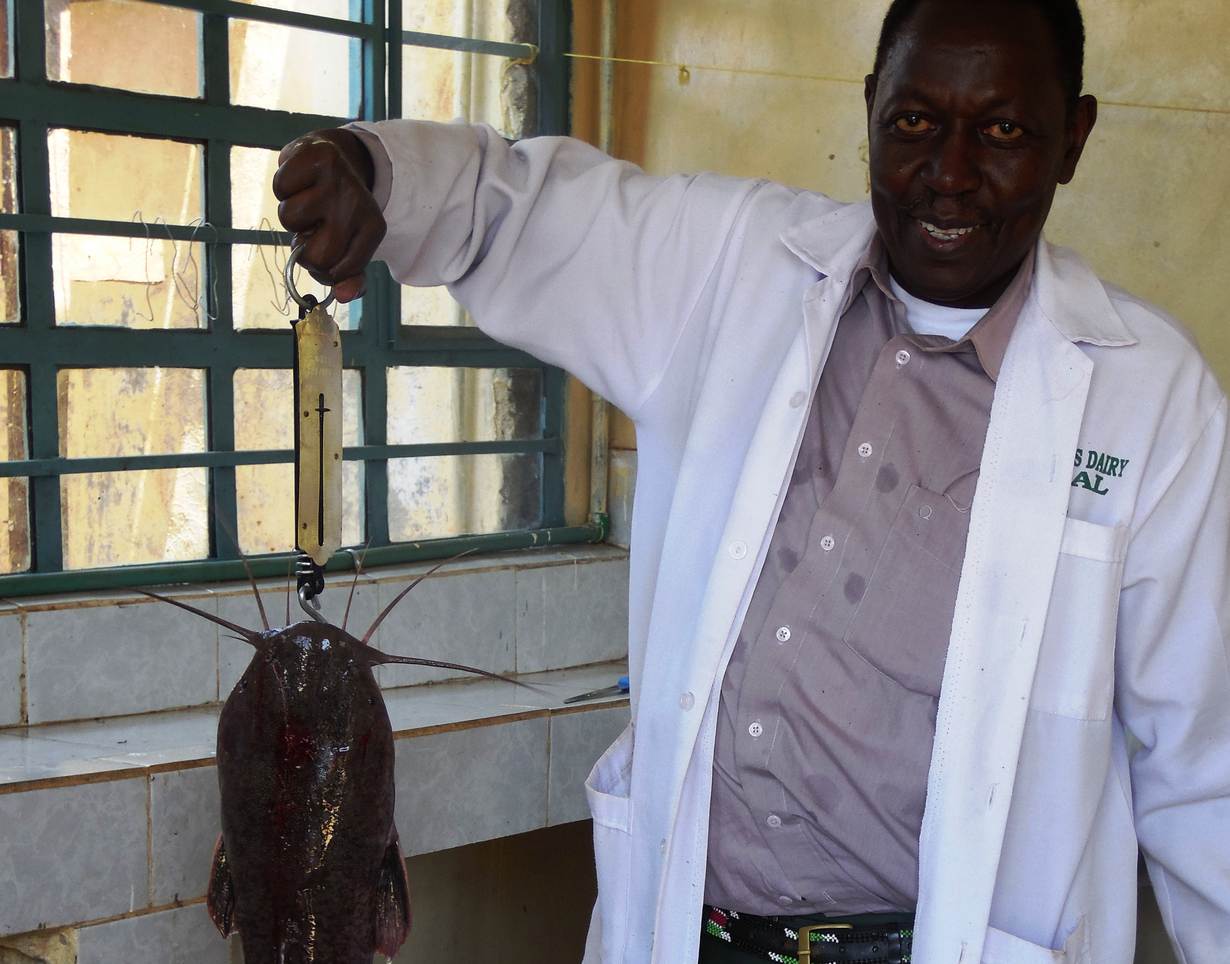 CHICKEN AND FISH
Roy Kirimi who manages a church-owned farm in neighbouring Meru County, has taken the process one step further, building chicken houses over the fish ponds so manure falls in and accumulates on the bottom of the pond, spurring the growth of plankton and insect larvae – food for fish.
That saves money buying commercial fish feed, Kirimi said.
Other farmers- particularly those living near rivers – also have turned to digging ponds to raise fish.
Alex Kimanthi, a fish farmer in Meru County, settled on a piece of land away from crop fields – to avoid fertiliser and pesticide runoff that could kill fish – and dug out a pond covering about a tenth of an acre.
During the rainy season - which has been heavy this year - Kimanthi keeps a close eye on the pond to try to avoid it overflowing and carrying away some of his 3,000 tilapia and catfish.
His fish eat a diet not unlike what other livestock might – cottonseed, wheat bran, wheat germ and alfalfa – but in much smaller volumes.
He sells his fish at Kanyakine fish factory, in markets and at his farm gate, largely to buyers who know the health benefits of eating fish, he said. He's also signed a contract to begin supplying fish to a new fish processing facility in Meru.
The value of the fish depends on their size – from about Ksh 300 ($3) for a smaller fish to Ksh 1,000 ($10) for a large catfish, he said.
The fish have now become the biggest earner on his farm, he said – and as he harvests fish only when he has an order, they don't spoil, unlike the milk he collects from his seven cows each day.
He's also gotten to like the taste himself, he said – and he and his three children now eat more fish than they ever thought possible.
NEW BUYERS
Moses Muithi, another fish farmer in Tharaka Nithi County, says a typical catfish can grow to three-quarters of a kilo in weight in eight months.
Each Thursday, he sells his fish at a market run by the Ministry of Agriculture in Tharaka Nithi County, where buyers can learn new fish recipes, sample cooked fish and buy raw fish to take home.
The market aims, in part, to create a culture of fish eating in a place where it remains largely unfamiliar.
"Fish provides an alternative and affordable family income. And eating fish is good for brain development and helps in lowering blood pressure," Murithi said.
Not all his neighbours are yet used to eating fish, but numbers are growing, he said.
A privately-owned Ksh 5 million ($50,000) fish processing factory also opened in March in Meru. There fish is filleted, minced, and mixed with things like bread crumbs to make sausages, kebabs, samosas and other dishes.
The processing factory also offers guidance to farmers interested in taking up fish farming, with advice on everything from constructing ponds to harvesting.
Benald Kinoti, an office from the Ministry of Agriculture in Meru, said fish farming is becoming an important component of rural development efforts aimed at improving food security and generating more income for poor farming households.
"Fish alleviates protein deficiency, contributing to improved growth in children. Health authorities in the world encourage more fish consumption as fish is high in protein source and low in saturated fats," he said.
(Reporting by Caroline Wambui ; editing by Laurie Goering : (Please credit the Thomson Reuters Foundation, the charitable arm of Thomson Reuters, that covers humanitarian news, climate change, resilience, women's rights, trafficking and property rights. Visit http://news.trust.org/climate)
Our Standards: The Thomson Reuters Trust Principles.