"From now on we will use this precious good in a much more rational way"
By Karla Mendes
PLANALTINA, Brazil, June 14 (Thomson Reuters Foundation) - Surveying a field of 50,000 green peppers, Daniel de Almeida proudly explains how he "produces" all the water needed by crops and livestock on his farm on the outskirts of Brasilia, a city about to end water rationing after a severe drought.
De Almeida is one of 1,200 farmers across Brazil supported by a government-run programme that improves infrastructure on their land to boost groundwater and conserve water sources.
When water rationing was introduced in Brazil's Federal District more than a year ago, de Almeida continued to water his crops and animals from a river source on his property. "Those who did not preserve the springs, restore native areas, replant or have a protected green area suffered in the drought," de Almeida said, adding that farmers were not permitted to draw water from the river.
"But here, thank God, we went through the drought with water in abundance," de Almeida told the Thomson Reuters Foundation on his 70-acre (28-hectare) property in Planaltina, Federal District, as steers grazed behind him.
World water supplies are under pressure as the planet warms and demand grows with the population, the United Nations says.
About 16 percent of Brazil's 5,570 cities face water scarcity, data from the Ministry of National Integration shows.
In the Federal District, where Brazil's capital Brasilia is located, water supplies will be restored to normal on June 15 - a date brought forward from December.
The district has suffered water shortages caused by low rainfall, and compounded by rapid, unplanned urban growth.
But an expanded system to supply water from the Bananal River and Paranoa Lake has plugged the gap, Governor Rodrigo Rollemberg said in May, announcing this week's end to rationing.
By December, an additional 2,800 litres (740 gallons) of water per second will be provided to the Federal District's 3 million people, and the same amount to the surrounding state of Goias, according to Rollemberg.
People's efforts to save water, cutting consumption by 12-13 percent, and changes to farm irrigation methods have also been key to ending water restrictions, Rollemberg said.
"From now on we will use this precious good in a much more rational way," he said.

WATER MANAGEMENT
Global demand for water is expected to increase by nearly a third by 2050, when 5 billion people could be left with poor access to water, according to a U.N. report published in March.
To avoid scarcity, it recommended "nature-based solutions" that use or mimic natural processes to boost water availability.
Those include adapting farming practices so that soil retains more moisture and nutrients, harvesting rainwater, and conserving wetlands that capture runoff and decontaminate water.
In Brazil, structural changes on farms to increase groundwater are vital as some 60 percent of the country's fresh water is used for crop and livestock production, according to national water agency ANA.
Careless use of water by agribusiness can trigger negative environmental effects across a river basin - including reduced flow in streams and rivers, and water degradation - and stoke water-related disputes, the agency says.
Investing in construction works to prevent erosion on rural properties, and treating effluents and sewage help preserve hydrological basins, says ANA, which runs a countrywide "water producer" programme.
It encourages farmers to adopt good practices that preserve the environment and increase water supplies.
ANA leads 57 water-production projects across Brazil, covering 400,000 hectares and benefiting some 35 million people.
The actions it promotes range from constructing sandbars and small dams that channel and capture excess water, to reforesting rural properties.
ANA has invested $11 million in the projects, while some $42 million has been injected by organisations that benefit from the resulting boost to water, including local governments and companies running water and sanitation services.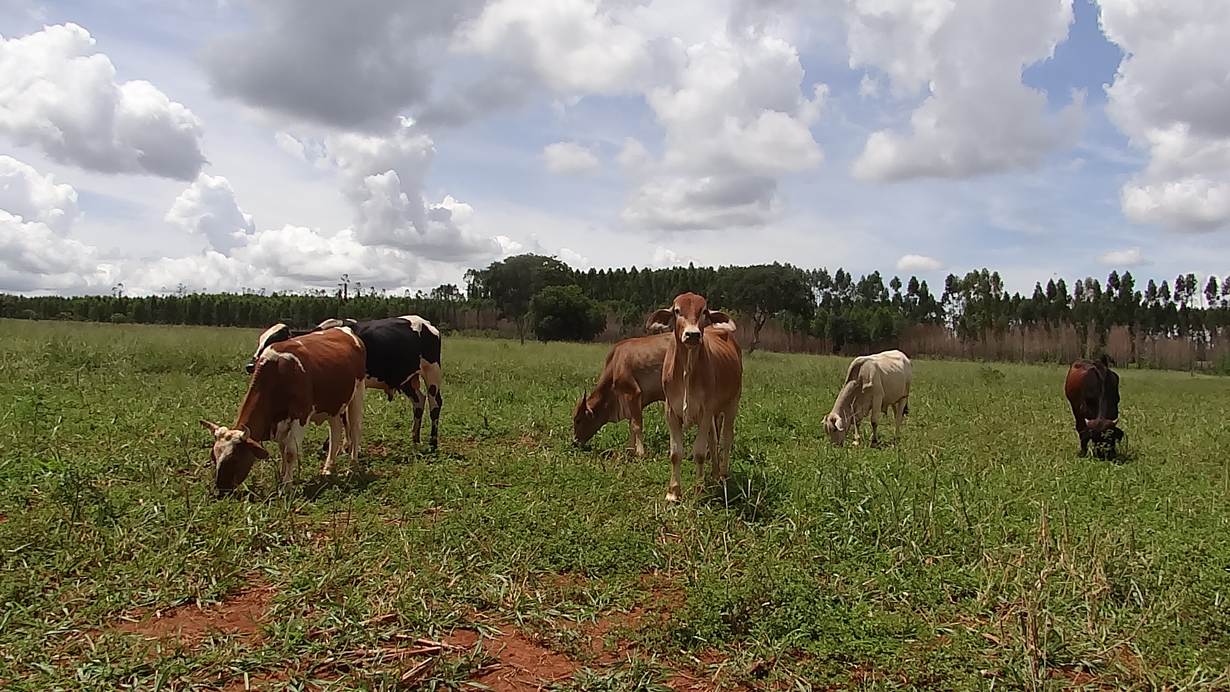 PAID TO PROTECT
Participating farmers like de Almeida who agree to carry out the interventions are paid a yearly allowance.
The amount varies according to the modifications and preservation methods used to improve water supplies.
The programme invests in practical measures on farms, including building terraces and ditches, adapting rural roads, rehabilitating springs, tree-planting and conserving forest.
On de Almeida's property, the funding has enabled contour farming and terracing, as well as planting saplings in the area around the river source, where no economic activity is allowed.
The programme also encourages farmers to adopt sustainable practices, such as agroforestry where trees are planted alongside crops.
"We do a mixed cultivation of corn and grass," said de Almeida. "I plant corn to make silage, which feeds the animals in the dry season, and in the rainy season we have pasture."
De Almeida's farm receives financial support from government-run water utility Caesb, which funds the Pipiripau river basin programme in Planaltina, one of the most important vegetable-producing areas in the Federal District.
On another farm in Planaltina, some 34 miles (55 km) from Brasilia, the programme planted 8,000 native cerrado trees, a savanna-like ecosystem, in an area where cattle used to graze freely near a river source.
"We noticed an increase in the amount of water infiltrating the soil. We also saw the water source being filled more every year," said farmer Thiago Kaiser.
That inspired his family to plant 4,000 more trees, and grow another 4,000 saplings from seed.
Caesb said building a closer relationship with farmers and supporting their water conservation efforts has helped limit the water crisis in the region.
As a result of the programme in the Pipiripau basin, 360,000 seedlings have been planted, 134 km (83 miles) of roads improved, about 1,000 water retention basins built and some 200 others rehabilitated.
The Federal District government has invested some 10 million Brazilian reais ($2.7 million) in the project since 2012, of which Caesb paid about 2 million reais to some 185 farmers.
On de Almeida's farm, the improvements made under the project cost about 30,000 reais, the farmer said. "It's well worth it," he added.
($1 = 3.7164 reais)
(Reporting by Karla Mendes; Editing by Megan Rowling. Please credit the Thomson Reuters Foundation, the charitable arm of Thomson Reuters, that covers humanitarian news, women's rights, trafficking, property rights, climate change and resilience. Visit http://news.trust.org to see more stories.)
The Thomson Reuters Foundation is reporting on resilience as part of its work on zilient.org, an online platform building a global network of people interested in resilience, in partnership with The Rockefeller Foundation.
Our Standards: The Thomson Reuters Trust Principles.