Residents of Tilos hope a new system to produce electricity from renewables will lower costs and put an end to frequent power outages
By Isabelle Gerretsen
TILOS, Greece, July 24 (Thomson Reuters Foundation) - When the power fails on the tiny Greek island of Tilos - a regular problem, particularly in the summer when tourists flood in - hotel owner Andreas Lardopoulos struggles with failed appliances, rotting food and inconvenienced guests.
But an effort is underway to turn the remote Dodecanese island, 78 km (48 miles) from Rhodes, from an importer of dirty diesel power into a largely self-sufficient energy hub capable of exporting clean electricity to neighbouring small islands.
Using a grant of 11 million euros ($12.9 million) from the European Commission, as part of the EU's Horizon 2020 research and innovation push, the plan is to transform Tilos into one of the Mediterranean's first green energy islands.
The effort will use solar and wind power to generate enough electricity for the 550 residents who live on Tilos year-round and thousands of tourists who visit every summer to enjoy the island's tranquil beaches and laid-back vibe.
In the coming weeks, a hybrid power plant consisting of a single wind turbine, a photovoltaic solar panel station and battery storage system is expected to start meeting the daily electricity needs of between 250 and 300 households.
The system will generate and store enough power to supply about three-quarters of the island's annual demand, backers say, with any excess power passed to other islands in the area.
Lardopoulos hopes the new electricity system will put an end to the frequent power cuts - some lasting more than 12 hours - that make his life as a small hotel owner challenging.
"Hopefully the renewable energy will help us solve these problems and save some money," he said.

DIRTY, UNRELIABLE POWER
Tilos currently receives all its electricity from a diesel power plant on the island of Kos, 69 km away. It is the last of three islands connected to the plant via an underwater cable, which is vulnerable to outages.
That existing system is costly and polluting, as well as unreliable when power demand on Kos rises, according to the team operating the Tilos project.
"If you have a large demand that you have to cover in Kos, then this provides a low quality of electricity arriving on Tilos," said Zisimos Mantas, chief business development officer of Eunice Energy Group, the Greek company managing the project.
Diesel electricity production on Greece's smallest, most remote islands costs 20 times more than on the mainland and is heavily subsidised by the state, according to Dimitris Zafirakis, coordinator of the Tilos project and a lecturer in energy at Piraeus University of Applied Sciences.
Seasonal fluctuations in electricity demand on Tilos also ramp up production costs significantly, he told the Thomson Reuters Foundation.
In the peak summer season, the population doubles as people come across from Rhodes and Kos to work in Tilos' hotels, restaurants and shops.
Last year, 23,000 tourists visited Tilos, drawn to the island's picturesque villages and abundant wildlife. As energy demand rises from June through September, the overloaded grid frequently collapses, Zafirakis said.
The new battery system will lower energy production costs and provide reliable electricity year-round, with excess energy stored to provide power in peak demand periods, operators said.
Storage is key for an island like Tilos where electricity demand changes throughout the year, and solar and wind sources are intermittent, explained Salvador Suarez, a partner on the project and head of renewable energy at the Technological Institute of the Canary Islands (ITC).
The long-term plan is for Tilos to export surplus energy to Kos in winter. "Instead of importing oil-based electricity from Kos, we want to export renewable energy to Kos," Zafirakis said.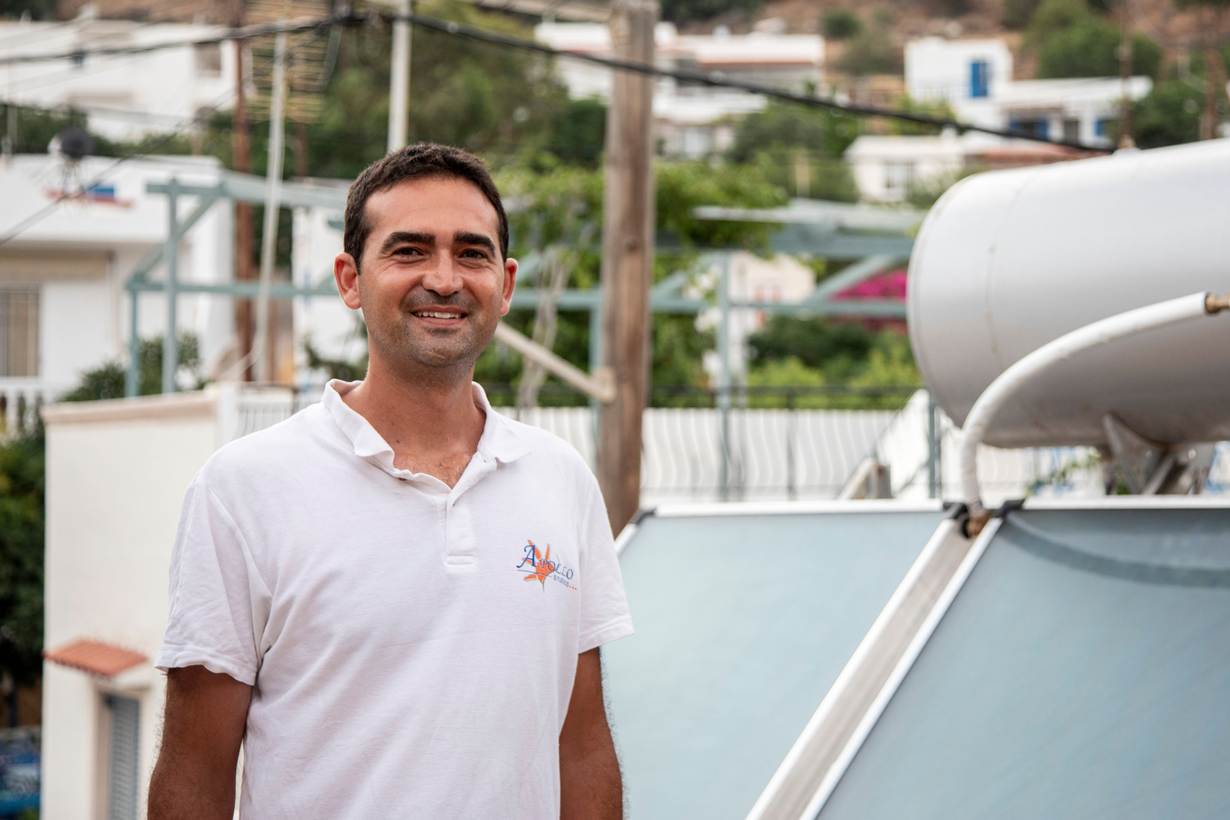 GREEN LEGACY
Renewable energy has been on the local government's radar for some years. The idea of transforming Tilos into a clean-energy island was first proposed in 2009 by the late mayor, Tassos Aliferis, an environmentalist who banned hunting and promoted eco-tourism.
The current mayor, Maria Kamma, continues to champion his green legacy, hoping it will improve residents' quality of life and give Tilos a more secure future.
She recalls growing up on an island that was "slowly dying".
In the 1990s, the population fell to 200 and the school was on the verge of closing, she told the Thomson Reuters Foundation. Investment in infrastructure and transportation drew young people back to Tilos starting in 2000.
Kamma hopes the new energy system will lure even more people to Tilos in search of a better life.
Green energy will help the island become a "circular economy" - one that produces little waste or pollution - and protect Tilos' rich biodiversity, with more than 150 species of birds and almost 350 plant varieties, she said.
Transforming Tilos into a self-sufficient energy hub will ensure residents "have a very good standard of living", and can live and work permanently on the island, Kamma said.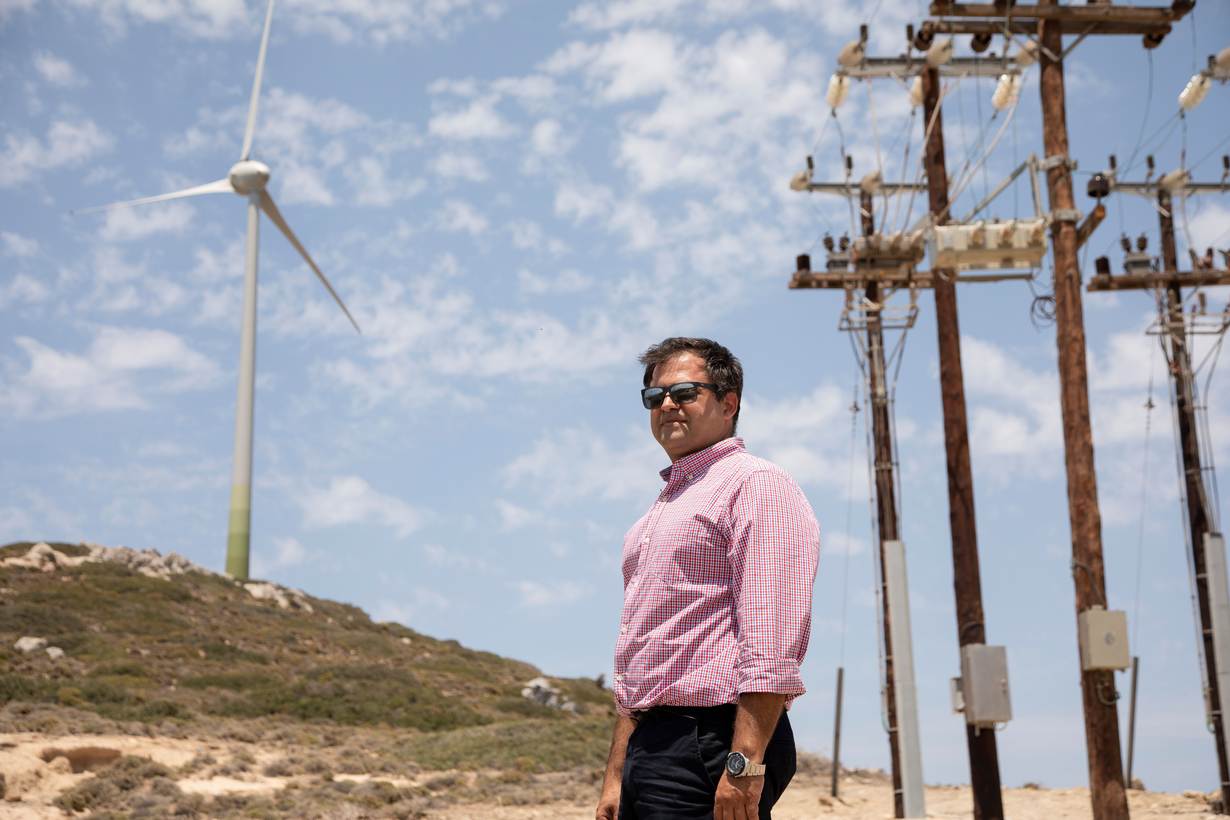 ISLAND BLUEPRINT?
The Tilos project provides a blueprint for other remote islands that depend on the mainland for electricity and are looking to become self-sufficient, its operators say.
The model is particularly relevant as systems that store wind and solar energy in batteries "become more and more competitive", Suarez predicted.
Installing renewable energy on isolated islands is a growing trend, from the Hebrides to the Canary Islands, he added.
El Hierro, the smallest of the Canary Islands, has built a wind-pumped hydropower station, which generated and stored enough energy to supply 60 percent of the island's electricity between January and April, according to Suarez.
Switching remote islands to green, sustainable electricity is "a groundbreaking scenario", said Mantas of Eunice Energy.
"We hope that the Tilos project will be replicated in many more islands," he said. ($1 = 0.8540 euros)
Reporting by Isabelle Gerretsen, Editing by Laurie Goering and Megan Rowling.
Please credit the Thomson Reuters Foundation, the charitable arm of Thomson Reuters, that covers humanitarian news, climate change, resilience, women's rights, trafficking and property rights. Visit http://news.trust.org/
The Thomson Reuters Foundation is reporting on resilience as part of its work on zilient.org, an online platform building a global network of people interested in resilience, in partnership with The Rockefeller Foundation.
Our Standards: The Thomson Reuters Trust Principles.