In the British Virgin Islands, residents are working hard to protect wetlands and coral reefs from future hurricanes
By Sebastien Malo
CANE GARDEN BAY, British Virgin Islands, July 24 (Thomson Reuters Foundation) - Sun loungers dot the white sand of Cane Garden Bay, a beach resort tucked between steep hillsides and the azure sea in the British Virgin Islands. Yachts bob in the harbour and brightly painted homes line quiet streets.
But behind this tranquil scene, locals are on edge after the destruction wrought by Hurricane Irma last September.
Amid fears more wild weather could decimate their incomes - which depend on tourists enjoying the bay's stunning beauty - the close-knit community is acting to keep its head above water.
Wetlands, mangroves, ponds and coral reefs are being restored to protect the village from future floods and storms.
Local celebrity Quito Rymer, a reggae singer-songwriter, is among those whose property was gutted by Hurricane Irma.
Packing winds of 185 miles per hour (300 kph), the storm whipped up waves 30-feet (9 m) high that crashed against buildings, and sent roofs flying through the air.
Rymer, sporting dreadlocks and his trademark orange cap, used to play two or three times a week to a loyal audience at his oceanfront restaurant-bar. The hurricane stopped that.
Now he is rebuilding "Quito's Gazebo" from scratch for the winter tourist season.
Cane Garden Bay has been transformed in recent decades from a rustic hamlet into a must-see tourist destination, Rymer said.
That has been a boon for the local economy. But the process of rapid development has scarred wetlands, ponds and other natural features that once kept low-lying areas from flooding.
"It was a little bit of short-sightedness on our part," said Rymer. "You have to have a balance, or you lose what you love."
Since February, the 66-year-old has mobilised green-minded residents - many still rebuilding their homes and businesses - to work as volunteers restoring the damaged ecosystem.
"We know for a fact the government cannot do everything," said Rymer. "We have decided to take things in our hands."
STINKY WATER
For the village of about 500 people, it is a tough task.
In the past, ponds captured stormwater coursing down the hillsides, said Shannon Gore, a U.S.-born environmental consultant and Cane Garden Bay resident.
But when houses started sprouting in the 1960s and 70s on the Manhattan-sized island of Tortola, where Cane Garden Bay is located, excavated soil was dumped in coastal wetlands and ponds.
"Ponds were considered useless stinky swamp water," said Gore. But now, with nowhere to go, heavy rains flood properties.
Water running into the sea without natural filtration carries sediments that can kill the bay's colourful coral reefs by blocking sunlight or infecting them with diseases and fungi.
Half of the reefs have disappeared around most of the British Virgin Islands (BVI) over the last 25 years, according to the University of Rhode Island.
Cane Garden Bay's beaches - whose white sands depend on healthy coral reefs - have lost some 24 feet in width since 1953, Gore's research found.
Reefs are a natural buffer against powerful waves, and when they shrink, the coast floods more easily, said Clive Petrovic, marine studies head at the H. Lavity Stoutt Community College outside Road Town.
Sea level rise linked to climate change will make the situation "that much worse", he added.
Just a month before Irma, Cane Garden Bay was already dealing with disastrous flooding after 10 inches (25 cm) of rain fell in less than 17 hours - the third major flood this decade.

COMMUNITY CLEAN-UP
As a child, Lorenzo Hodge used to fish in one of the village ponds, alive with mangroves and birds.
These days, the 46-year-old pumps gas into ships at the business his father built, next to a dirt pile 25-feet tall now covering most of the pond.
It is a reminder of development gone awry.
"Back then I didn't really pay attention to things like that. Now the problems it is creating make me wonder," he said.
On a Saturday in June, Hodge joined the bay's restoration committee, jumping into a clogged stormwater channel.
Slicing uprooted trees with a chainsaw, they gathered wood, coconuts and other debris blocking the waterway since Irma.
Organiser John Cline, a 55-year-old pastor, said tourists visit the British overseas territory to sail in clear waters and relax on pristine beaches.
"If that goes, why do they come?" he asked. "It's important for us not only to restore it, but to keep it from getting any worse."
The committee is also replanting vegetation and cleaning the ocean floor, with plans to replant mangroves damaged by Irma.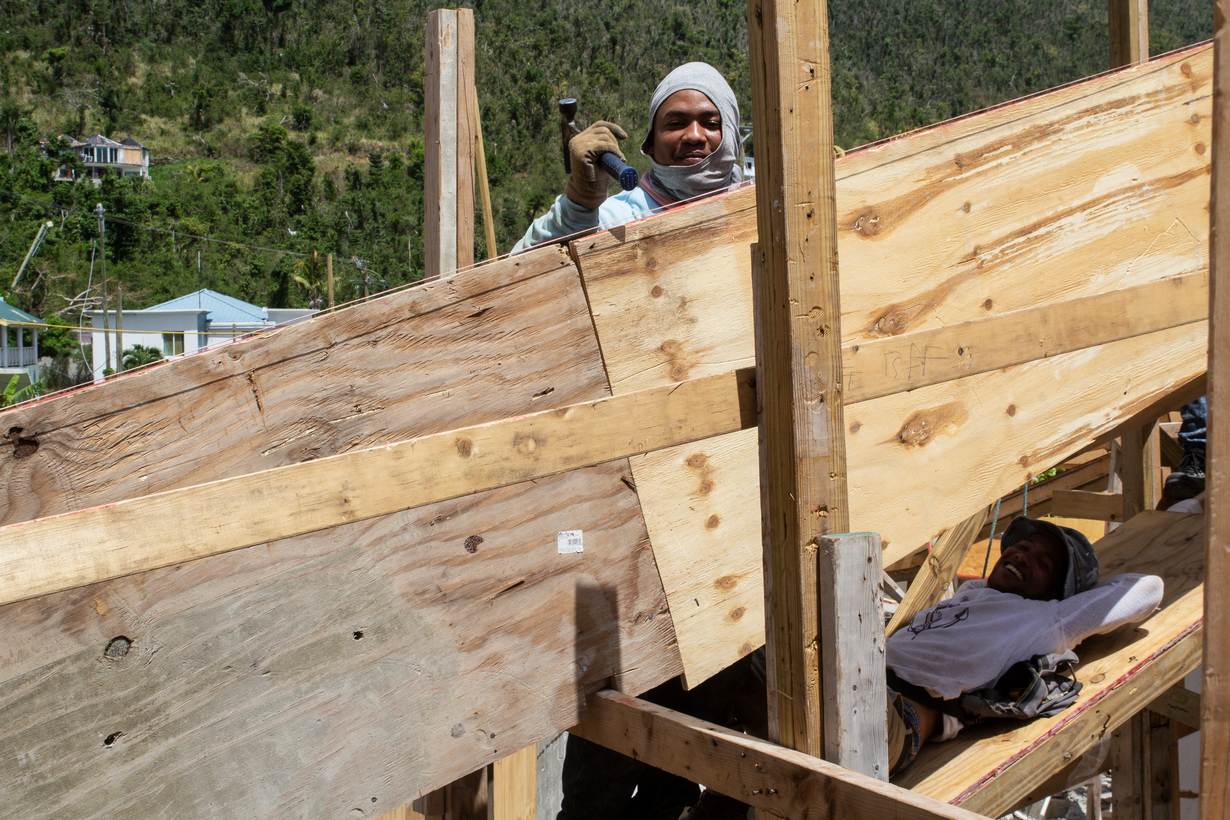 'ON THE EDGE'
Contemplating a car rental business built on one of Cane Garden's four filled-in ponds, Gore sketched out her idea for a walkway around the bay to showcase "the Caribbean picture of idyllic tropical nature".
The battle to rescue what has been spoiled can still be won, she and others insist.
The stakes extend well beyond Cane Garden Bay's residents.
About a third of the BVI's gross domestic product comes from its nature-based tourism industry that draws international yacht owners and cruise ships, authorities say.
At the epicentre, Cane Garden Bay punches above its weight, hosting many of the hundreds of thousands of cruise-ship passengers who flock to the BVI's renowned beaches each year.
Two years ago, the government launched a project to stop this community "right on the edge", as one official described it, from degrading irreparably - so far investing about $500,000 provided by the European Union.
The work includes restoring a pond key to flood control and installing a drainage system, said the Ministry of Natural Resources and Labour.
Irma, for all the pain it caused, may have opened up an opportunity to finance the village's vision of a greener future.
Cane Garden Bay's district representative, Melvin Turnbull, is tasked with allocating some $1 million in reconstruction funds for the area, and has earmarked a quarter to rehabilitate natural flood barriers.
The young politician said the hurricane created "a level-playing field" to tackle pre-existing problems.
"It just gives us a fresh opportunity to rebuild what we want to have for the next 20, 50 years," he told the Thomson Reuters Foundation.
On the to-do list are planting rain-sucking gardens and installing a "biorock", a steel structure tingling with electric currents that grows into an artificial coral reef.
Where the remaining $2.7 million needed for longer-term measures will come from remains unclear, Turnbull added.
SHIPS STAY AWAY
On the beach, massage therapist Jem Marques, 39, said her customers had dwindled this summer from ten a day to a handful or none, as cruise companies took the BVI off their itinerary due to Irma.
Previously, the ships could disgorge thousands of people onto the beach daily.
But not everyone wants them back, with detractors saying they put "a lot of stress" on the bay, said local journalist Freeman Rogers.
"Sure, they make a little mess," said Marques, who had to quit her apartment when her income dived after the storm. "But we appreciate them, because if they feel like a $20 massage, they do it."
Reggae star Rymer is also preparing for their return, building a six-floor hotel to replace the smaller one he opened in 1981.
"Development will happen - and it has happened here in a really big way," he said. "Nothing stays the same."
(Reporting by Sebastien Malo @sebastienmalo, Editing by Megan Rowling and Laurie Goering. Please credit the Thomson Reuters Foundation, the charitable arm of Thomson Reuters, that covers humanitarian news, women's rights, trafficking, property rights, climate change and resilience. Visit http://news.trust.org)
The Thomson Reuters Foundation is reporting on resilience as part of its work on zilient.org, an online platform building a global network of people interested in resilience, in partnership with The Rockefeller Foundation.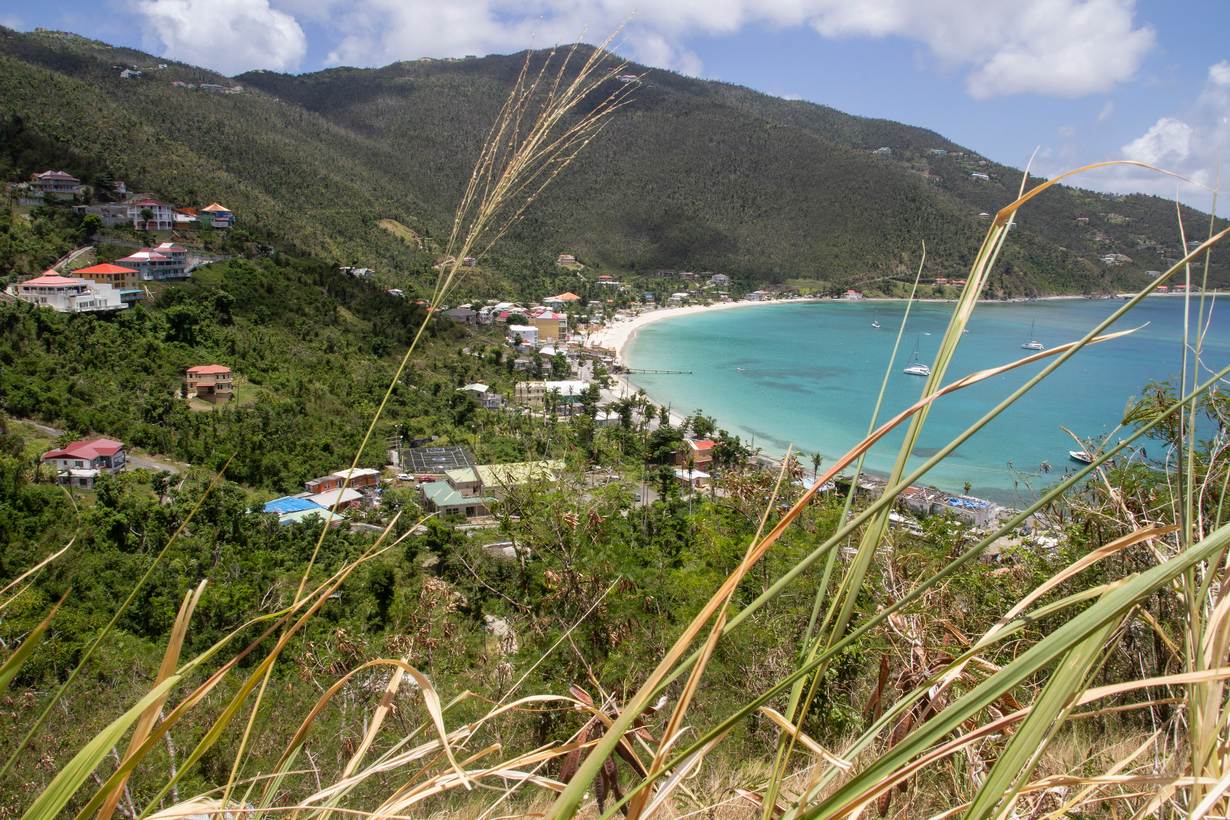 Our Standards: The Thomson Reuters Trust Principles.