Climate change makes route more accessible as Russia hopes it will become new "Suez Canal"
By Stine Jacobsen
COPENHAGEN, Aug 24 (Reuters) - A Maersk vessel loaded with Russian fish and South Korean electronics will next week become the first container ship to navigate an Arctic sea route that Russia hopes will become a new shipping highway.
The Arctic voyage by the 3,600 20-foot container capacity Venta Maersk is the latest step in the expansion of the so-called Northern Sea Route which is becoming more accessible to ships as climate change reduces the amount of sea ice.
The brand new Venta Maersk, one of the world's largest ice-class vessels, will also collect scientific data, said Maersk, underlining that the voyage is a one-off trial for now.
The decision by Maersk, the world's biggest container shipping group, to test out the route is a positive sign for Russia, which hopes this could become a mini Suez Canal, cutting sea transport times from Asia to Europe.
"A well-respected company like Maersk sending a container ship through the Arctic, definitely signals there's something there," Malte Humpert, a senior fellow at U.S.-based think-tank Arctic Institute, said.
The Northern Sea Route runs from Murmansk near Russia's border with Norway to the Bering Strait near Alaska. Ships sailing it require a permit from Russian authorities.
While the route is significantly shorter than going via the Suez Canal, it has not yet proven to be commercially viable for container shippers.
"Currently, we do not see the Northern Sea Route as an alternative to our usual routes," a spokeswoman for Maersk said.
"Today, the passage is only feasible for around three months a year which may change with time," the spokeswoman said.
Sea ice around the North Pole reaches its biggest area at the end of the winter in March, and thaws to an annual minimum in September. The ice has shrunk in recent decades in a trend scientists have linked to man-made climate change.
In the past, more expensive ice-classed vessels, higher transit fees, unpredictable ice coverage, high insurance rates, a lack of search and rescue teams, and hefty fees for Russian ice-breaker escorts have put off many international shipping firms.
But Russian officials have said there is strong interest in the sea route from Asian countries and that new icebreakers will allow for year-round navigation in the 2020s.
The Venta Maersk left Vladivostok on Russia's east coast on Thursday and is scheduled to depart Busan, South Korea, early next week. It will then pass through the Bering strait around Sept. 1 with expected arrival in St. Petersburg on the Baltic by end-September.
NEW POLAR ROUTE
Russia is building new roads and a railway and overhauling its ports in an expansion of its freight capacity to prepare for a potential increase in shipping traffic along its Arctic coast.
"This is a matter of national pride ... if Russia wants to maintain strong, economic development, the Northern Sea Route is part of that," Humpert said.
The Venta Maersk will be the first container ship to sail the route, but other types of vessels have already used it, including Maersk's Chinese rival COSCO, according to the Arctic Institute.
Russian natural gas producer Novatek delivered the first ever liquefied natural gas (LNG) cargo to China via the Northern Sea Route in July.
In January, China revealed ambitions to create a "Polar Silk Road" by developing shipping lanes opened up by global warming and encouraging enterprises to build infrastructure in the Arctic.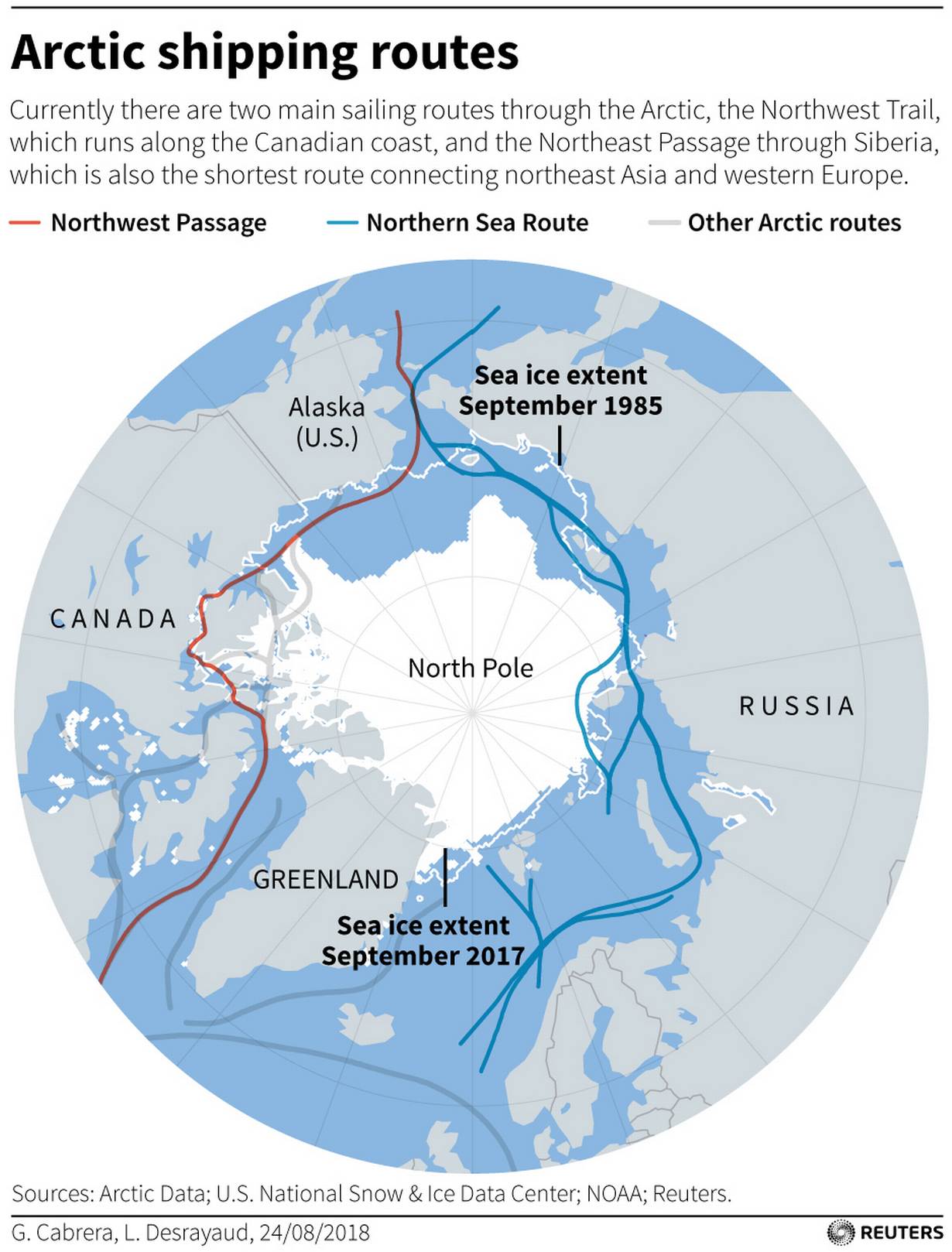 (Reporting by Stine Jacobsen, additional reporting by Andrew Osborn in Moscow; Editing by Jacob Gronholt-Pedersen and Jane Merriman)
Our Standards: The Thomson Reuters Trust Principles.