* Any views expressed in this opinion piece are those of the author and not of Thomson Reuters Foundation.
"Climate change is the biggest national security threat to island states"
"The world's worst turbulence", "fear equivalent to being held at gunpoint" - these are among the dramatic accounts of Hurricane Irma survivors in the British Virgin Islands (BVI), powerfully documented in Angela Burnett's book "The Irma Diaries".
After experiencing Irma's devastating consequences just over a year ago, Burnett, who is also the BVI's climate change officer, started collecting personal stories of those who endured the most powerful Atlantic hurricane on record.
"I became fascinated by how people must have survived," Burnett told the Thomson Reuters Foundation on the sidelines of her book launch in London this week.
With "The Irma Diaries", Burnett hopes to raise awareness of the plight of hurricane survivors and connect people with the growing threats of climate change.
"What the world really needs is stronger, faster and more ambitious action on climate change. It's not remote and distant. It's now - it's urgent and it's human," she said in a speech at the University of London.
CLIMATE 'REFUGEES'
A decade ago, Burnett thought of climate change as something that didn't have "that much to do with me". Now she views it as the "biggest national security threat" to island states.
"After Hurricane Irma, the reality sunk in: I could actually become a climate refugee," Burnett said.
2017 was the deadliest hurricane season to hit the Caribbean in over a decade, with the double whammy of hurricanes Irma and Maria causing around 235 direct deaths – and probably thousands more due to wider effects on health - as well as economic losses estimated at $130 billion.
It could take the BVI more than 10 years to recover from the devastation, after its tourism sector sustained losses put at $2.8 billion, over two-and-a-half times its GDP, Burnett said.
Over a third of houses were completely destroyed or damaged beyond repair, and the entire electricity grid was down for more than six months.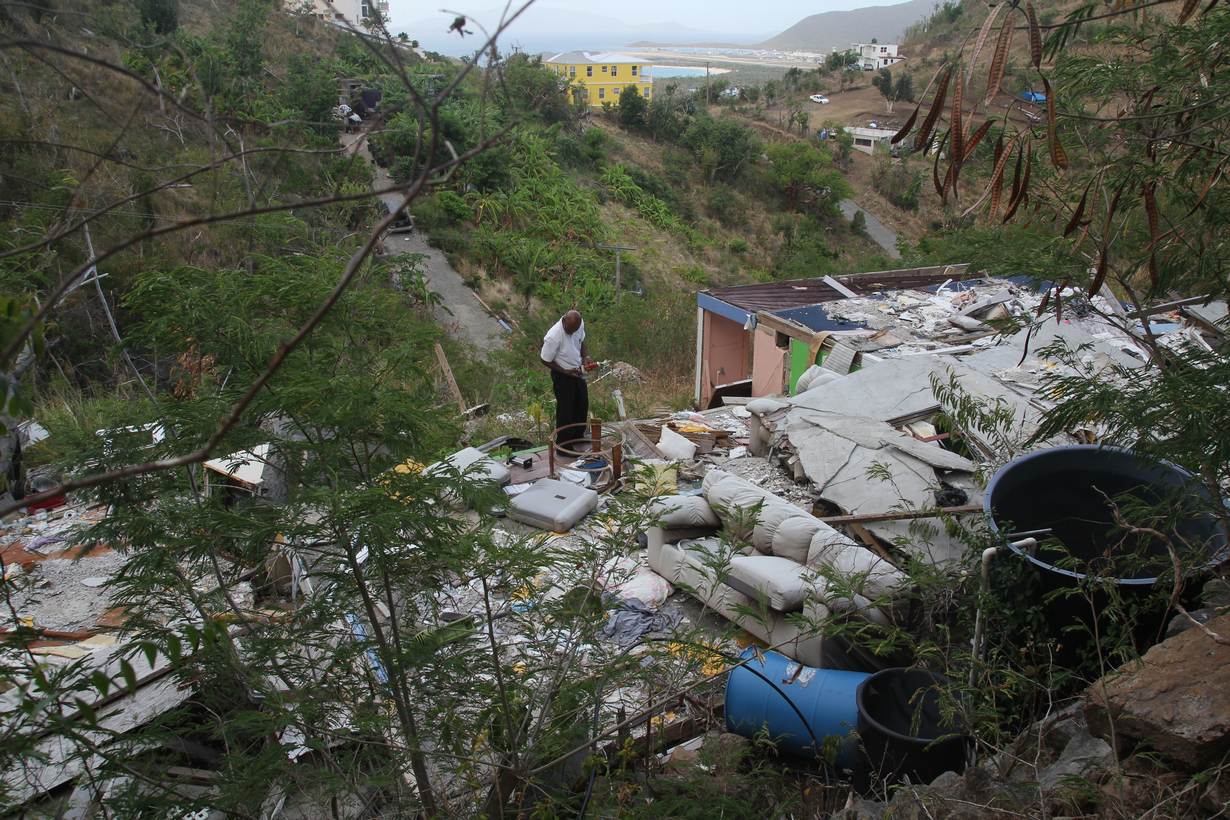 MORE POWERFUL HURRICANES
The onward march of climate change is making islanders worldwide realise that one day their homelands could become uninhabitable.
"Islands are our home, and we shouldn't have to be forced out of them by an unnecessary change in our climate," Burnett said.
There has been a documented increase in extreme weather events fuelled by climate change worldwide, from droughts to hurricanes, the author noted.
"In my lifetime, hurricanes have gone from being rare to commonplace," she said.
Hurricanes are also becoming more powerful, Burnett added, citing research by MIT Professor Kerry Emanuel which found that warmer sea temperatures boost the intensity of storms.
"Increasing the concentration of carbon dioxide in the atmosphere increases the speed limit of hurricanes," Burnett noted.
Seven of the eight most powerful hurricane seasons, with the largest number of category 3 and above storms, have occurred since 1950.
"No country and no region will escape the impacts of climate change. Much more urgent action is needed," Burnett said.
WHERE WILL THE MONEY COME FROM?
Islands face the brunt of global climate threats, even though collectively they emit less than 0.2 percent of the world's greenhouse gases, according to Burnett.
It is crucial that islands and other vulnerable regions invest in climate adaptation efforts, but raising funds to do so is a challenge, she said.
"Adaptation is not cheap," Burnett said, noting that the recent installation of a coastal defence system in the BVI cost $300,000.
The BVI finds itself in a particularly tricky position as it is a British overseas territory, which is not represented on the United Nations, and therefore cannot access financing from the Green Climate Fund, set up to help developing nations tackle climate change.
With necessity driving innovation, the BVI set up the Caribbean's first climate change trust fund last year. Burnett and other climate officials hope international organisations and wealthy individuals will donate cash to invest in strengthening the territory's resilience.
Brexit is another major concern, Boyd McCleary, BVI governor from 2010 to 2014, said at the event.
"Funds from the European Union will stop when the UK leaves. The (British) government has said it will provide some support, but that will not last long," he added.
Burnett said the BVI was being "left in the cold", aside from small projects.
"There is a need for ongoing, sustainable financing to help us adapt," she said.
The Thomson Reuters Foundation is reporting on resilience as part of its work on zilient.org, an online platform building a global network of people interested in resilience, in partnership with The Rockefeller Foundation.
Our Standards: The Thomson Reuters Trust Principles.