For some low-income Jordanians the attention and funds directed towards refugees from Syria are a source of tension
By Adela Suliman
DHLAIL, Jordan, Oct 31 (Thomson Reuters Foundation) - Syrian refugee Umm Mohammed fidgeted in her chair in a breezy office in Dhlail city, northern Jordan, before joking: "We don't know how to sit still."
Along with others who fled conflict in neighbouring Syria, she works with low-income Jordanians in this industrial town famed for its dairy and textile factories.
But their work is different: retrofitting homes to make them green.
"We want to work - we don't want to sit around idly. We want to contribute," she said of her fellow refugees' motivation.
Umm Mohammed - she uses the moniker, which means 'mother of Mohammed', to avoid potential difficulties with Syrian officials - is from Deraa, a city close to the Jordanian border.
It was the scene in March 2011 of the first major peaceful protests against Syrian President Bashar al-Assad.
Umm Mohammed arrived in Jordan later that year with her husband and four children, carrying just a few pieces of luggage.
At first she worked from home, fermenting pickles and making soap to sell in the local market, but she soon became involved with a local women's project to hand-make straw shading devices that are fitted to windows to keep homes cooler.
Her work forms part of a bigger effort - a pilot project to retrofit and build affordable green homes, led by two non-profit organisations: the Jordan Green Building Council (JoGBC) and Habitat for Humanity.
The project involves retrofitting existing homes by adding shading devices, solar-thermal water heaters and rainwater collection tanks, and building new homes using green techniques such as reflective paint and double-block brick walls for better insulation.
So far, about 48 homes have been retrofitted, while another half-dozen or so have been built from scratch and have near-zero carbon emissions.
The JoGBC is hopeful that the project, which cuts emissions and builds community cohesion, will spread to other parts of the country.
Making the straw shades suits women who do not want to work in factories with men or who need to work from home due to childcare, Umm Mohammed told the Thomson Reuters Foundation.
And doing so has also allowed her to socialise with her Jordanian neighbours.
"This project has definitely helped community cohesion in this area," Umm Mohammed said.
"Some of us (Syrians and Jordanians) are like brothers and sisters - we don't see any difference. The Jordanians are very generous and supportive. But in other areas sometimes they shout at our kids: 'Why are you still here? Go back to Syria.' So it varies."
STRONG FOUNDATIONS
Jordan hosts about 666,000 registered Syrian refugees, according to the United Nations refugee agency (UNHCR), with most living in urban areas.
Ali Hossein, who fled the fighting in his Syrian hometown of Ghouta in 2013, is one of them. In his paint-stained trousers and sand-coated work boots he works as a blacksmith on the green homes project in Dhlail.
"It's a new and interesting idea. There's nothing like it yet," he said of the climate-friendly building skills he has acquired, from double-glazing to roof insulation techniques.
"It was very beneficial and provided work opportunities for lots of families, and it really helped us integrate," he said.
Syria's bloody conflict, now entering its eighth year, has caused half a million deaths and drawn in world and regional powers. More than half of its pre-war population have fled their homes - about 5 million sought refuge abroad, while millions more have been displaced internally.
The influx of Syrian refugees came as Jordan already hosts nearly 2.2 million Palestinian refugees, according to 2016 figures from the U.N. Relief and Works Agency.
The additional refugees from Syria have put a strain on energy, water and housing demands, and added pressure to Jordan's ability to meet its obligations under the 2015 Paris climate agreement, said Jordan's environment minister Nayef Hmeidi Al-Fayez.
Although difficult to measure, the environmental impact of the swell in population was a big challenge, he told the Thomson Reuters Foundation.
"All of a sudden whatever plans we had, whatever targets we had, they had to be revisited," he said in Amman, the Jordanian capital.
Amman is one of more than 70 cities worldwide that have pledged to become zero-carbon by 2050. That means they will eliminate nearly all fossil fuel emissions and offset what they cannot through actions such as planting carbon-absorbing trees.
And even though Jordan is not a major emitter of greenhouse gases, Al-Fayez said, more people inevitably means more carbon emissions.
"Sometimes there are things that will slow us down, but they will never stop us," he said.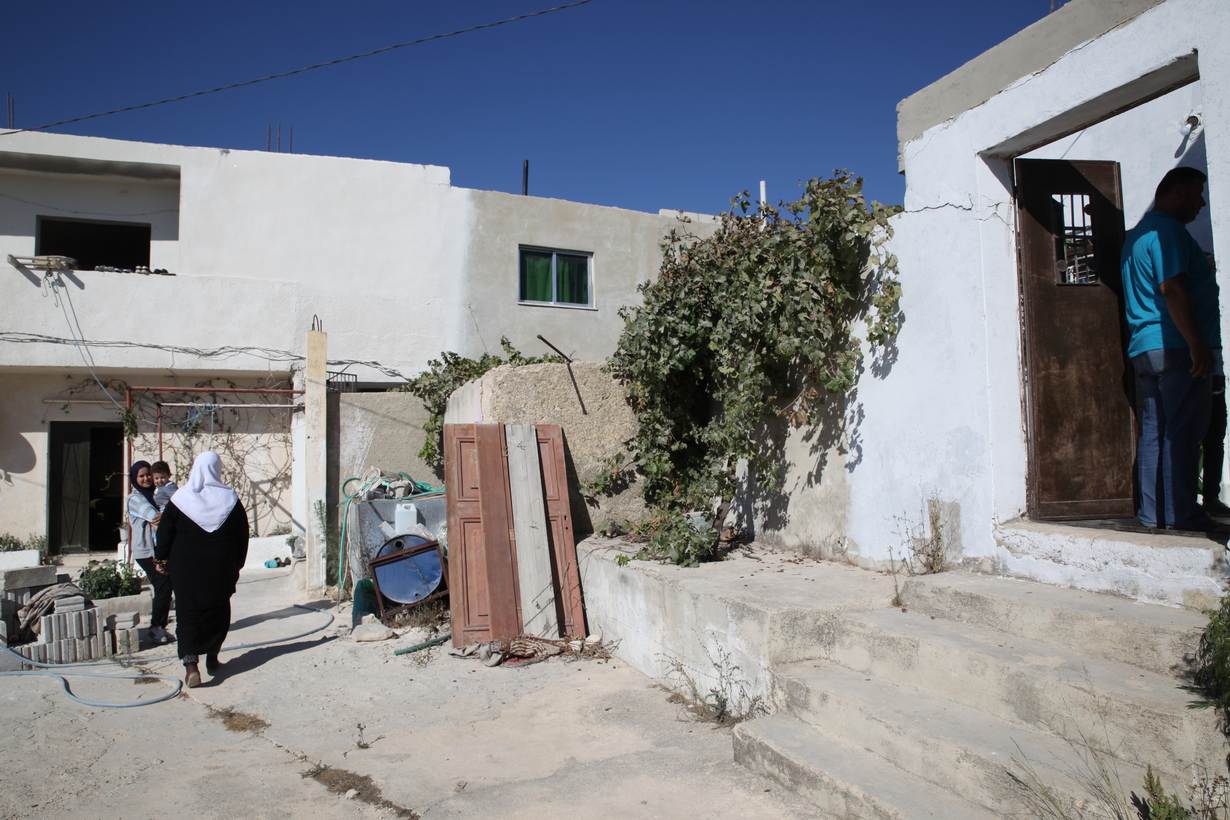 'WE ARE BECOMING JORDANIAN'
For many low-income Jordanians the attention and funds directed towards refugees from Syria are a source of tension.
"Some people ask: 'Why are all the grants going to Syrians?'" said JoGBC project coordinator Aya Rabab'ah.
"Many conflicts started so we worked for the development of the host community with the engagement of the Syrians, so in this way we're reducing the conflicts and trying to create more cohesion."
For Jordanian Ibtisam Al-Mimar, the green homes project has healed community rifts and helped the climate.
"We made friendships and became a community through the work," said Al-Mimar.
"Some of us have intermarried, we work together. Relations are becoming better as we mix, and more cohesion is visible."
Rabab'ah said solving the dual issues of housing and community cohesion meant the green homes were both lowering emissions and, as word spread, becoming more popular.
There are now waiting lists in several parts of Jordan with families keen to lower their costs and emissions, and with builders looking to market their green credentials.
Amman's chief resilience officer Nisreen Al-Araj - a city official who works across local government departments and the mayor's office - said more refugees meant more pressure on the capital's aging infrastructure.
But, she said, having Jordanians and Syrians work together could bring opportunities - provided people's mindsets changed.
"The children who are living today of those refugees, it's very possible that they are the Jordanians of tomorrow," Al-Araj told the Thomson Reuters Foundation.
Meantime many Syrian refugees dream of going home, including Umm Mohammed. However, that is not possible: in August, the UNHCR said conditions were not yet ready for mass refugee returns to Syria.
In the meantime, "we are becoming Jordanian," said Umm Mohammed.
"There's nothing left for us back at home," she said. "They've taken our land, our homes - and most of my relatives are dead."
(Reporting by Adela Suliman; Editing by Robert Carmichael. Please credit the Thomson Reuters Foundation, the charitable arm of Thomson Reuters, that covers humanitarian news, women's and LGBT+ rights, human trafficking, property rights, and climate change. Visit http://news.trust.org to see more stories.)
Our Standards: The Thomson Reuters Trust Principles.