Critics have complained about the number of dockless vehicles left vandalised or dumped in public
By Sonia Elks
LONDON, Nov 1 (Thomson Reuters Foundation) - When high-tech bicycle rental scheme Mobike dropped hundreds of its distinctive orange and silver bikes across the northern British city of Manchester, it promised a cheap, flexible and low-carbon way to travel.
In September, the firm announced it was pulling out of the city, citing significant bike losses due to theft and vandalism and following complaints of anti-social use and street clutter.
It was just the latest growing pains of dockless bike and scooter schemes which have exploded across many world cities.
While fans say they help free city centres from traffic and promote cycling, critics argue they have taken advantage of a lack of regulations and are riding roughshod over local communities to act as "parasites" on public space.
"Urban space and public space is for the public – it's for us all to use. It's not for a private company to make profit off," said Morten Kabell of Danish firm Copenhagenize, which specialises in bike-focused urban planning.
"(Dockless firms) prefer anarchy, they prefer to be parasites on the urban space."
Chinese rivals Ofo and Mobike are among the biggest players in the dockless rental market which has seen millions of bicycles and electric scooters placed across hundreds of cities worldwide.
These schemes differ from traditional rentals in that the vehicles are not stored at a set location like a rental shop or fixed docking station but are simply left out in public.
Users can track down, unlock and rent the nearest bike or scooter using a mobile phone app and later leave it where they finish riding it.
"When you take the humble bike and give it a tech twist, it improves mobility," said Steve Milton, head of growth for Mobike Europe, who says the schemes offer a revolutionary new mode of travel in crowded inner-cities.
It is a fast expanding market. Global consultancy firm Roland Berger estimates bike sharing is growing by 20 percent a year and could be worth up to 8 billion euros ($9 billion) by 2021.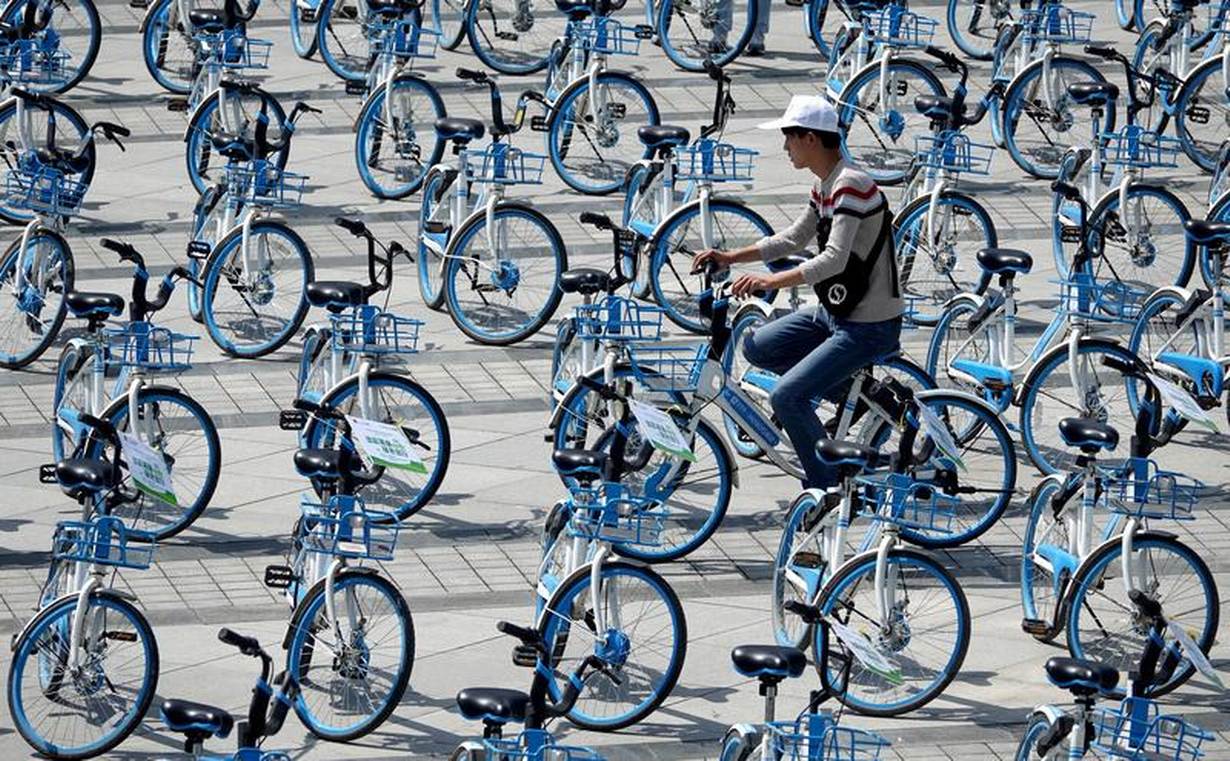 However, it hasn't always been a smooth journey.
The arrival of dockless firms has raised broad questions over who gets to use public infrastructure and how – and highlighted the fact that many cities lack regulations to control such companies effectively.
"At the moment they can just chose to come along and dump thousands of bikes onto the streets and a city can't technically do anything about it," said Chris Boardman, who is spearheading efforts to boost cycling in Greater Manchester.
The former Olympic cyclist, who won a gold medal in the 1992 Games, said the city had initially welcomed Mobike but quickly found the bikes attracted anti-social behaviour.
Many city authorities have found the only mechanism they have to clamp down on companies has been to treat bikes or scooters as litter or street obstructions, he added.
Dockless firms rejected those criticisms, with the British representative body CoMoUK saying bike share schemes were themselves victims of anti-social behaviour and the companies worked to combat vandalism and inappropriate parking.
CoMoUK said its voluntary accreditation scheme required companies to seek permission from local authorities before entering a city, like a similar programme running in the United States.
It added that no dockless scheme had entered a British city without permission since London's Wandsworth borough impounded dozens of bikes which it said had been "dumped" on the streets without consent in 2017.
Nevertheless, tussles between dockless companies and cities have emerged worldwide.
In June, the U.S. city of San Francisco ordered electric scooter companies Lime and Bird to clear hundreds of vehicles from the streets and introduced a permit system after widespread complaints of street clutter.
Singapore-based oBike left the Australian city of Melbourne the same month following the introduction of new rules that would have seen the firm face steep fines for blocking streets.
A growing number of cities and urban districts are also introducing regulations to license or otherwise manage private dockless schemes.
Critics have complained about the number of dockless vehicles left vandalised or dumped in public, while disability campaigners say they create obstructions after being left strewn across paths for hours or even days.
"We are hearing about problems every week," said Francesca Di Giorgio, policy manager for Britain's Royal National Institute of the Blind.
"You can never plan for where a dockless bike is going to be - the very temporary nature means you never know where one is going to be laid across a path."
CoMoUK said its accreditation scheme sets response times for dealing with obstructions.
Mobike also employs a team that deals with vandalised or inappropriately parked bikes, said Milton, though he acknowledged in some cases it might take several days for a call to be acted on.
Claims that the bikes create street clutter are a more complicated question, he said.
"When is a bike that is parked a dumped bike? It's almost a mental transition," he said. "People don't see a car parked and say, 'That car has been dumped'."
The sight of brightly coloured dockless bikes and scooters in urban areas has highlighted a lack of bicycle infrastructure in many cities.
One of the longer-term effects may be to put pressure on local authorities to create facilities like bike parking, predicted Geoffrey Dudley from the University of Oxford's Transport Studies Unit.
He said cities may ultimately find it is worth paying for infrastructure to support dockless users - but it will probably come at a price for the companies in the form of new regulation.
"There's got to be some sort of rules in the end," he said.
($1 = 0.8797 euros)
(Reporting by Sonia Elks @soniaelks; Editing by Emma Batha. Please credit the Thomson Reuters Foundation, the charitable arm of Thomson Reuters, that covers humanitarian news, women's and LGBT+ rights, human trafficking, property rights, and climate change. Visit http://news.trust.org)
Our Standards: The Thomson Reuters Trust Principles.