Unique course in northern England offers free education to survivors of modern slavery
By Kieran Guilbert
BARNSLEY, England, Nov 28 (Thomson Reuters Foundation) - Surviving sex trafficking, battling drug and alcohol addiction, struggling to get asylum in Britain: not the usual conversation topics one would expect from students at an adult college.
This is not your average class, but a unique course in Barnsley, northern England, which offers free education to survivors of modern slavery who are desperate for a fresh start.
Northern College's Free Thinking programme provides adult victims with accommodation, meals and lessons from computer skills and filmmaking to art and English for three days a week.
Amid interviews with police and officials, the stress of staying in charity-run safehouses and fears over their future, the college allows its students some respite from reality - and the chance to start imagining and planning a life after slavery.
"The college is the one thing that gives me confidence, it's my only sanctuary," said Sunny, a 25-year-old from Pakistan who moved to London in 2017 to study a masters degree and stayed with a couple who beat and raped her for several months.
"Without this course, I would just be alone - and suicidal," Sunny, who declined to give her real name, told the Thomson Reuters Foundation as the students joked about who would act as Queen Elizabeth in a role-play exercise on lawmaking in Britain.
Yet these dozen students are the fortunate few as most foreign survivors are entitled to housing and healthcare but not education or the right to work while Britain decides whether to recognise them as slavery victims and offer further assistance.
About 5,145 possible victims were referred to the government last year - up a third from 2016 - yet activists say the system for processing and supporting survivors is tough to navigate, inconsistent, and leaves many in limbo for months or even years.
Campaigners and politicians are urging Britain to cement its claim as a world leader in tackling a trade estimated to enslave 136,000 people nationwide by giving survivors a longer recovery period and ensuring they can access public money for education.
"All survivors should have access to education ... not only to help them move on from their exploitation but to acclimatise to life in Britain," said opposition lawmaker Stephanie Peacock, who has championed Northern College's programme in parliament.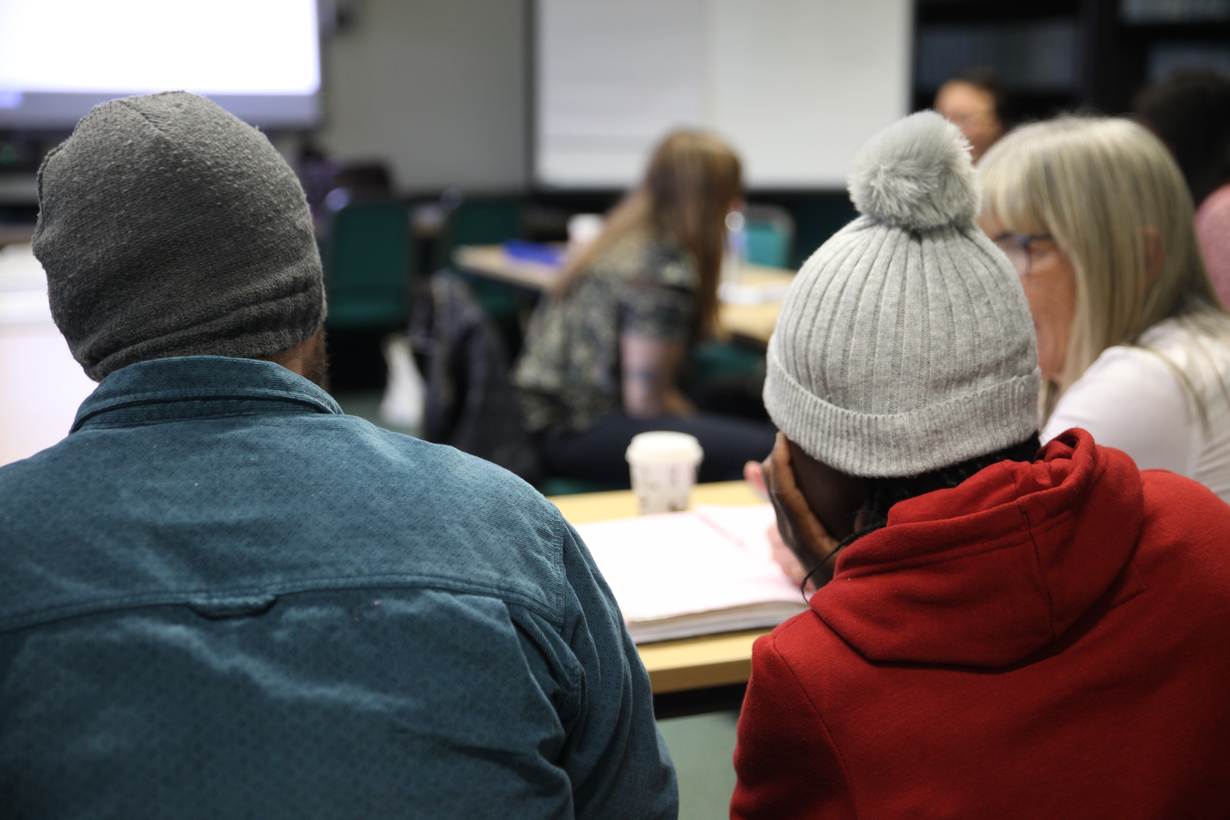 SCHOOL'S IN
Each Monday morning, 12 slavery survivors from nations including Brazil, Gambia and Sri Lanka hop on buses in several surrounding cities and look forward to three days of college, camaraderie and comfort away from their safehouses.
The students' freedom and surroundings at Northern College - a castle and grounds once owned by 18th century diplomat Thomas Wentworth - offer a welcome contrast to their former captivity.
"The safehouse can feel like a prison but here I am free ... you can do what you want, watch TV, eat and sleep when you want," said a woman from Latvia, who asked to remain anonymous.
"We are not children," she said in a classroom marked by ornamental arches, peeling bookshelves and large, airy windows.
After a successful pilot in June, this is the second set of survivors to undergo the 10-week course and the adult college is in discussions with the education ministry about future funding to help cope with the cost of 6,000 pounds ($7,727) per student.
From non-Europeans to those who lack identity documents or are being held on immigration grounds, most slavery survivors in Britain are unable to access education, according to activists.
The education ministry did not respond to several requests for clarification about which survivors are entitled to public funds for education.
"A lot of survivors are in no-man's land regarding their immigration status ... they don't fit neatly into any of the bureaucratic boxes," said course organiser Jane Williamson.
Confusion about the system means that some victims who are eligible may not seek an education, or be rejected by colleges over concerns surrounding their financial situation, she added.
"But education is vital," she said before greeting each student in turn. "Their freedom has been restricted or taken away – part of their recovery is to take that back, bit by bit."
'MORAL OBLIGATION'
A spokeswoman for Britain's education ministry said the department wanted to do all it could to support survivors of slavery and human trafficking that live and work in Britain.
"Through our further education budget, we provide funding for colleges to teach a range of students, including people that may be vulnerable like asylum seekers and refugees," she said.
Despite being hailed as a trailblazer in the global anti-slavery drive, Britain said in July it would review its landmark 2015 law amid criticism that it is not being used fully to jail traffickers, drive firms to stop forced labour, or help victims.
The government in February said it would halve financial aid for potential slavery victims to 38 pounds a week, and activists say a bill to allow survivors to stay in Britain for a year while they recover is being blocked by a lack of political will.
"Britain has a moral obligation to put survivors on a pathway where they are not sucked back into exploitation," said Kate Roberts, head of the Human Trafficking Foundation.
"Education is a big part of that," she added. "If you can't speak, read and write English, or manage money, then you're always going to struggle ... to have to rely on other people."
For Alejandro, a 30-year-old from Brazil, the skills he has learned and freedom he enjoys at Northern College have given him a new lease of life as he mulls the opportunities he may pursue.
After a decade of being sold across more than 20 countries, he is no longer resigned to a life of sex slavery but thinking about studying psychology at university and working on his art.
"The important thing is to be in the moment, in the here and now," he said while showing off his rainbow coloured sculptures.
"For the first time, I can now start looking to the future."
(Reporting by Kieran Guilbert, Editing by Claire Cozens. Please credit the Thomson Reuters Foundation, the charitable arm of Thomson Reuters, that covers humanitarian news, women's and LGBT+ rights, human trafficking, property rights, and climate change. Visit http://news.trust.org)
Our Standards: The Thomson Reuters Trust Principles.