A Thomson Reuters Foundation investigation in 2016 found children dying in mica mines, but their deaths were covered up.
By Roli Srivastava
MUMBAI, Dec 5 (Thomson Reuters Foundation) - A government survey will reveal for the first time the extent of child labour in deadly mica mines in eastern India, and campaigners plan to use the results to pressure companies to end the practice in their supply chains.
A Thomson Reuters Foundation investigation in 2016 found children dying in crumbling, illegal mines for the mineral that puts the sparkle in make-up and car paint - but their deaths were covered up.
Now, India's National Commission for Protection of Child Rights has completed a survey of children working in mines throughout Jharkhand and parts of Bihar states, although officials said the results are not ready to be made public.
"Admitting an issue is the first step toward tackling it," said Bhuwan Ribhu of the Kailash Satyarthi Children's Foundation (KSCF), which has partnered with the Jharkhand state government to end child labour in mines.
"Multinationals are aware of child labour in mica mines, but once this data is out, we will push the companies to act," he added.
His charity has rescued nearly 3,400 children from the mines since 2005 and placed them in schools. It estimated in 2016 that 20,000 children were working in the mica mining regions of Jharkhand and neighbouring Bihar.
But inadequate data meant that those working to free the children were forced to approach the job somewhat haphazardly.
"There was always a question mark on the extent of the problem," Ribhu said.
Earlier this year, the children's commission and the Jharkhand government recruited teachers and childcare workers to determine how many children were out of school and working in mines.
"This data will help to create a pathway and an action plan to eliminate child labour in actual terms," said Priyank Kanoongo, head of the commission.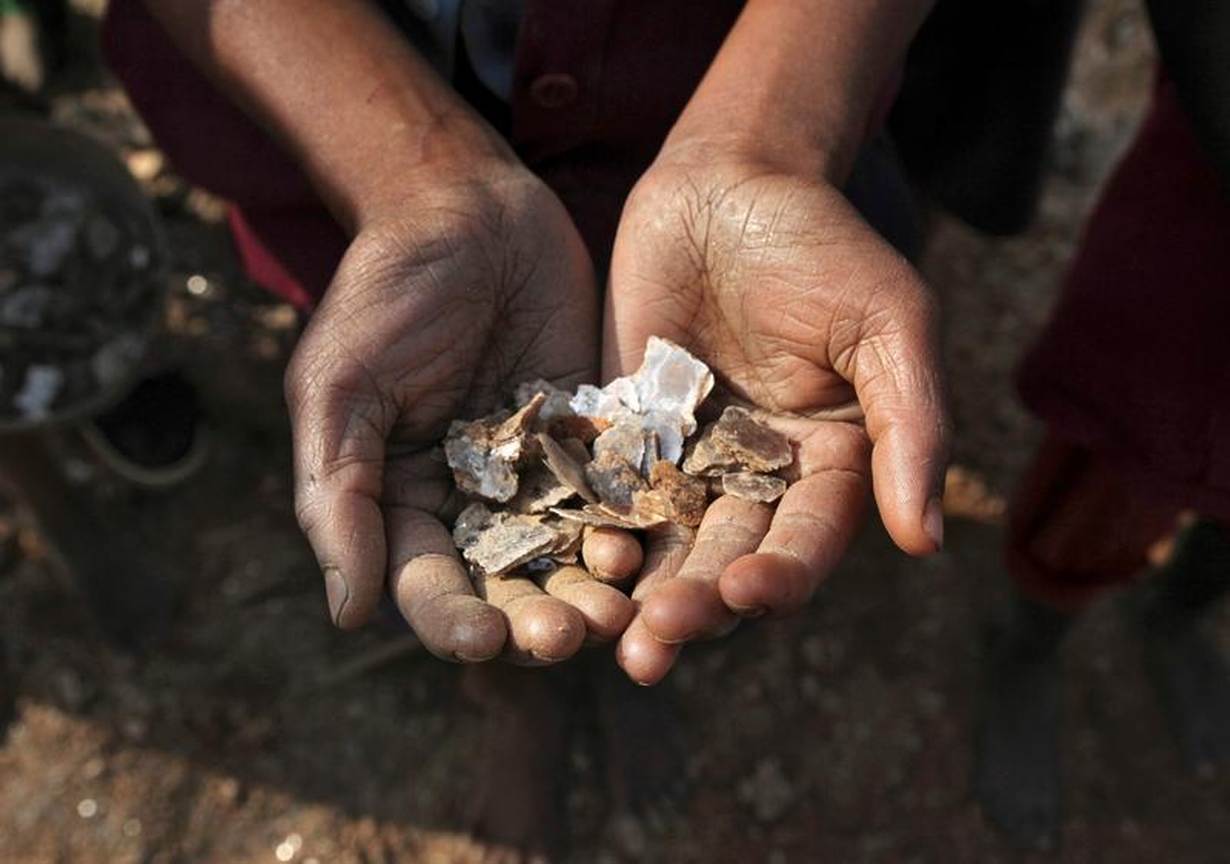 CORPORATE INACTION
Campaigners say the survey results will provide evidence of child labour, which should put pressure on multinational corporations that source mica from India to clean up their supply chains.
The revelation in 2016 that children were dying prompted some companies to pledge action to end the practice.
But children are still working and dying, according to KSCF, which documented two deaths this year.
Campaigners say deaths are probably even more numerous as bodies are often not recovered from the rubble, or they are quickly cremated by mine operators.
Much hope lies with the Paris-based Responsible Mica Initiative (RMI), which was set up in 2016 to eliminate child labour and improve working conditions in Indian mica mines within five years.
But campaigners say progress has been slow, with too few corporations signing on.
"It is an unwillingness on the part of the corporates and lack of knowledge among traders and the local community, that compounds the issue," said Ribhu.
Eight companies joined RMI this year, bringing the total to 47, according to executive director Fanny Fremont. Five of them are India-based processing companies rather than multinational buyers of mica.
The RMI is "seeking a more strong and active support from automotive and electronics (biggest purchaser of mica in 2015 at 26 percent) industries, which are the most significant users of mica," she said by email.
While cosmetics firms such as Estee Lauder, L'Oréal and Chanel are RMI members, the organisation has no automotive brands and only one - Philips - from the electronics industry, Fremont said.
MINING BOOM
India is one of the world's largest producers of the silver-coloured mineral found in a list of consumer goods from make-up and car paint, to electronics and construction materials.
Once boasting over 700 mines with over 20,000 workers, the industry was hit by a 1980 legislation to limit deforestation and the discovery of substitutes for natural mica, forcing most mines to close due to cost and stringent environmental rules.
But renewed interest in mica, spurred by China's economic boom and a global craze for "natural" cosmetics, saw illegal operators scurry to abandoned mines, creating a lucrative black market.
In one of the poorest regions of India, children as young as five are part of an opaque supply chain, their small hands ideal to pick and sort the valued mineral.
Fremont said the RMI has initiated programmes to eradicate child labour by improving access to education, healthcare and government welfare schemes for 2,500 households Jharkhand and Bihar.
The RMI's projects in India are funded by its corporate members, but contributions have not met the 1.5 million euros the organisation said it hoped to raise in 2018.
The RMI has managed to raise just under 800,000 euros this year, up from 400,000 euros last year Fremont said.
Campaigners say the numbers show a lack of support for the initiative, while government promises have also fallen short.
The government of Jharkhand has previously announced plans to make all mica mines legal in order to better address labour abuses, which campaigners said did not have much impact.
State officials say the new survey will give them the data boost they need to take action.
"Every child matters to us," said Sunil Kumar Barnwal, principal secretary to Jharkhand's chief minister. "The objective is to solve the issue."
(Reporting by Roli Srivastava @Rolionaroll; Editing by Jared Ferrie. Please credit Thomson Reuters Foundation, the charitable arm of Thomson Reuters, that covers humanitarian news, women's and LGBT+ rights, human trafficking, property rights, and climate change. Visit http://news.trust.org)
Our Standards: The Thomson Reuters Trust Principles.