* Any views expressed in this opinion piece are those of the author and not of Thomson Reuters Foundation.
A survey covering more than 80,000 people in 40 countries offers some surprising results
There are some interesting and unexpected findings in the latest Reuters Institute Digital News Report, which for the first time includes lots of data on what sources people around the world use for news about climate change.
Survey results from more than 80,000 people in 40 countries show that people pay most attention to television for climate change information, compared to other sources of news.
Thirty five percent said they used television, followed by the online sites of major news organisations (15%) and specialist sites covering climate news (13%). Surprisingly, despite the boom in social media and blogs as news sources in recent years, they came in fourth place (only 9%).
Printed newspapers (5%) and radio (5%) came behind conversations with friends and families (6%).
The results are based on an online survey, so in countries with lower levels of internet penetration, the survey samples (of around 2,000 people in each country) over-represent people who are more affluent and educated.
The survey included a wide variety of countries, including from the developing world, so there are important country variations. Figures from the UK, US and Australia are broadly in line with the order of preferences, with television coming out on top.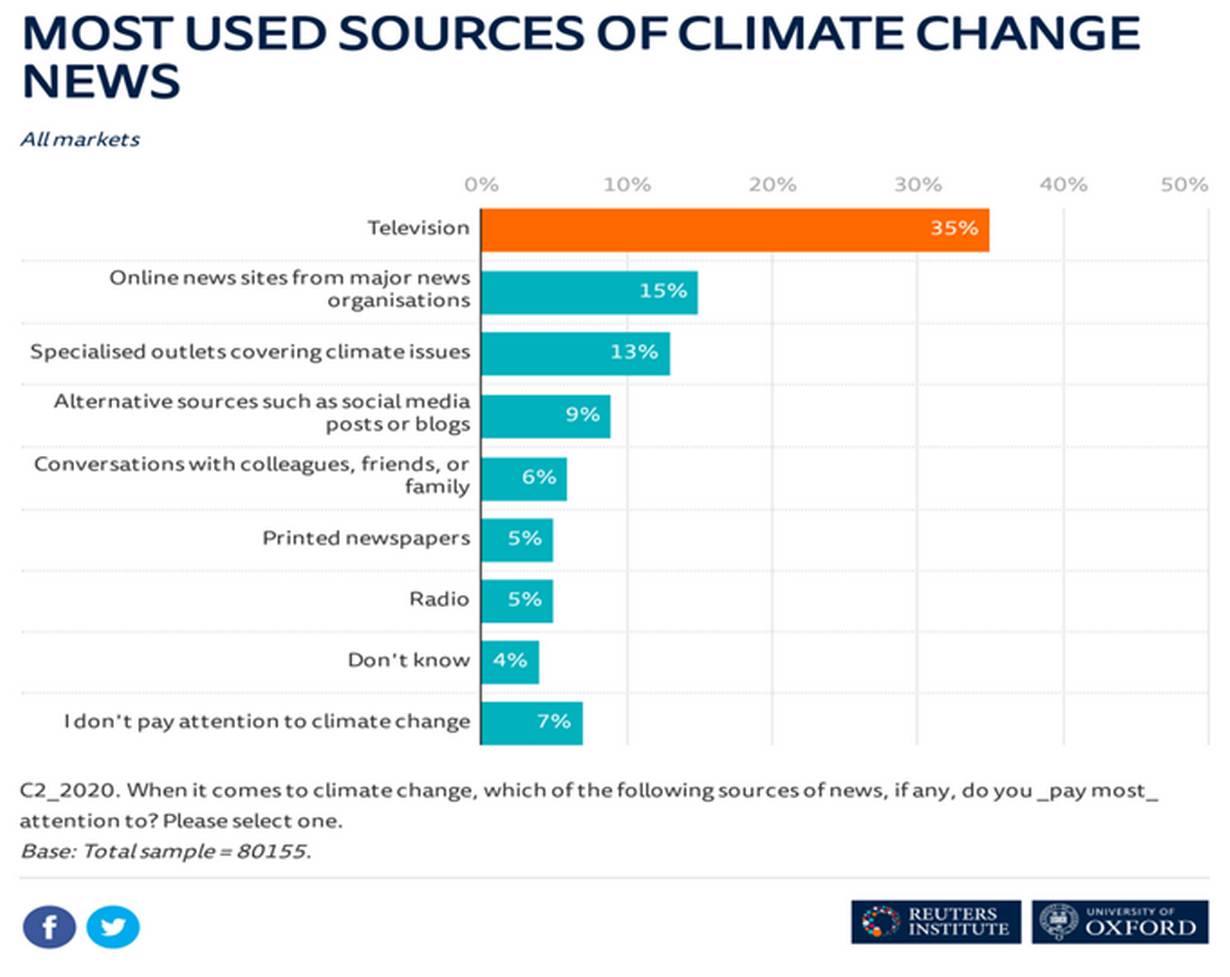 Even in countries like Kenya [1] and Brazil, where in general social media are very commonly used as a source for general news, television was most popular and above average (Kenya 38%, and Brazil 43%) for climate change, whereas much less attention was paid to social media and blogs (7% and 8%, respectively).
But in Chile for example, which registered the highest level of concern amongst any of the 40 countries surveyed, specialised outlets covering climate issues (24%) as well as alternative sources such as social media (17%) are nearly as popular as television (26%).
So why is television so universally popular as a source of news about climate change, compared to other sources? Partly it may be that, as research has shown, people tend to trust television coverage more than other media sources.
Secondly, powerful images (of extreme weather events, melting sea ice, or blazing wildfires) probably have a more powerful and lasting impact on people's emotional connection with climate change than a science-based newspaper article.
Thirdly, in some countries such as the UK, highly trusted and respected presenters, such as David Attenborough, attract very large audiences, and there is evidence that his documentaries can inspire behaviour change.
The survey showed notable differences across generations. Television is more prevalent among respondents over the age of 35, but alternative sources such as social media and blogs are more popular among younger groups.
Younger age groups also highlighted:
- the value they received from accessing news directly from activists, or by following celebrities or influencers like Greta Thunberg.
- how they used using a wide range of different sources in combination with mainstream media. This is in line with evidence that young people are more interested in news with a point of view and in accessing authentic and diverse perspectives from a wide range of digital sources.
- mainstream titles like National Geographic seem to be finding a new audience with its visual Instagram and Facebook posts on climate change.
Although Greta Thunberg may be popular to follow, her home country Sweden showed surprisingly low levels of concern about climate change. It was one of three countries with the lowest concern, along with Norway and the Netherlands.
How did people think the media were doing? Respondents from both left and right accused them of not being bold enough in their coverage, being relentlessly doom-laden and negative, and following hidden agendas. Many of these critiques are not specific to climate change and are part of wider concerns about the news media.
But some will see this as a call for less coverage about the negative impacts of climate change and a more innovative or solutions-based approach.
James Painter is a research associate at the Reuters Institute, University of Oxford. Simge Andi carried out and wrote up the original research.
[1] The survey sample for Kenya was people aged between and 18 and 54 years old.