* Any views expressed in this opinion piece are those of the author and not of Thomson Reuters Foundation.
Grassroots groups and community leaders came together to cushion the COVID-19 blow to marginalised migrant workers
For Sarita, a female community leader from the city of Surat in Gujarat, "the issue is not about who is poor; the issue is about who is the poorest among the poor".
The COVID-19 pandemic and India's ensuing lockdown placed a mirror in front of the harsh reality of inequity, showing us how ill-equipped our systems are to deal with such crises, and how much we take the informal sector - the backbone of our economy - for granted.
The nationwide lockdown suddenly imposed on March 24 affected about 40 million internal migrants in India, leaving them extremely vulnerable, not just in terms of income loss. Many were stranded in cities they did not know as transport services were suspended. In Delhi, for example, 42% of residents are reportedly migrants, most of whom lived on the margins and lacked basic amenities even before the coronavirus outbreak.
Large cities in India continue to expand and 'urbanise', depending on an influx of migrants to facilitate their growth, even as they provide minimal safety nets. These workers lack job and income security and are exposed to a range of occupational hazards. To make things worse, they often live in informal settlements without essential infrastructure to maintain a basic standard of living, and face a constant threat of eviction or resettlement.
When one of the world's most stringent lockdowns was imposed, citizens were given less than four hours to prepare. Millions of migrants were stranded in cities, unsure of where their next meal would come from or whether they could get home. Their incomes were cut off and those who could not pay rent were evicted without recourse. The state has continued evictions and demolitions during the lockdown, adding 13,500 to India's existing 1.7 million homeless, according to data from the Housing and Land Rights Network.
Social security measures took time to come into effect, and significant loopholes prevented the most vulnerable from availing them. For example, dry grocery distribution was available to those with ID cards issued by that particular city. Most migrants have identification for their native towns and villages, but not for the cities where they work. This barred them from receiving food from the public distribution system until the policy was changed or alternatives were created.
The central government introduced a 'one nation, one ration' policy in May under which ID cards would be applicable across India, but implementation has been staggered and several states have yet to come on board.
Meanwhile, the broader discourse surrounding migrants created a narrative in which they were accused of spreading the virus and were ghettoised due to fear. Even as the government began to ease restrictions to revive the economy, domestic workers, construction workers, street vendors, factory workers and other daily-wage earners were prevented from returning to work as they were considered potential carriers.
Yet, while local, state and central governments grappled with both the pandemic and the fallout from the lockdown, communities and grassroots organisations came together to cushion the blow to these marginalised groups.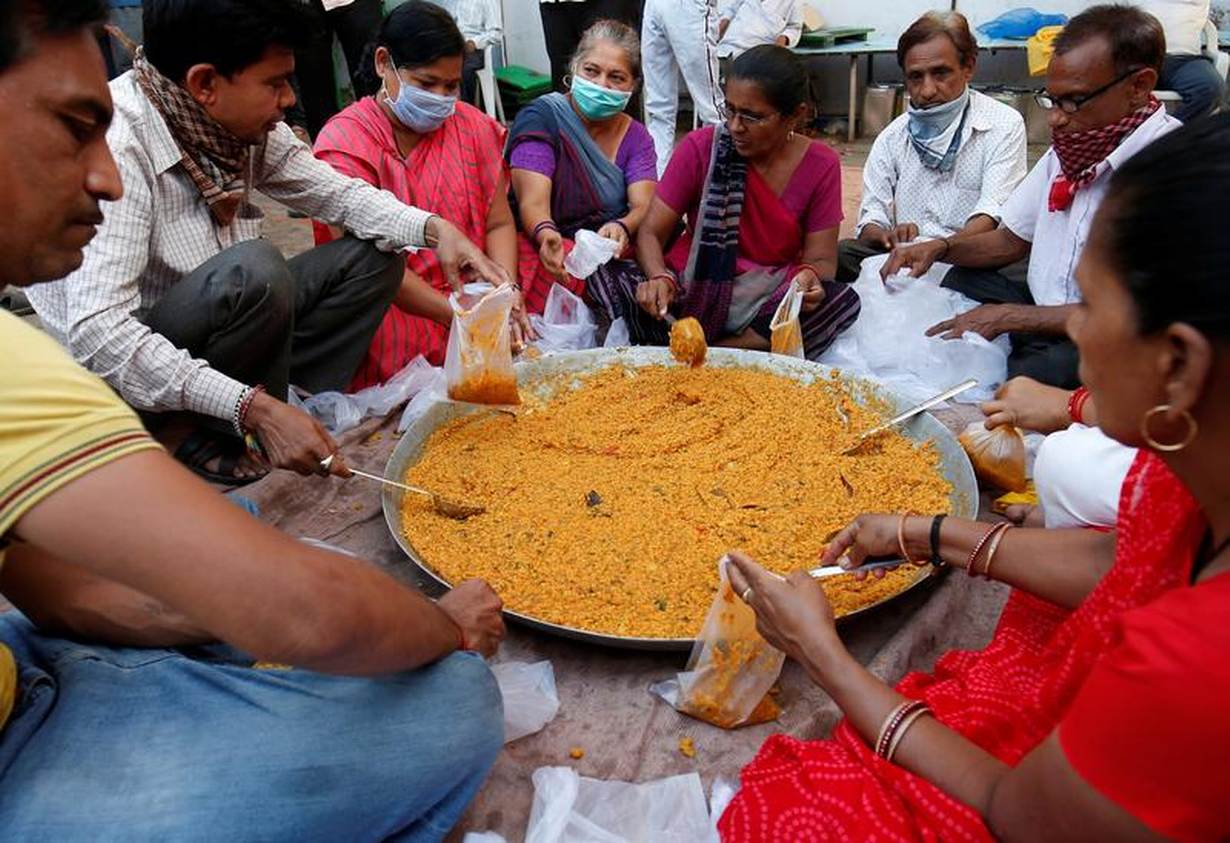 LOCAL LEADERSHIP
With the help of their donors, organisations like Mahila Housing Trust (MHT), which have worked in informal settlements across cities for decades, redirected their funds to address immediate concerns. They mobilised local leaders or Community Action Groups, conducted rapid needs assessments and found solutions for the issues that emerged.
Community leaders connected migrants to essential services by disseminating information on relief measures, identifying the neediest families and distributing groceries. They also helped people return to their native places, where possible, by verifying their details, assisting with transportation, helping them tap into finances when they lacked proper documentation, and providing food for their journeys.
Radhika, a local community leader in Ahmedabad, helped 1,200 migrants return home over 45 days. "It took a lot of effort during coronavirus but the virus didn't catch me!" she said.
The work done by organisations like MHT over the past few months has provided significant learning on how to respond to a pandemic in these settings. Community leadership and resilience have been crucial in the face of this crisis. Procedures were created locally to ensure support reaches the most vulnerable.
One community leader in Surat devised a simple system that used mobile phones to identify, track and communicate with the poorest migrant families in her slum. Through this system, she was able to distribute scarce resources to those who really needed it.
Furthermore, as rumours and misinformation spread, community leaders became a primary source of accurate and verified information. Their recognition and acceptance as local leaders provided them with the legitimacy to advocate for the rights of seasonal migrants with municipal and state officials.
In Delhi, community leaders gained access to 115 migrants who were brought to a school-turned-quarantine centre in their settlement, where they were able to provide much-needed counselling as well as clothing and hygiene supplies, thanks to their relationship with local police.
The COVID-19 crisis has reiterated that strengthening decentralisation of the government is imperative. While broader policies are essential to meet the basic needs of vulnerable groups, robust mechanisms for local-level crisis responses are indispensable. For migrants far from home, local communities and leaders who can alleviate their situation in practical ways are lifelines.
Delhi-based Roshini Suparna Diwakar is a senior researcher with the Mahila Housing Trust.
This blog is part of a series amplifying lessons learned from the experiences of communities on the frontline of the COVID-19 response in the Global South.
Read more:
OPINION: Tales of local resilience on the frontlines of COVID and climate change