Laws seeking to deregulate agriculture have sparked India's biggest farm protests in years. The Thomson Reuters Foundation speaks to one farmer who joined demonstrations in Delhi
By Saurabh Sharma
LUCKNOW, India, Dec 3 (Thomson Reuters Foundation) – Tens of thousands of Indian farmers are protesting on the outskirts of New Delhi against agricultural reforms they say make them vulnerable to competition from big businesses.
Undeterred by the capital's harsh winter and surging coronavirus cases, the farmers say that new laws could allow the government to stop buying grains at guaranteed prices, leaving them at the mercy of private buyers.
India says the bills enacted in September will help rid the agriculture sector - which employs around half of the country's 1.3 billion people - of antiquated procurement procedures.
Last week, Raman Randhawa, a 38-year-old farmer from neighboring Rajasthan state left his family to join the swelling protest encampment home to tents, tractors and trailers.
This is his story:
Farmers are the backbone of India and our welfare is the welfare of the nation.
I have come here with more than 100 farmers from my district in Rajasthan state.
I grow rice, mustard seeds and chick peas and I have left my wife and baby at home. It is becoming increasingly difficult for them to manage without me since there is no one else to take care of the shopping and other daily needs.
It is sowing season right now and many farmers, including myself, have come here abandoning all sowing activity. This is impacting us a lot but we have our eyes set on the bigger picture.
The government keeps trying to explain the laws to us but we already understand them and know the kind of consequences they will have.
Earlier there were provisions that allowed the government to pay farmers profitable prices for their crops and save the agriculture sector when it was in stress.
They also guaranteed an assured minimum price for producing staples like wheat and rice at 50% more than the comprehensive cost of production, including family labour and land rent.
The three new bills will privatise the whole farm sector and dismantle agriculture produce marketing committees that helped us sell our harvests to state-run food procurement agencies or private traders through middlemen.
It is possible that, initially, private players may give us good rates on our crops but soon manipulation will start in the demand and supply chain.
For example, mustard farmers got about 3,800 rupees ($51) for their harvest this year when the assured minimum price was 4,400 rupees. In the market it was sold for more than 5,500 rupees.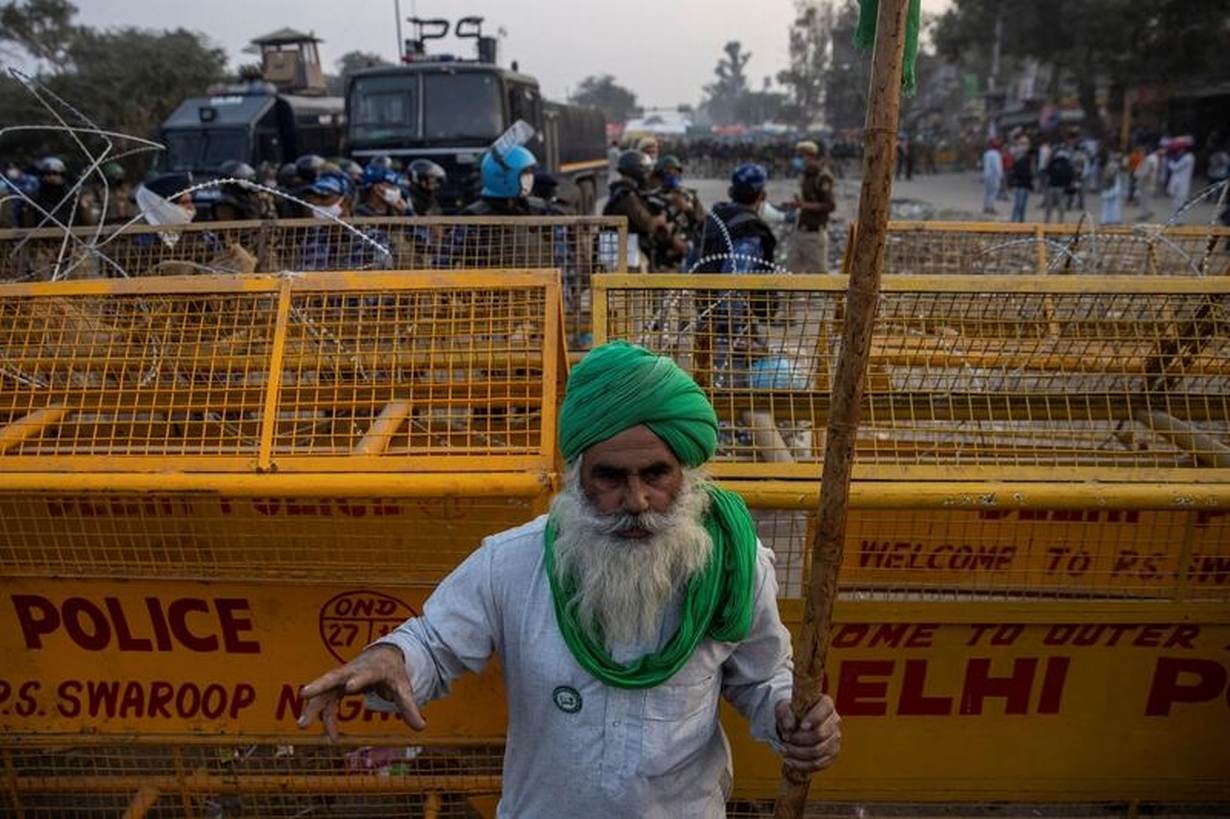 We are scared that the demand and supply will go in the hands of few private players and they will create artificial demand and supply.
And because big corporates will call all the shots, I fear that contract-based farming will grow and trap farmers like me in bonded labour.
We will have no real protections. What will we do then?
That is why we all have come together to demand the government to immediately withdraw the laws, guarantee us an assured minimum price for our crops and pay us 50% more over our comprehensive costs.
This is a democracy and the government will have to do what is right.
I know I am here for the long haul. With more and more farmers from across India joining the protest, it asserts more pressure on the government.
In case the government does not agree with us then this will continue. My future depends on it. Farming is all I have. I do not have any other means to take care of my family.
($1 = 73.9250 Indian rupees)
Related links:
India resumes talks with protesting farmers over agriculture reforms
INSIGHT-Middleman matters: Behind Indian protests against Modi farm reforms
(Writing by Annie Banerji @anniebanerji, Editing by Tom Finn; Please credit the Thomson Reuters Foundation, the charitable arm of Thomson Reuters, that covers the lives of people around the world who struggle to live freely or fairly. Visit http://news.trust.org)
Our Standards: The Thomson Reuters Trust Principles.