In a turbulent year for abortion rights worldwide, which countries are making changes?
By Sonia Elks and Christine Murray
Sept 27 (Thomson Reuters Foundation) - China will reduce the number of abortions performed for "non-medical purposes", the country's cabinet said in new guidelines on Monday.
The State Council said action would also be taken to avoid unwanted pregnancies and to encourage men to "share responsibility" in preventing them.
China has already enacted strict measures aimed at preventing sex-selective abortions, which have been criticized for contributing to gender inequality.
This comes as the tiny republic of San Marino on Sunday voted overwhelmingly in favor of legalising abortion in a referendum, overturning a law dating back to 1865, official results showed.
Earlier this month, Mexico's top court ruled that women can no longer be prosecuted for seeking abortions in a seismic victory for women's rights in the majority-Catholic nation.
The decision in the world's second-biggest Roman Catholic country comes during a turbulent year for abortion rights globally, as parts of the United States enact tougher laws against the practice.
Here are some of the hotspots for abortion rights in 2021:
United States
A new law barring abortions from six weeks - often before a woman even realises she is pregnant - has gone into effect in Texas, one of a series of restrictions passed at the state level.
Some lawmakers are making moves to overturn a landmark 1970s U.S. Supreme Court ruling that legalized abortion nationwide.
The court has a 6-3 conservative majority after former President Donald Trump made three appointments during his four-year term, including Justice Amy Coney Barrett, a vocal supporter of abortion restrictions.
Argentina
Argentina became the first major country in Latin America to legalize abortion in January, bucking opposition from the influential Catholic Church to allow terminations up to the 14th week of pregnancy.
The change has raised hopes of further reform in the region as Latin American women's rights groups push to loosen restrictions.
Poland
A court ruling last October in staunchly-Catholic Poland banned abortions in most circumstances and led to huge protests. Calls to an abortion support hotline in the country increased more than five-fold after the ruling.
The verdict restricting access to abortion went into effect in January, three months after it sparked nationwide protests.
Under the ruling, abortions are now only permitted in cases of rape and incest, and when the mother's life or health is endangered, pushing Poland further from the European mainstream.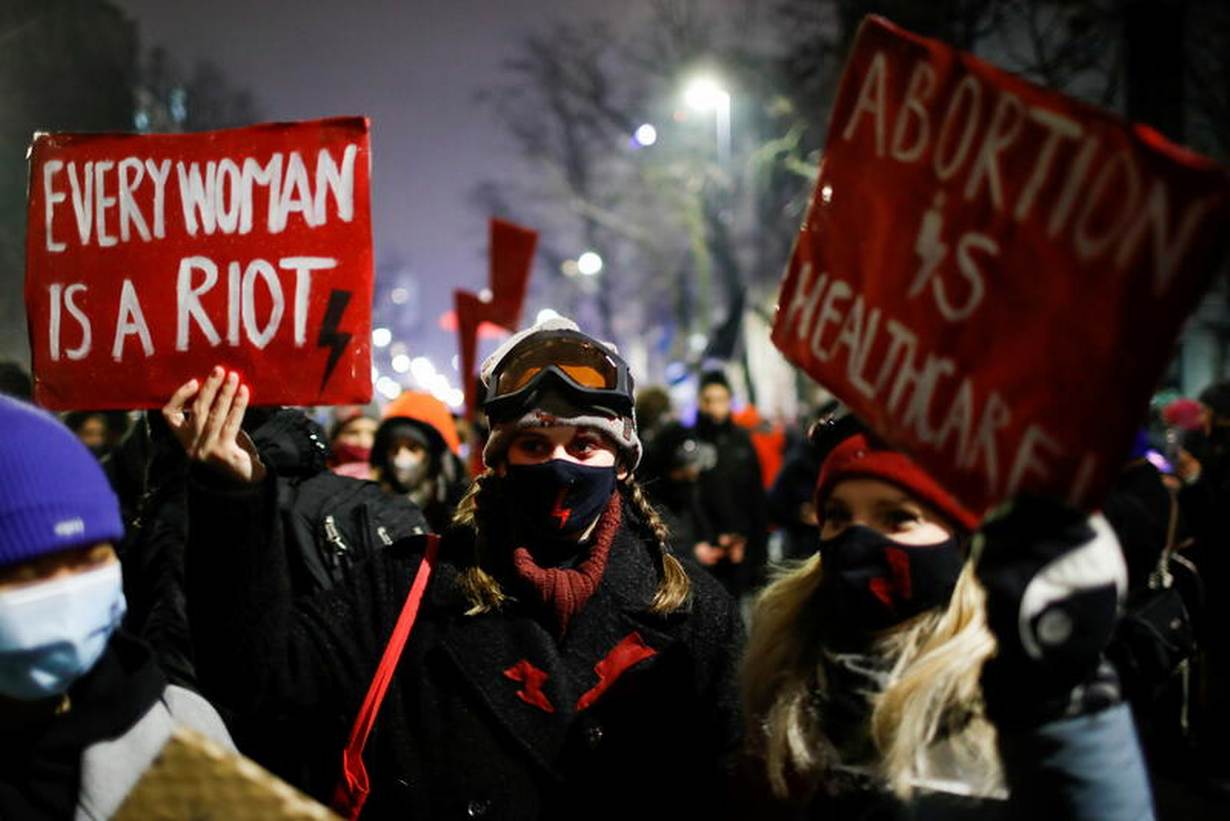 South Korea
A 2019 constitutional court ruling struck down a decades-long ban on abortion.
Under the new proposal, abortion would be banned after 14 weeks except in the case of a sex crime, or if the health of the mother is at risk, or if the fetus shows signs of severe birth defects, in which case abortion would be allowed up to 24 weeks, the Justice Ministry said in a statement.
Slovakia
Last October, the country's parliament narrowly rejected a bill that would have made it harder to get an abortion.
The proposed amendment, defeated by a 59-58 margin, would have still allowed abortion on demand until 12 weeks into a pregnancy but would have doubled waiting periods to 96 hours, banned clinics from advertising services and made women declare their reasons for termination.
Thailand
Thailand's Constitutional Court ruled in February 2021 that existing laws criminalizing abortion were unconstitutional.
Thai lawmakers in January voted in favour of allowing abortion up to 12 weeks of pregnancy while retaining penalties for later terminations. Pro-choice activists said the move fell short of protecting the rights of the mother.
Under the amendment, an abortion after 12 weeks would be allowed only in certain conditions and would otherwise be punishable by up to six months in prison, or a fine of up to 10,000 baht ($334) or both.
El Salvador
The Central American country, which has a strict outright ban on abortion - even in cases of rape - will likely continue to face pressure from international organizations.
In 2020, a United Nations expert group said three women put in prison under the law were detained unfairly. More than a dozen women have been jailed for abortion-related crimes.
This article was updated on Monday, 27 Sept. 2021 to include China's plans to reduce abortions for "non-medical purposes" and San Marino voting to legalise abortion.
Related stories:
U.S. states making 2021 moves on abortion rights and access
Texas abortion ban: Five countries with strict anti-abortion laws
Women struggle to access abortion as pandemic adds to hurdles in Europe
(Reporting by Christine Murray; Additional reporting by Rina Chandran, Sonia Elks and Lin Taylor; Editing by Belinda Goldsmith Please credit the Thomson Reuters Foundation, the charitable arm of Thomson Reuters, that covers the lives of people around the world who struggle to live freely or fairly. Visit http://news.trust.org)