After the pandemic disrupted my studies, I built a virtual market on Instagram to help struggling farmers in south India sell their fruit and vegetables
By V M Mansi,
CHENNAI, India, Jan 18 (Thomson Reuters Foundation) – It's a sadly familiar refrain: 'I was pursuing something meaningful in my life until COVID-19 hit.'
In my case, it was a bachelor's degree in business administration in the west Indian city of Pune.
Like millions of other young people whose lives have been upended by the pandemic, I now find myself living at my parents' home and studying online.
But I have found an upside.
As part of entering a state beauty pageant while at university, I was set the task of pursuing a socially responsible initiative.
It was my mother who suggested I reach out to farmers, millions of whom have been protesting agricultural reforms across the country.
As a 23-year-old, I was concerned I wouldn't be taken seriously, but it only took a few conversations for the farmers to open up and explain how they had masses of fresh produce they couldn't sell at a fair price.
Before the pandemic, many sold their fruit and vegetables in bulk to caterers. But with restaurants closed and weddings cancelled, they had lost their biggest buyers.
That's when the idea of a virtual market occurred to me.
I figured I would at least be able to encourage my over 1,500 social media followers to buy directly from the farmers.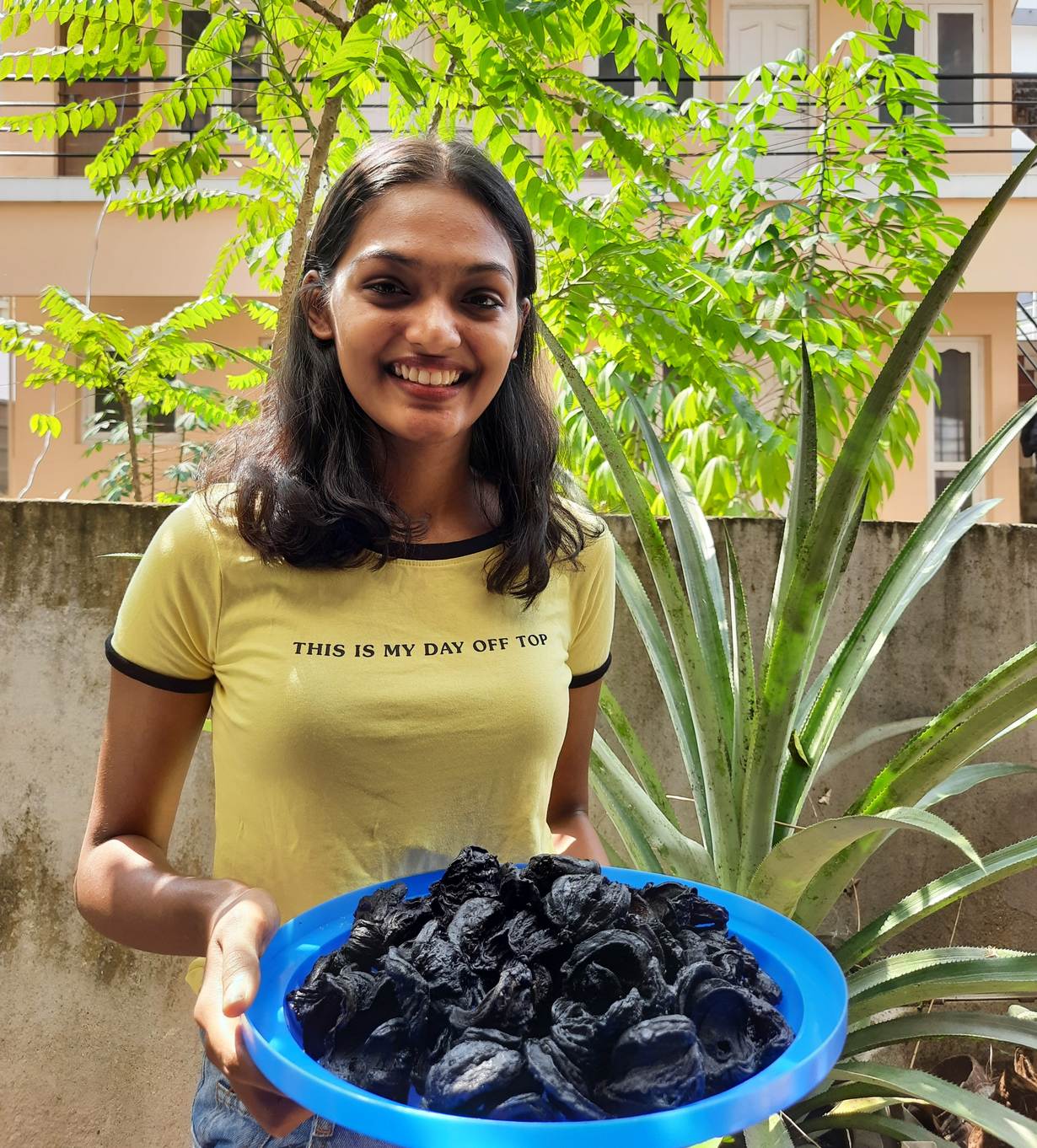 On my farmful_ identity account on Instagram I post fruit and vegetables that are for sale including elephant foot yam, pineapple and tamarind.
The buyers get high-quality produce from struggling farmers and the price includes a small fee to cover the cost of delivery.
The farmers benefit because it cuts out middlemen.
I started the Instagram account in early December and in the space of a month, more than 200 people become regular buyers.
I process, collect and deliver the orders on my scooter.
My family has been really supportive. My father, who is a badminton coach, gave me access to storage space near his office. I collect from farmers, store it there and then home deliver the orders.
With increasing orders, including some coming from other districts in my home state of Kerala, I feel encouraged to scale up the model.
Recently I sent out my first order to a different region, hiring a van to deliver.
There are new orders coming in from people who make organic jams and syrups. They are keen on directly sourcing from farmers and I am more than happy to help.
Many say there is a business opportunity here. What I do now is voluntary but I am open to turning it into a business, giving farmers cash advances and buying larger quantities from them.
But these are early days and I have to do more work to create a sustainable model.
Till then, I will keep my word and bridge the gap between farmers and customers. And I am also keenly waiting for the pageant results to be announced. I want to win and have this feeling that my win will also help the farmers in a way.
Related links:
Generation COVID: How young people are bouncing back
Thai landfill turned into urban farm to feed poor during pandemic
From a self-made cake boss to a 'salon for all': 10 upbeat stories from 2020
(Reporting by Anuradha Nagaraj @AnuraNagaraj; Editing by Tom Finn. Please credit the Thomson Reuters Foundation, the charitable arm of Thomson Reuters, that covers the lives of people around the world who struggle to live freely or fairly. Visit http://news.trust.org)
Our Standards: The Thomson Reuters Trust Principles.