The four-page newspaper, featuring stories in Punjabi and Hindi, has become a vital means of communication and record of the farmers' protests amid internet shutdowns
By Rina Chandran
Feb 4 (Thomson Reuters Foundation) - With the internet blocked, thousands of protesting Indian farmers in makeshift camps are sharing news, legal analysis and even poetry by hand - via free print copies of their own biweekly 'Trolley Times' newspaper.
Named for the trolley or tractor-trailer that farmers have refashioned into dwellings on the outskirts of the capital New Delhi, 'Trolley Times' was first published on Dec. 18, three weeks into protests against new agricultural laws.
"We cannot rely on social media alone," said Gurdeep Dhaliwal, a photographer who launched the bilingual newspaper with six friends after travelling to the protest with farmers from his village in the northern Indian state of Haryana.
"Moreover, many of the older farmers are not comfortable with social media, and prefer to read a print copy," he said.
Dhaliwal has unwittingly become one of the main record keepers of the historic protests, with tens of thousands of farmers jamming kilometres of roads outside New Delhi, sleeping in tractors and tents and cooking in makeshift kitchens.
Featuring stories in Punjabi and Hindi of protesters, news on facilities such as community kitchens and medical aid, and pictures, the four-page publication has a print run of about 5,000 copies, up from an initial 1,000 copies.
"The protest had gotten so big, not everyone was able to go to the stage where speeches were being made. So we wanted to provide accurate information and updates to all the farmers," said Dhaliwal, 27, who comes from a family of farmers.
"We knew that as the protests went on, media coverage could flag, so we wanted to keep up our reporting, and be able document the protest and create a record," he said.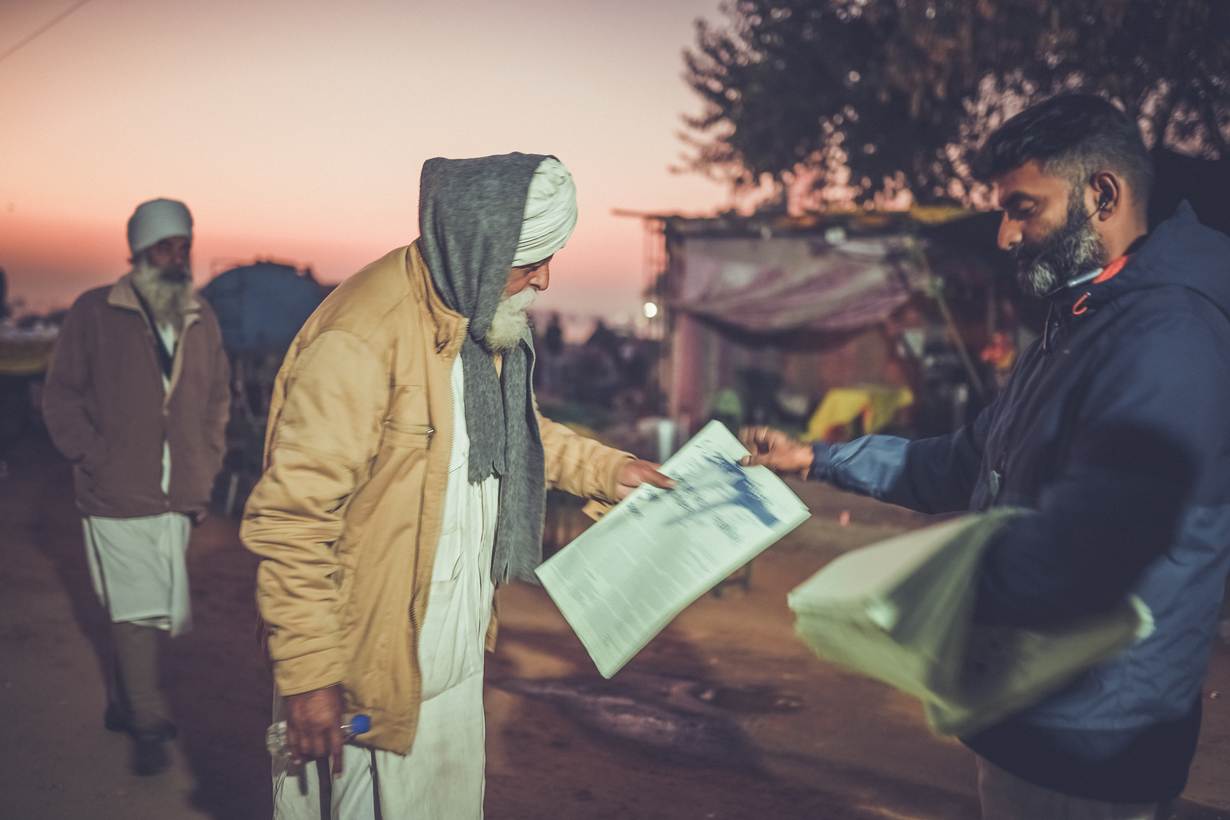 MEN ARE COOKING, WOMEN ARE PROTESTING
The farmers, many from the states of Punjab and Haryana, are concerned that three new agriculture laws will eliminate government-guaranteed minimum prices for their crops and benefit large corporations at their expense.
The government says the laws are aimed at reforming the agriculture sector that employs more than half of India's population of 1.3 billion.
The farmers are demanding a repeal of the laws, while the government has ruled out abandoning the reforms.
Dozens of farmers have died in the bitter cold at the protest sites, but tens of thousands - including many women - remain, their tractors and trailers stretching for several miles.
Navkiran Natt, another founder of Trolley Times, speaks to young protesters and women, while helping run a makeshift library and organising film screenings on freedom fighters and labour movements.
"There are no gender divides here - the men are cooking, the women are protesting. For the women - who don't own the land but do the farm labour - to show up and participate is a big deal," said Natt, 29, a dentist whose parents are both farm leaders.
"The Trolley Times is itself a form of resistance, because we are telling our story ourselves, with no one else weighing in or telling us how the story should be told," she said on the phone, as protesters around her shouted slogans.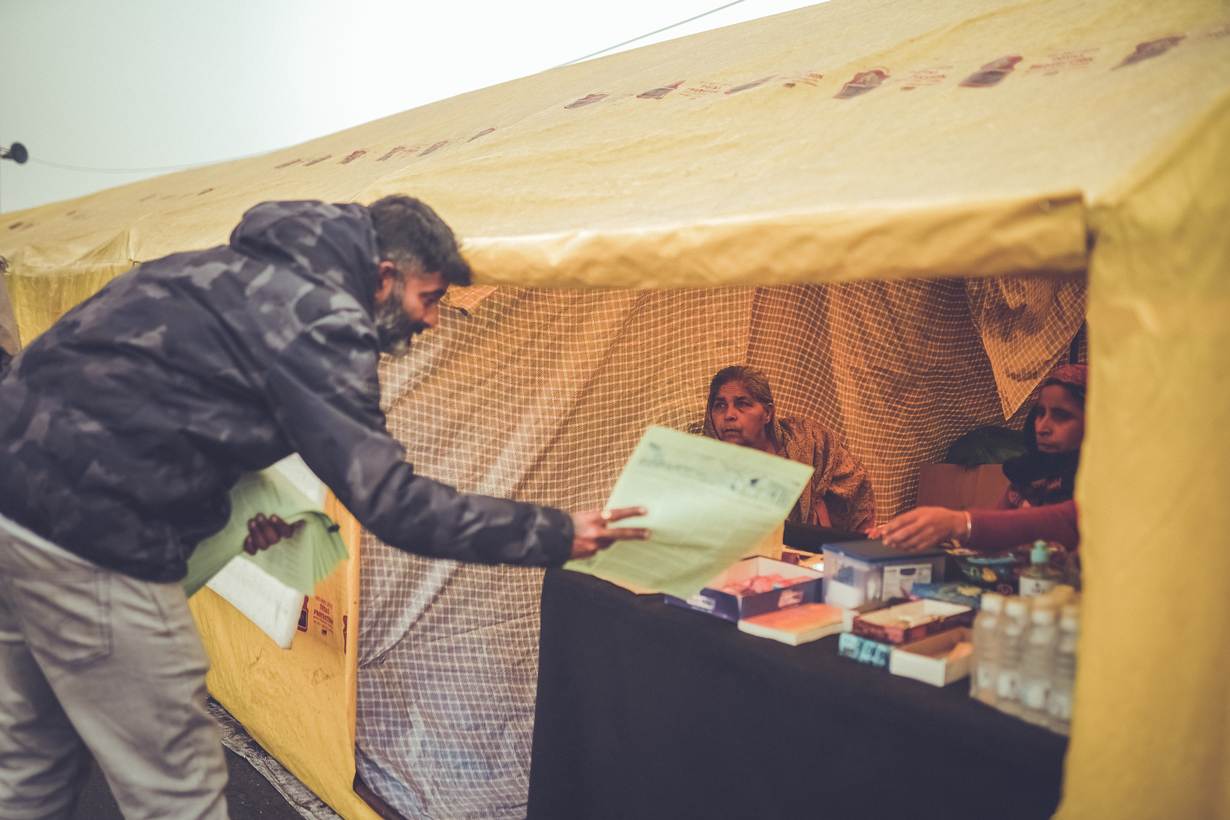 TEAR GAS AND BATONS
The task of producing the newsletter has become harder, Natt said, since the police barricaded the three main protest sites in Singhu, Tikri and Ghazipur with concertina wire fences and concrete barriers.
The government also shut off the internet and blocked several Twitter accounts of farmers' groups on grounds that the users were posting content aiming to incite violence.
Those actions came after the largely peaceful campaign turned violent last week when protesters drove a procession of tractors into the heart of the capital and some farmers confronted police, who responded with tear gas and batons.
"Now we have to travel some distance to upload pictures, send emails, coordinate on the newspaper - and that is a big problem," Natt said.
"We can't publish as often as before, at a time when the Trolley Times is even more relevant because of the internet shutdown," she said.
The protests received an unexpected boost this week after pop star Rihanna and Swedish climate activist Greta Thunberg tweeted their support.
But on the ground, the Trolley Times team will continue with the time-consuming work of speaking to protesters, publishing their stories, and handing out free copies at the protest sites, said Dhaliwal, who worked on a newsletter in high school.
"The protests will end at some point, but many of these issues will remain. So we may keep the newspaper going in some form, to keep the conversation going," he said.
Related stories:
'Farming is all I have': Why I am protesting Modi's farm laws
India's rural poor may lose out as drones map village land
Widows of suicide farmers to get land titles in Indian state
(Reporting by Rina Chandran @rinachandran; Editing by Katy Migiro. Please credit the Thomson Reuters Foundation, the charitable arm of Thomson Reuters, that covers the lives of people around the world who struggle to live freely or fairly. Visit http://news.trust.org)
Our Standards: The Thomson Reuters Trust Principles.