As Biden donates 500 million doses of the Pfizer coronavirus vaccine to more than 90 countries, what other steps can the United States take to promote fairer vaccine distribution?
By Matthew Lavietes
NEW YORK, June 10 (Thomson Reuters Foundation) - President Joe Biden plans to buy and donate 500 million doses of the Pfizer coronavirus vaccine to more than 90 countries, while calling on the world's democracies to do their part to help end the deadly pandemic.
The announcement of the vaccine donation - the largest ever by a single country - comes ahead of Biden's meeting with leaders of the other Group of Seven advanced economies - Britain, Canada, France, Germany, Italy and Japan - in Cornwall, England.
With nearly 150 million Americans having received at least one COVID-19 vaccine dose, Biden faces calls to promote equitable vaccine distribution around the world.
By July, the country could have an oversupply of 300 hundred million coronavirus vaccine doses, according to a report by the Duke Global Health Innovation Center, while developing countries face a long wait to vaccinate the majority of their populations.
Should the White House be doing even more to improve access to COVID-19 vaccines globally?
"The short answer is: 'yes it should, like now, immediately,'" said Ruth Faden, a Johns Hopkins University bioethicist and vaccine policy expert.
"The harder questions are the 'how questions.' That's when things start to get more complex."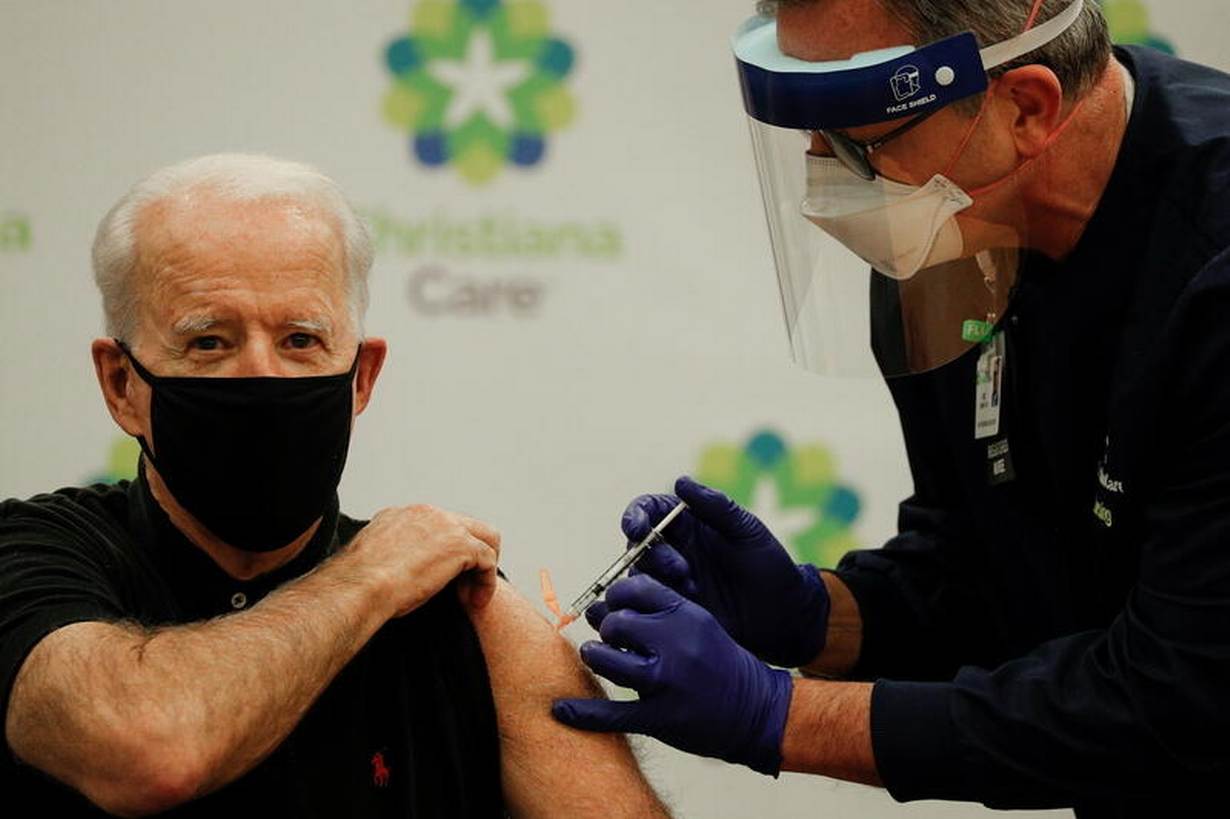 FUNDRAISING
The easiest way for the United States to contribute would be to pledge money to the global immunization effort, Faden said.
In February, Biden's administration pledged to give $4 billion to COVAX, a global scheme by the World Health Organization (WHO) to distribute coronavirus vaccines to low- and middle-income countries, more than any other country.
The country has already distributed $2 billion of those funds, but is waiting on other countries to fulfill their own pledges before distributing the second half.
Even if COVAX were fully funded this year, it would be able to vaccinate only a quarter of the populations in the world's 92 poorest nations, according to the Duke paper.
"I know that many countries are asking for the United States to do more, some with growing desperation because of the scope and scale of their COVID emergencies," U.S. Secretary of State Anthony Blinkin told a virtual fundraising event for COVAX in April.
Blinkin acknowledged pressure on the United States to help.
"We hear you. And I promise, we're moving as fast as possible."
SHARING INTELLECTUAL PROPERTY
Biden has thrown his support behind waiving intellectual property (IP) rights for COVID-19 vaccines, potentially paving the way for other countries to make their own.
More than 100 countries, led by India and South Africa, have supported a temporary waiver of IP rights on COVID-19 vaccines at the World Trade Organization (WTO), but the proposal has been blocked by the European Union, Britain and some other countries.
Asian countries on Thursday called for government leaders to waive intellectual property protections for COVID vaccines in order to make vaccines accessible to countries in Asia such as India, Myanmar and Indonesia, which have immunised less than 10% of their populations.
"In the face of how developed countries are hoarding much more than what they need…there is no time to lose. Every day only a few people are vaccinated and targets aren't reached," said Mae Buenaventura of the Asian Peoples' Movement on Debt and Development.
Besides angering the pharmaceutical industry, some experts argue that breaking vaccine monopolies with a temporary waiver of WTO intellectual property rules is unnecessary and could prove chaotic.
But Arthur Caplan, the head of the Division of Medical Ethics at New York University Grossman School of Medicine, said the pandemic will likely yield further opportunities for big pharma to boost revenue and profit.
"Maybe some companies are nervous if you share, but I think we'll be back with boosters and other ways for them to make their money anyway," Caplan told the Thomson Reuters Foundation.
DONATE VACCINES
Biden's announcement comes amid mounting pressure for the United States, which has now given at least one shot to around 64% of its adult population, to boost donations of COVID-19 shots to other countries that are desperately seeking doses.
A letter backed by the Center for Strategic and International Studies, a Washington-based think-tank, called on the United States to donate 10% of its excess doses over the summer, and to bump it up to 50% by the end of the year.
The pledge to start sharing up to 60 million doses of the AstraZeneca vaccine - which has not been authorized for use in the United States - would go some way to meeting such demands.
French President Emmanuel Macron in February also called on the United States and Europe to donate 5% of their supplies to the global effort.
Two public health experts said, however, that donating doses prematurely would be "flawed".
"We should start thinking about sharing vaccines with Michigan before we start sharing with Mauritius," Caplan said.
The state of Michigan has faced a surge in coronavirus cases.
"Morally it's right to try to assist your town, community, your neighbors, your country, before turning to others."
Once hospitalization rates stabilize and herd immunity, when roughly 70% to 90% of a population is resistant to the virus, is reached, the United States can start a "serious sharing program", Caplan added.
LOANS
Alternatively, some experts have called on the Biden administration to "loan" vaccines out to other countries, which it has already done by shipping roughly 4 million AstraZeneca vaccine doses to its neighbors, Mexico and Canada.
The vaccines were given under a deal by which the United States expects to be paid back with doses in return later this year.
"That doesn't actually reduce our overall supply, it's more an issue of timing," said Krishna Udayakumar, founding director of the Duke Global Health Innovation Center.
And timing is key, Udayakumar added, as the virus continues to mutate and new variants emerge.
"Even our health and our lives are not going to be protected unless we really take a global approach to turning a corner on the pandemic."
Related stories:
COVID won't respect borders - UN urges divided world to unite
In COVID-19's shadow, migrants find solace in Ramadan prayers and online iftars
Third of world's people get no state aid during pandemic - Oxfam
(Reporting by Matthew Lavietes @mattlavietes and Nanchanok Wongsamuth; editing by Tom Finn. Please credit the Thomson Reuters Foundation, the charitable arm of Thomson Reuters, that covers the lives of people around the world who struggle to live freely or fairly. Visit http://news.trust.org)