Two endangered languages, Nheengatu and Kaingang, will be offered as options on Android smartphones as part of a Motorola-financed project
By Fabio Teixeira
RIO DE JANEIRO, April 20 (Thomson Reuters Foundation) –
For smartphone users deep in the Amazon, sending a text message in the Nheengatu language just got easier - giving their endangered native tongue a better chance of survival in the digital age.
Nheengatu, spoken by Amazon tribes in Brazil, Venezuela and Colombia, is now available as a language option on a range of new Motorola phones and any mobiles that run the Android 11 operating system.
Kaingang, an Indian language spoken by some 19,000 people in southern Brazil, is also being offered as part of the project financed by the smartphone manufacturer.
Both languages are at risk, as young people stop using them, but linguists say initiatives like Motorola's not only encourage their use in daily life but help restore "prestige" to endangered tongues.
While not spoken by many people, Nheengatu and Kaingang have had an important cultural impact. Many words in Brazilian Portuguese originate from Nheengatu, and the language has given names to hundreds of species of fauna and flora in the Amazon.
Wilmar D'Angelis, a professor at Campinas State University (Unicamp) who led the smartphone project, told the Thomson Reuters Foundation why taking indigenous languages digital could help to keep them alive:
Why is this important?
To strengthen indigenous languages, they need to be in locations of "prestige".
The young indigenous person needs to see his language in places of prestige, such as the television, the internet. He needs to use it. We depend on him. We need to find new spaces where indigenous languages can be spoken.
Kaingang, for example, was an oral language only. It was the missionaries that started writing it down, to serve their own interests.
But writing it down became an instrument to strengthen the language, it is in some cases a determining factor in the survival of some indigenous languages. It is empowering.
And we believe that making those languages available in technological devices will have a similar empowering impact.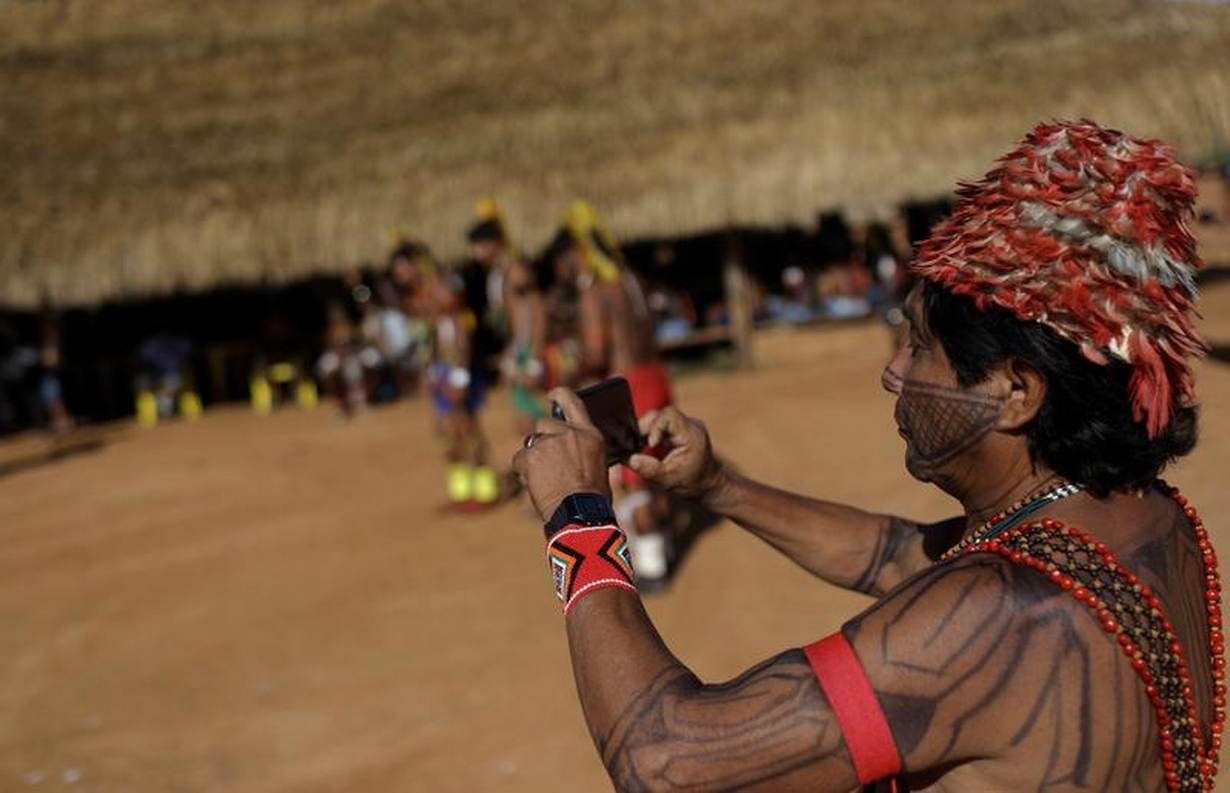 How is it empowering?
Nowadays, there are a lot of indigenous people using smartphones, really a lot. And not only the youngsters. But when they use it, they do it in other languages, not their own.
Now they are taking back a space that belonged to another language. They will type in their own language. Before, if you had to type Kaingang or Nheengatu in WhatsApp, you had to make adaptations, because the keyboard did not have all the necessary characters.
That to me would be more than enough, (the project) doesn't need more justification than that. It's about taking a space that belonged only to your colonizer, and making it your own.
How else can it help?
We also have the translation process, that leads to what we call the "modernization of language" or "updating the language".
If your language does not update itself to speak about what you live, you end up saying one word in Kaingang for every three in Portuguese, because your language does not have a word for "computer", for "mouse", for "download."
The translation process is crucial for this updating.
Who did the translation?
All this work was done by people in those (indigenous)communities. They translated it all, sometimes holding important discussions.
Among the speakers of Nheengatu we had people from three different regions, and the translation process has kickstarted a discussion and collaboration between indigenous people in those regions, so that they are now starting a Nheengatu language academy, because they have four different spellings currently circulating.
They do not plan to unify the four into one, but they plan to do what's possible, and also create a unified dictionary. This is their work, and could be the start of something like an academy of indigenous languages in Brazil.
What would happen if these two languages disappeared?
The Kaingang people, for example, have a culture built in southern Brazil a few millennia ago. They were not the first to inhabit the region, but when they arrived from the north with their language, they joined peoples that were there for almost 10,000 years.
They have built a knowledge base about resources in southern Brazil, of flora and fauna, that we still lack to this day.
Their language is associated with this knowledge. If we lose it, we lose diversity. We lose the ability to look at the world in a certain way.
What's next for the project?
I never imagined that a mobile phone manufacturer would do a project like this. I've been looking for support for a long time.
At the moment, my proposal is to build a spellchecker tool, that I believe would help those who write on WhatsApp.
(But) there are people from five or six languages ... that are writing to us, saying they also want (their languages on smartphones.)
Related stories:

Young Africans go online to preserve local languages, fight COVID-19
Armed with phones and seeds, jobless Kenyans tackle illegal logging
Slow rollout of COVID-19 vaccine in Brazil leaves indigenous at risk
(Reporting by Fabio Teixeira @ffctt; Editing by Helen Popper. Please credit the Thomson Reuters Foundation, the charitable arm of Thomson Reuters, that covers the lives of people around the world who struggle to live freely or fairly. Visit http://news.trust.org)
Our Standards: The Thomson Reuters Trust Principles.