With funeral access restricted in India, the bereaved go online to mourn as social media and curated sites are flooded with eulogies for coronavirus victims
By Anuradha Nagaraj
CHENNAI, India, April 28 (Thomson Reuters Foundation) – "I just want to say we all love and miss you," wrote Sudarshana in an online tribute to her "megastar" grandfather who died aged 81 of COVID-19 in India.
Unable to attend the funerals of friends and relatives dying in their thousands from a resurgent coronavirus, bereaved Indians like Sudarshana are channeling their grief through a rare safe public space: the internet.
Images of burning funeral pyres and heart-rending eulogies have flooded social media since a surge in infections pushed the COVID-19 death toll to over 200,000 on Tuesday.
Restrictions on funeral services have left many Indians cut off and unable to say final goodbyes.
Among those filling the void, are charities and businesses that help grievers curate "happy online memories" of deceased relatives with words, pictures and poems as well as organisations trying to help those come to terms with abrupt loss.
"Seeing a dead body and going through customary rituals help a person get closure," said K Sekar, a professor of psychiatric social-work at the state-run National Institute of Mental Health and Neurosciences.
"That closure and the support of family and friends is not available so people are dealing with guilt, grief, anxiety and are unsure of where and how to let it out."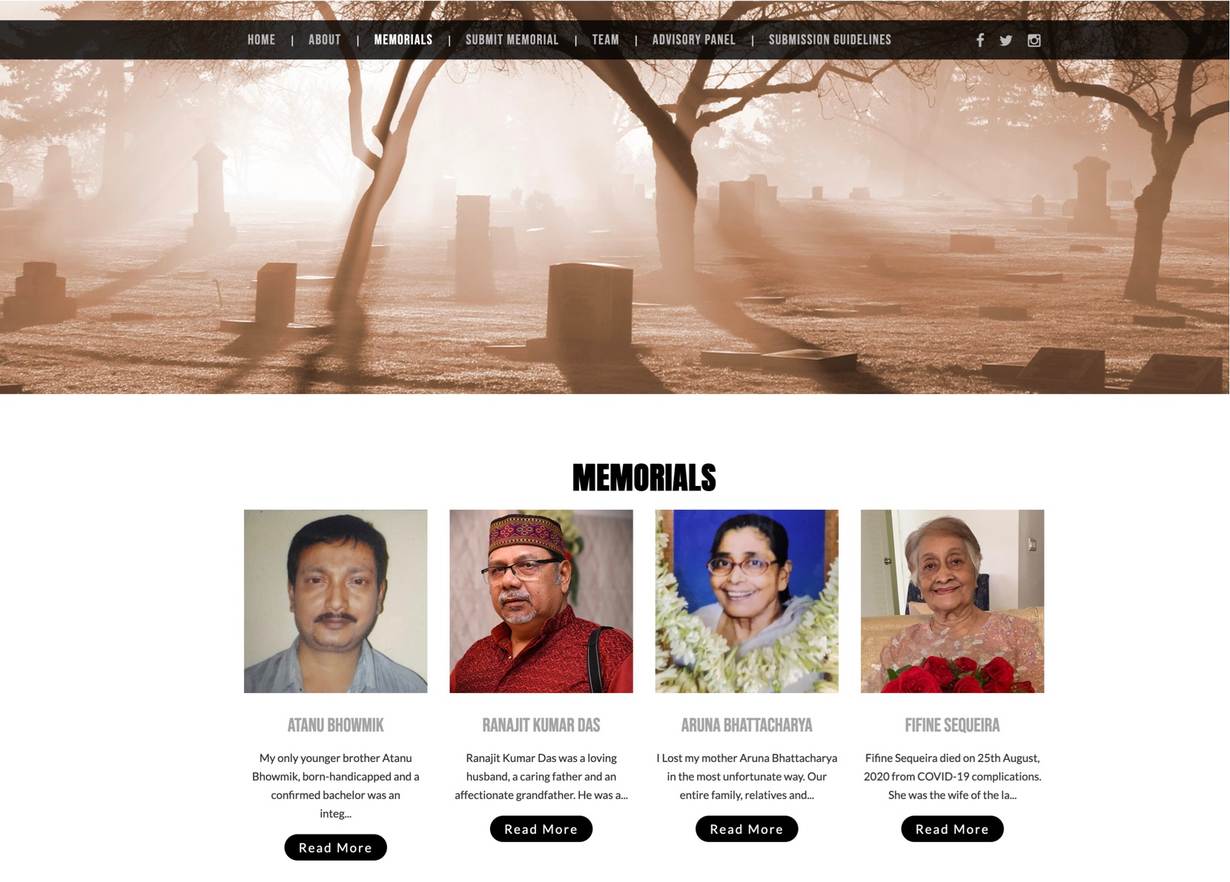 'MANY IN SHOCK'
Grief helplines, online tribute portals and psychologists across the country are offering free online counselling to help people heal and move on.
"Going online has meant many more have access to help, though I am aware that this is still limited to those on social media platforms," said psycho-therapist Shruti Goutham, who is providing her services for free online.
Indians desperately searching for hospital beds and oxygen cylinders are finding help on social media but hundreds of millions of poorer people lack access to a smartphone, highlighting the impact of the country's digital divide.
Mountaineer and software engineer Satyarup Siddhanta, 38, has been in "fire-fighting mode" for weeks now, responding to SOS messages from people seeking beds, oxygen and medicines, while also managing a national COVID-19 memorial website.
Started by Covid Care Network, an NGO, the site allows user to post an online eulogy with pictures for free.
"The idea is alien to India, but with no other options, people are slowly turning to online tributes," Siddhanta, a member of the Kolkata-based charity, told the Thomson Reuters Foundation.
"Many are in shock because the last time they saw their loved one was when an ambulance took them to hospital for treatment. They are often angry and frustrated but we gently encourage them to pen happy memories."
Tributes.in, another online portal, that has waived its fees for families who have lost a relative to coronavirus, has seen a big jump in the number of people reaching out.
"Though most still prefer a newspaper obituary, COVID-19 has led many to explore online options," said Raj Kumar Jalan, CEO of Pan India Internet Ltd that runs tributes.in.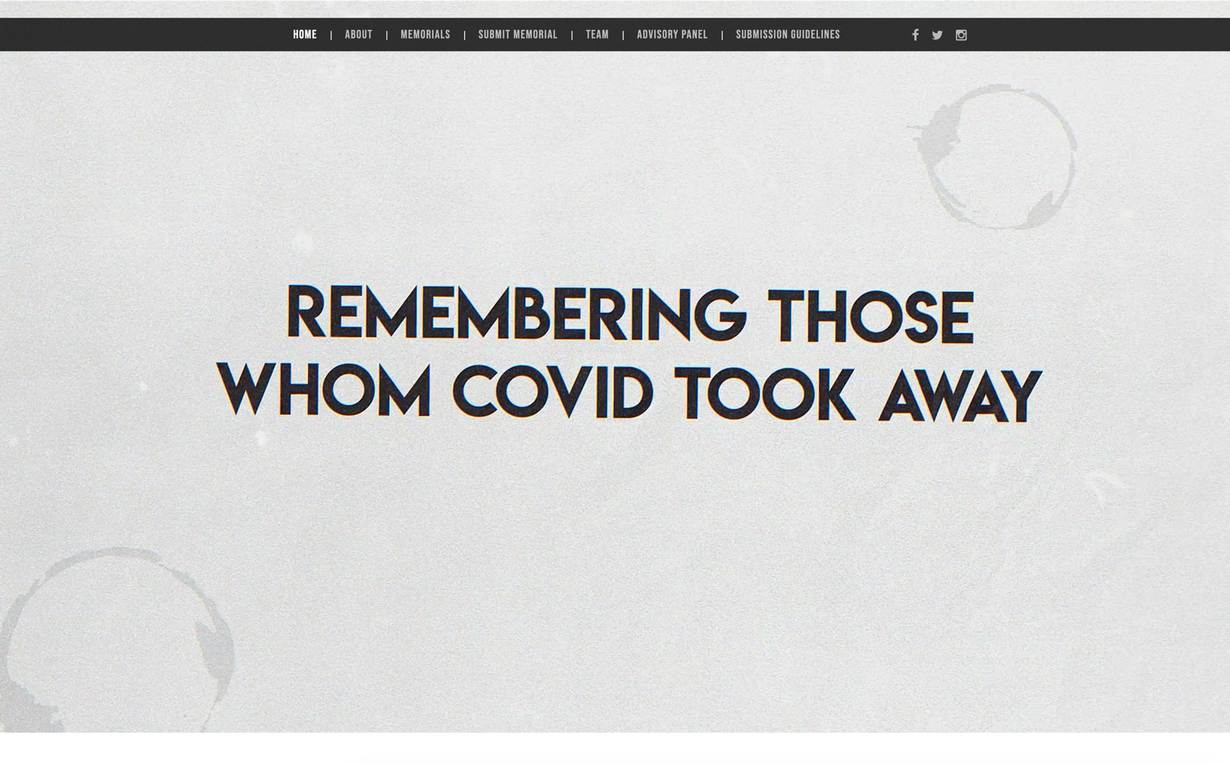 CHERISHED MEMORIES
In southern state of Kerala, charity Pallium India has started the Sukh-Dukh Helpline to offer "psychological first aid" and bereavement counselling to help people cope with their losses.
Available in eight Indian languages, the initiative hopes to make people "feel heard".
Besides grief, there is a lot of guilt being expressed online from families worried that their dying relatives did not receive proper palliative care.
"An 82-year-old man called us and said he didn't know if his wife's last rites had been done as per their customs," Sekar said.
"He was distraught thinking about whether there had been dignity in his wife's death and cremation. He called us in distress."
Sons, daughters, spouses, siblings, friends and colleagues have created thousands of online tributes, drawing on the courage displayed by their loved ones and thanking them for their kindness, generosity and integrity.
"Baba, you were one of the most honest and balanced persons.. I am sure that Ma and you are having a great time in your Heavenly abode", a son wrote.
"It seemed as if the hospital was his home - the patients, his family - and he was their only guardian," wrote a group of doctors paying tribute to a colleague on the national COVID memorial.
Related stories:
'Horrible and sad' - COVID-19 boosts the death business
'Losing hope': India's COVID-19 meltdown exposes new front in digital divide
(Reporting by Anuradha Nagaraj @AnuraNagaraj; Editing by Tom Finn. Please credit the Thomson Reuters Foundation, the charitable arm of Thomson Reuters, that covers the lives of people around the world who struggle to live freely or fairly. Visit http://news.trust.org)
Our Standards: The Thomson Reuters Trust Principles.