Young people in India have devised hacks to help people register for scarce vaccination slots as coronavirus cases and deaths keep rising
By Rina Chandran
May 6 (Thomson Reuters Foundation) -Tech-savvy Indians have found a new way to jump the queue for scarce COVID-19 vaccine appointments amid a deadly surge in coronavirus cases - not by dressing up as grannies or flashing VIP credentials, but by using coding skills.
India's daily toll of new coronavirus cases reached record levels again on Thursday and there were 3,980 more deaths as the devastating health crisis overwhelms hospitals and raises fears about a possible third wave in infections.
The South Asian nation rolled out its vaccination programme in January, and opened up jabs for the 18-44 age group from May 1, requiring them to register for an appointment on a government mobile app or website from April 28.
But with inadequate stocks for the estimated 600 million people who became eligible, few were able to find a slot, and the website crashed repeatedly due to the high traffic volume.
Berty Thomas, 35, who works at an investment bank in the southern city of Chennai, was scrolling through the website on April 29, refreshing it constantly to find a slot, when he realised it would be more efficient to write a code to do so.
He wrote a basic code that filtered available slots in the city, booked his appointment, and shared the code with his friends.
He was immediately inundated with requests to set up similar filters for other cities.
"That's when I realised that people everywhere were facing the same problem," he told the Thomson Reuters Foundation.
Thomas wrote a software code in just under three hours to find available slots for vaccination in major Indian cities, and posted a link on Twitter that same night. People quickly re-tweeted and shared it.
On May 1, when the extended vaccination rollout began, there were so many hits to the under45.in site that he created that it crashed the server, and Thomas had to migrate it to a bigger server.
"I didn't expect my hack to blow up like this," he said.
He also realised that he could set up Telegram channels that would notify people when slots became available. There are now more than 60 such channels, with requests coming in every day from smaller towns.
"You have done an amazing job. Thanks to you we were able to get vaccinated," user Preeti Dwivedi tweeted to Thomas with the folded hands emoji.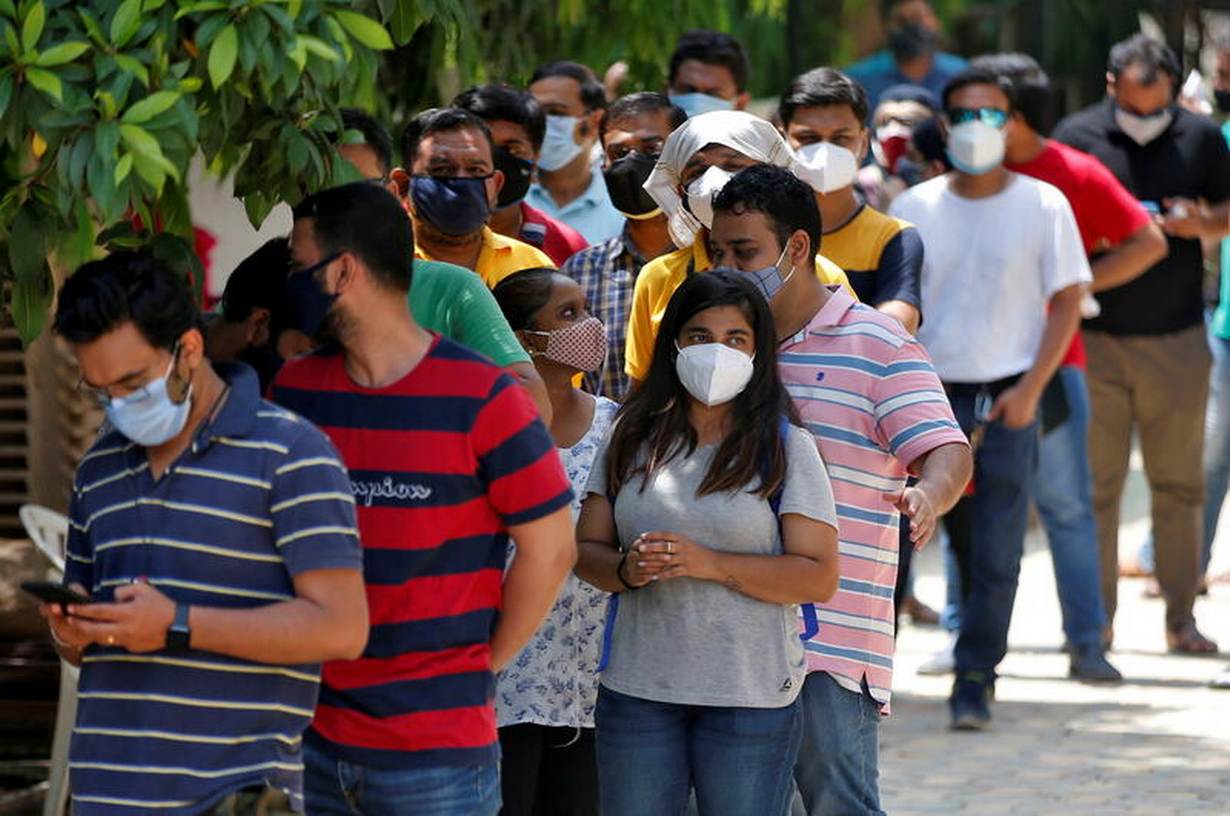 WORKS LIKE 'MAGIC'
As the coronavirus pandemic worsened in India, people have increasingly turned to online resources such as Twitter in their desperate search for hospital beds, oxygen cylinders and medication.
While this has exposed the divide between those who have smartphones and the majority in the country of 1.3 billion people who do not, it has also spurred scores of software engineers and hobby programmers like Thomas to help.
There are apps that help users search for only verified resources for medical supplies, and a handful of sites to help secure vaccinations slots, including getjab.in and findslot.in.
Developers have used the publicly available coding of the government CoWin platform to create websites that run automated searches on the official website, and post results every few minutes. When a slot opens up, users are alerted through an SMS, an e-mail, or a message on WhatsApp or Telegram.
Like Thomas, developer Shubhendu Sharma who set up findslot.in also started off just trying to help his family and friends to find vaccination slots.
Now, his site gets about 300,000 users from some 400 cities and towns across the country every day, he said.
"All I'm doing is providing an easy to use, fast and efficient search-the-slot tool," Sharma said.
Users agree: "Works like magic," tweeted Amit Sharma, who used the site to book an appointment.
But knowing how to write code or finding a website that can help find vaccine slots favours a small percentage of people, typically an English-speaking minority in urban centres.
If you are 18+ and live in Bangalore, the only way to get vaccine appointments is to use python scripts that ping CoWin's public API and setup notification alerts via Telegram, Twitter or SMS.

Yes, the vaccination drive is now officially a hackathon.

— Praveen Gopal Krishnan (@peegeekay) May 3, 2021
"If you are 18+ and live in Bangalore, the only way to get vaccine appointments is to use Python scripts that ping CoWin's public API and set up notification alerts," Praveen Gopal Krishnan tweeted.
"The vaccination drive is now officially a hackathon," he said. "I know this is supposed to be funny but my larger point is about how tech can be exclusionary."
Despite being the world's biggest producer of vaccines, only about 10% of India's population has received at least one dose since the vaccination campaign began in January.
The government has said "millions of doses" will come soon, and that it will fast-track approval for some foreign shots.
In the meantime, Thomas is adding more towns to his website, and is confident that those who can navigate the site will help others who are unable to.
"Everyone I know has also helped to register older relatives, their drivers and cooks," he said.
"People across the country have been tweeting and messaging me to say they were able to book a slot thanks to me, and that has been very heartening and motivating."

Related stories:
Fears of vaccine exclusion as India uses digital ID, facial recognition
'Instead we pray': Fearing lost wages, India's urban poor shun COVID-19 vaccine
As COVID-19 vaccines launch, digital certificates seen deepening inequalities
(Reporting by Rina Chandran @rinachandran; Editing by Helen Popper. Please credit the Thomson Reuters Foundation, the charitable arm of Thomson Reuters, that covers the lives of people around the world who struggle to live freely or fairly. Visit http://news.trust.org)