Authorities and companies are offering a dizzying array of incentives to boost COVID vaccination rates and turn a page on the pandemic
By Sonia Elks
LONDON, August 2 (Thomson Reuters Foundation) - Get a COVID-19 jab in the United States and you could leave with a lot more than a sore arm – President Joe Biden is urging local governments to offer $100 payments to the newly vaccinated.
Biden said giving the cash rewards might seem "unfair" to those who have already had a jab, but "if incentives help us beat this virus, I believe we should use them".
From dollars to cows, donuts and even drugs, a huge array of incentives are being offered by authorities and companies around the world to win round the vaccine-hesitant as they seek to turn a page on the pandemic.
Moscow authorities have been handing out five cars a week in a prize draw for the vaccinated, while Londoners got the chance to win tickets to the final of the Euro 2020 soccer Championship, and Romanians … just a barbequed sausage sandwich.
But as countries strive to reach 'herd immunity' - where enough people are protected against a disease that it becomes difficult for infections to spread - others are opting to slap fines and other penalties on anyone who refuses the jab.
As mass vaccination drives progress around the world, which approach is proving more effective?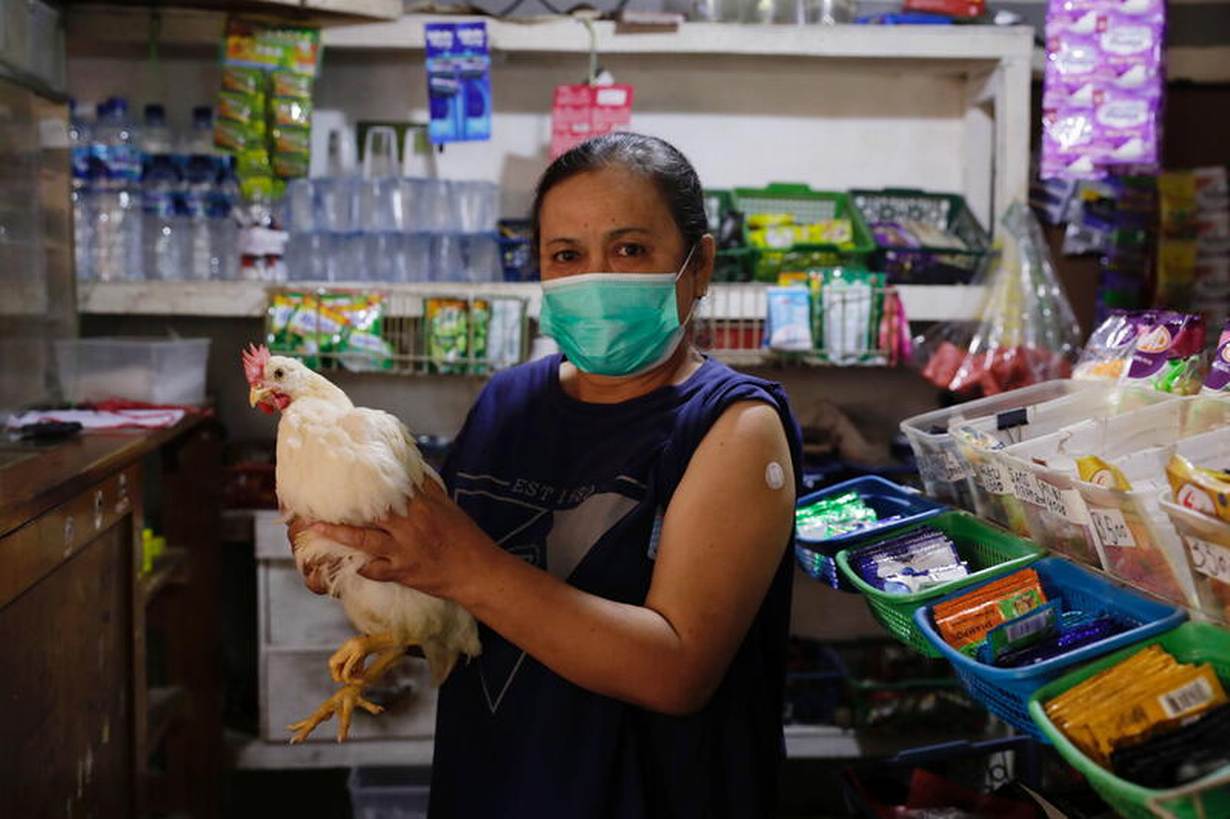 Why are incentives necessary?
Researchers developed highly effective vaccines against COVID-19 in record time, but many people are reluctant to take them, often because they worry about the safety of the vaccines or fear rare but serious side-effects.
That has prompted officials to look for ways to convince them otherwise.
In some cases that might involve allaying health fears and tackling "fake news" with information campaigns, or making sure vaccines are easy to access. But officials are also using perks - and occasionally punishments - to persuade people to go ahead.
What kind of perks are on offer?
Some U.S. states are holding lotteries for vaccinated residents with large cash prizes on offer, with Cambodia kicking off a similar incentive.
California's $116.5-million plan is designed to encourage more people to get the jab ahead of June 15, when many coronavirus restrictions are set to be lifted. Thirty people have already scooped $50,000 prizes, with another 10 Californians in line for a $1.5m payout. The state is also giving out 2 million $50 gift cards.
In Britain, 18 to 30-year-olds will be offered discounted takeaway meals and free travel to their COVID-19 jab as part of a government-led initiative to boost the uptake of vaccines.
Ride-hailing firm Uber will be sending reminders to users in August encouraging them to get immunised.
In Lebanon, Uber has offered two free rides - up to LBP 40,000 each - for travel to and from one of the listed vaccination centres. The country has witnessed a new spike in recent weeks while people have been struggling with travel due to fuel shortages.
In Moscow, which is battling a surge in coronavirus cases, anyone who receives the first of a two-dose vaccine up until July 11 will be entered into a draw with five cars worth 1 million roubles ($13,900) being given away every week.
In a Philippine town, the mayor is planning a cow raffle as an incentive, while another community has been raffling off huge sacks of rice, after finding it hard to persuade people to get their shots. Mexican vaccination centres are instead laying on entertainment in the hope of making it fun to get a jab.
Businesses are also getting in on the act, from free beer in Israel to complimentary dessert in Malaysia. In Hong Kong, a property developer is raffling off a $1.4 million apartment for people who have been vaccinated.
And Washington State has allowed retailers to offer a free marijuana joint when they get a shot in 'joints for jabs' promotions.
Many companies say they want to support the vaccine drive out of concern for their home communities. Offering deals and freebies can also be a financial boost for firms that might hope customers linger and buy more.
Some companies are hoping to persuade employees to get their jabs by offering cash bonuses.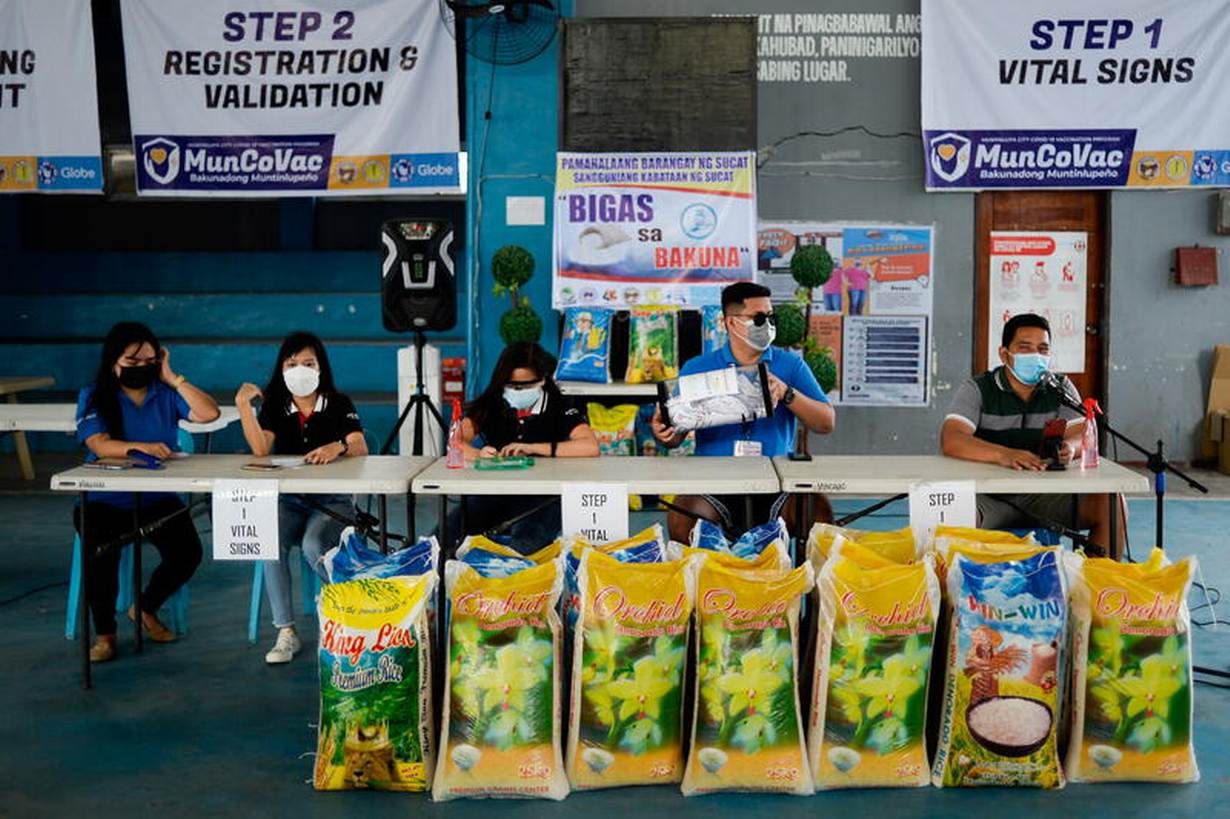 What about the punishments?
Deterrents seem to be rarer, but they are also being used.
The Indonesian capital Jakarta introduced fines of up to 5 million rupiah ($350) for people who shun vaccination.
Officials in the University town Saifai in India's Uttar Pradesh have instructed liquor sellers not to serve anyone without a vaccine – though no official order has been issued.
In some countries, people who are not vaccinated will have their access to events or public spaces limited.
The United Arab Emirates, for example, will bar them from live events including sports, cultural, and arts activities, while Kazakhstan is restricting access to public spaces such as bars, cinemas and airports on the basis of vaccination and infection risk.
Saudi Arabia has announced it will ban people from entering its shopping malls from August unless they have been inoculated.
Other governments have threatened those who refuse a jab with serious consequences.
Government employees in the U.S. who do not show they have been vaccinated will be subject to weekly or twice-weekly COVID-19 tests and restrictions on official travel.
The federal government is the largest employer in the country and Biden's move could serve as an example for private businesses and other institutions to follow as they assess getting workers back into offices and work places.
The Kremlin said that people who were not vaccinated or did not have immunity would be unable to work in all workplaces in Russia and could be discriminated against.
Philippines's President Rodrigo Duterte has told his countrymen they face a stark choice between vaccination or serving jail time.
Some companies, such as Britain's Pimlico Plumbers, are demanding jabs for jobs, saying they will only hire new workers who have had the vaccine.
Which is more effective - rewards or deterrents?
Popular psychology suggests rewards are more effective than punishment, but research on vaccine hesitancy indicates that both can be effective in certain contexts.
Mandates and sanctions for non-vaccination were effective in increasing uptake, according to a review of studies carried out by the World Health Organization in 2014, with cash incentive schemes seen as likely to be less successful.
More recent research found incentives helped seal the deal.
About a third of unvaccinated Americans said they would be more likely to get the coronavirus shot in return for $100, found a survey by the University of California, Los Angeles, though some 20% said a cash reward would put them off.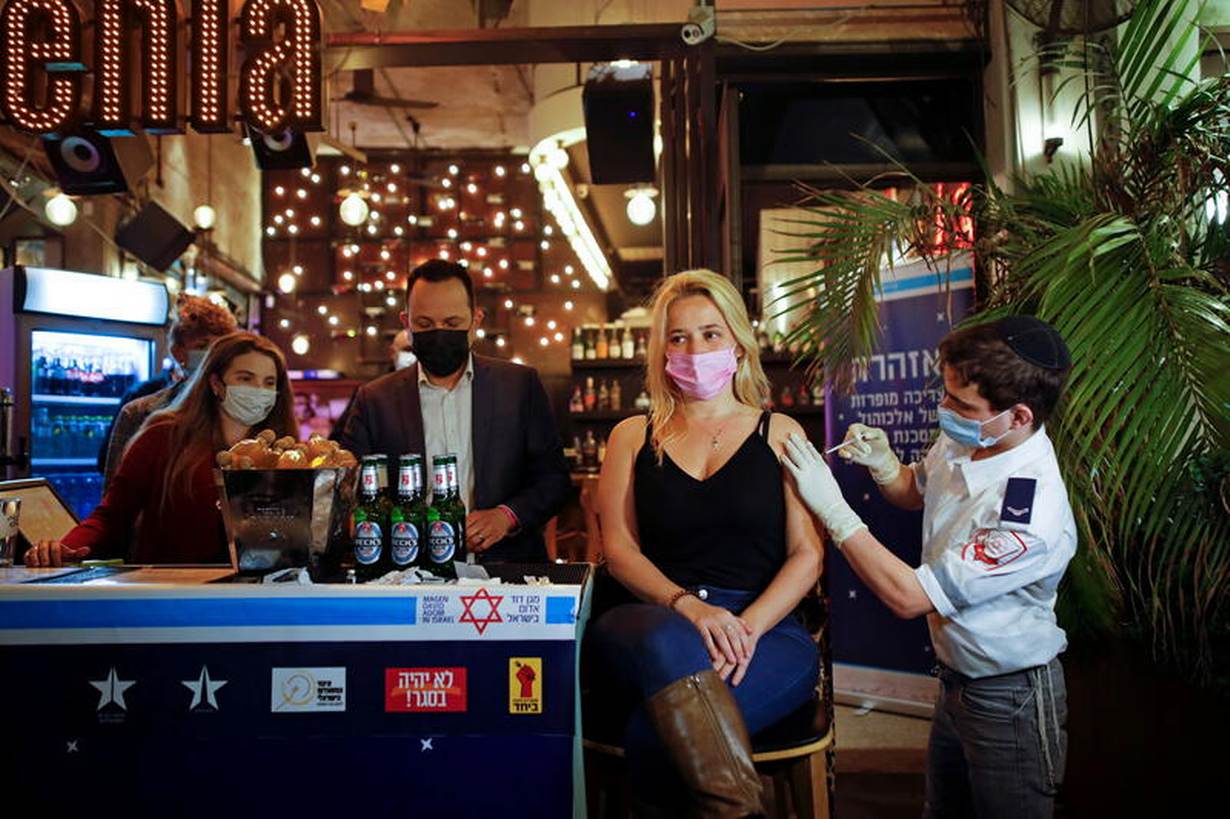 And what are the medical ethics of these schemes?
Incentives are an ethical way forward while deterrents and punishments should be wielded with great care, said Nancy Kass, deputy director for public health at the John Hopkins University's Berman Institute of Bioethics in the United States.
"It's always better ethically to at least start by providing information, encouraging people, making it easy for people and doing all of those kinds of things before moving to a mandate," she told the Thomson Reuters Foundation by phone.
Relatively few people are "deeply philosophically opposed" to getting a shot, which means inducements and nudges might be enough to reach the numbers needed, she said.
And there is a significant moral difference between restrictions that push people to weigh up their options as compared to heavy fines that leave them with little real choice, Kass said.
"My fear is people jumping to (compulsory orders) as a first strategy rather than a last-mile strategy," she said.
This story was updated on August 2 to add details on Britain and Lebanon incentivising vaccine uptake
Related stories:
Are digital COVID-19 health passports a good idea?
Vaccine deserts: The poor nations trailing in the fight against COVID-19
COVID-19 vaccines: Who's jumping the line - and how to stop it
(Reporting by Sonia Elks @soniaelks; Additional reporting by Emma Batha, Matt Blomberg, Anastasia Moloney, Michael Taylor, Umberto Bacchi, Sharon Kimathi and Maya Gebeily. Editing by Helen Popper and Tom Finn. Please credit the Thomson Reuters Foundation, the charitable arm of Thomson Reuters, that covers the lives of people around the world who struggle to live freely or fairly. Visit http://news.trust.org)