Southern Indian town tests mobile voting for first time in the country, signalling wider adoption despite privacy concerns
By Rina Chandran
Oct 20 (Thomson Reuters Foundation) - The southern Indian state of Telangana is testing voting by mobile phone for the first time in the country, which could reduce the cost of elections and increase turnout, even as technology experts warn of privacy risks and disenfranchisement.
Eligible voters in Khammam town can use a free app on their Android smartphones to vote in a mock election on Oct. 20 that authorities say will help gauge the feasibility of the technology for wider use in the world's largest democracy.
Voters must first register their device and themselves, and authenticate their identity using their Aadhaar digital national ID and a "liveness" check. Facial recognition technology is used to match their image.
Votes are de-identified and secured using blockchain - a ledger system tracking digital information.
"The purpose of mobile voting is to facilitate certain categories of citizens to cast their votes remotely using smartphone," said V.P. Gautham, the top government official in Khammam, where the app is in English and the Telugu language.
"This mobile app will be very useful to voters who are unable to visit and cast their vote at the polling station."
With about 900 million eligible voters and 1 million polling stations, national elections in India are mammoth logistical exercises stretching over several weeks every five years. State, municipal and village council elections are on a smaller scale.
Officials travel by foot, helicopter, boat and on elephants to remote areas of just a few voters, and the exercise costs the nation hundreds of millions of dollars.
India does not allow any online voting at present, only permitting diplomats and the armed forces to vote remotely, with others using electronic voting machines (EVM) at polling booths.

But the coronavirus pandemic has rekindled a debate on online voting after crowded election rallies and long lines at some polling stations were blamed for a surge in infections earlier this year.
"When the pandemic hit, senior citizens and other vulnerable citizens were not comfortable going to polling booths, and that's when we began to look into a way for them to vote from the comfort of their home," said Rama Devi Lanka, director of Telangana state's emerging technologies division.
"But it could be for anyone - those who are residing in other places in India or abroad, and youngsters who are used to doing everything on their mobile phones and may not want to go to the polling booth," she told the Thomson Reuters Foundation.
'GOLD STANDARD'
About a dozen countries permit some form of online voting for some citizens, including Canada, Australia, Pakistan and New Zealand, according to data compiled by the International Institute for Democracy and Electoral Assistance.
Only in Estonia can every eligible citizen vote online in each election.
But while online voting can be convenient for some types of voters, for smaller elections and during a pandemic, voting in polling stations remains the "gold standard", said Therese Pearce Laanela, head of the electoral processes team at International IDEA.
"Not only do polling stations bring a sense of community and ritual to the voting experience, but the polling station is a controlled environment where the secrecy of the vote, transparency of the process, and verification of the voter are maintained through tried and true procedures," she said.
While online voting is on the increase, "transparency and secrecy of the vote are concerns, as is the potential for leaving any category of voter behind," she said, adding that "simple and traditional voting solutions still work well."
While there has been a gradual decline in voter turnout in many parts of the world over the past decades, India recorded its highest turnout of about 67% in the 2019 national election.
Privacy advocates in India point out that the country does not have a data protection law or legislation to regulate the use of facial recognition technology to protect citizens against any misuse of data or privacy violations in online voting.
A proposal by the Election Commission to link the electoral roll with Aadhaar to check fraud is under consideration by the government, even as previous attempts to do so resulted in millions of voters being purged from the electoral roll.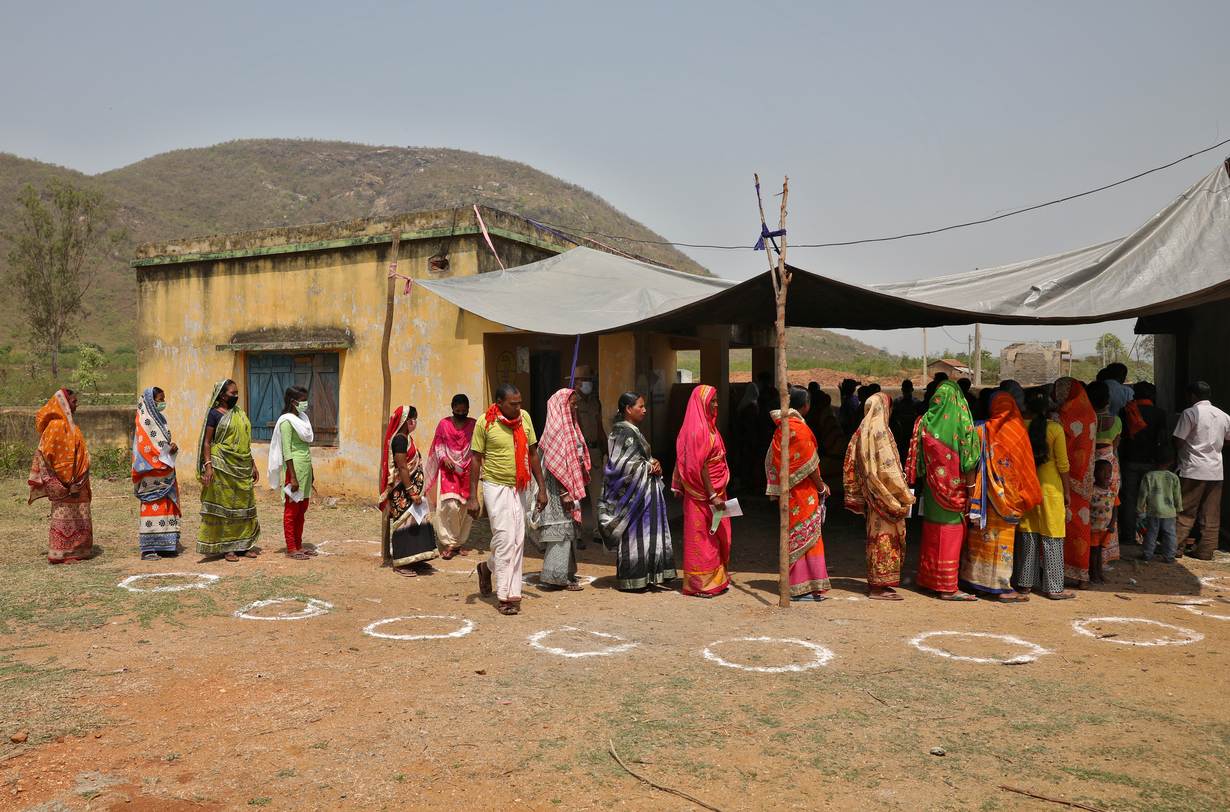 In addition, using Aadhaar to authenticate senior citizens and those in remote areas for online voting can exacerbate challenges these groups already face, said Jagdeep S. Chhokar, a founder-member of the Association for Democratic Reforms, an advocacy group.
"In the case of senior citizens, fingerprints often do not match - this has also been my personal experience as I am 76 years old," he said. "And those in remote areas have major issues of connectivity to the internet."
Few such issues were reported on Wednesday in Khammam, where about 4,000 voters had registered for the mock election, and nearly 1,500 had voted by noon, according to authorities.
"There were some minor issues - where someone's name did not match the name on the electoral database, or the device was not registered, and there was one case of a failed photo verification - we are looking into these issues," said Lanka.
"Overall, we are very happy with the exercise, and we are encouraged to try mobile voting in a local village council election next. It furthers our goal of using technology to deliver citizen services," she said.
Related stories:
Votes for Afghan women? Not without facial recognition technology
Fears of vaccine exclusion as India uses digital ID, facial recognition
Delhi school teachers fight attendance app over privacy fears