Slashing emissions could improve air quality and reduce childhood asthma cases by almost a quarter, according to a study surveying young people in 16 cities including Dhaka, Freetown, London and Mexico City
By Sonia Elks
LONDON, Oct 29 (Thomson Reuters Foundation) - Reaching net zero could improve child health in cities stretching from Dhaka to Los Angeles, according to a major study of how greenhouse gasses shape young urban lives.
Babies and children were both affected, the study found, with bad air leading to poorer health.
Slashing emissions could improve air quality and prevent some 65,000 pre-term and underweight births a year cross all the cities they investigated, and could reduce childhood asthma cases by almost a quarter.
Young people also ranked pollution as the second biggest problem where they live, in a study released ahead of climate talks in the Scottish city of Glasgow billed as a last chance to avoid catastrophic global heating.
Here's what you need to know:
What's the bigger picture?
Fossil fuels and pollution are not just heating the planet but also choking cities with toxic air - an invisible killer estimated to cut short millions of lives every year.
More than 90% of the world's population live in places where air pollution levels exceed World Health Organization recommended limits, and cities are among the worst affected.
With children at the forefront of climate impacts, the study by the London School of Hygiene & Tropical Medicine aims to reveal often-hidden impacts that polluted air has on their health - and the benefits "radical decarbonisation" could bring.

What did the study find?
The research looked at the impacts of exposure to nitrogen dioxide - a poisonous gas in car exhaust - and fine particulate matter such as smoke, dust and ash.
The 16 cities studied spanned five continents and included Dhaka, Freetown, Lahore, London, Manila and Mexico City.
Researchers estimated the link between childhood asthma, the number of premature or underweight babies, and toxic air.
They then modelled the potential boost to child health of reaching net zero emissions goals.
The findings have not been peer-reviewed.
The study estimated reaching net zero could prevent more than 43,000 premature births and over 22,000 cases of babies born at an unhealthily low weight each year, with Dhaka, Manila and Lahore set to see the greatest benefits.
It would also prevent more than 20,000 cases of childhood asthma annually, researchers estimated, with Los Angeles, Mexico City, and Manila set to see the biggest drops.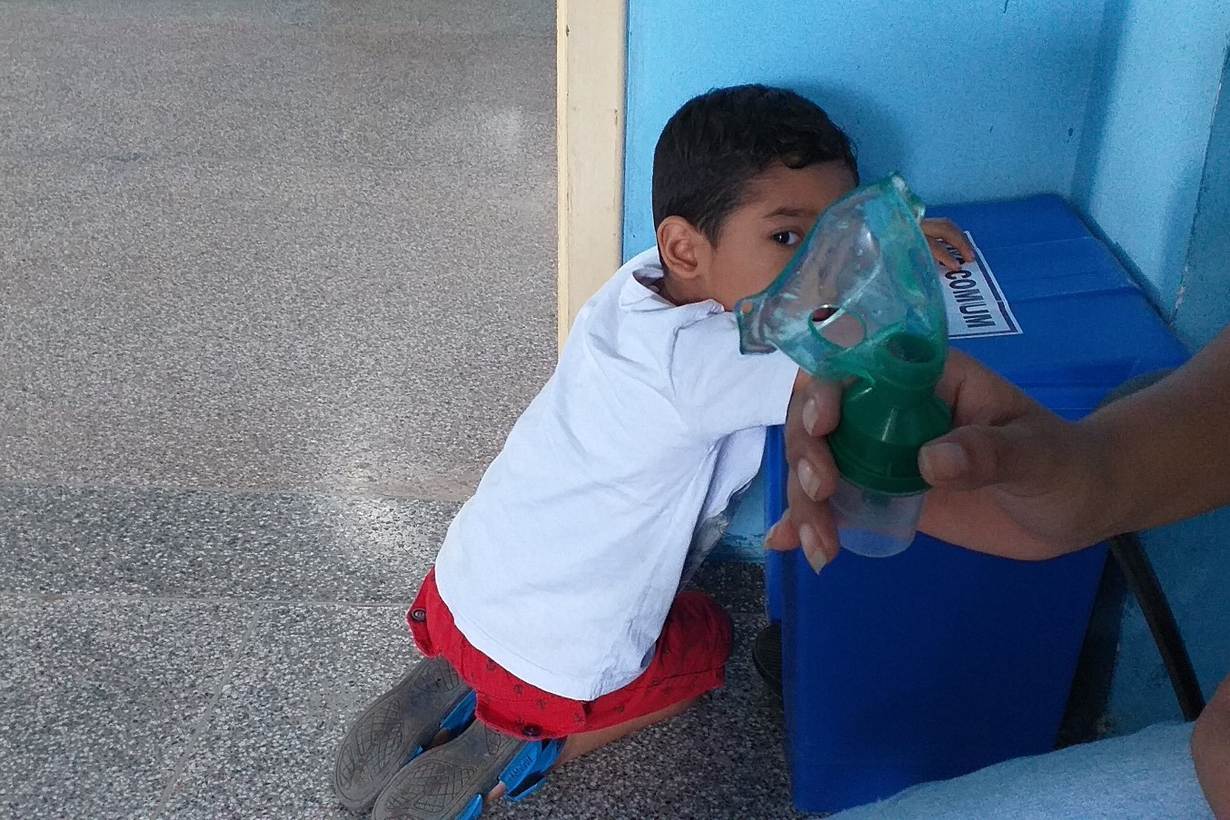 What do global youth say?
The researchers surveyed nearly 2,500 people aged 13-25 living across 56 cities, who collectively ranked pollution as the second worst problem they faced in their home areas.
The issue came second only to traffic and congestion, and was seen as a bigger problem than shortages of jobs, noise, lack of green spaces, and problems accessing healthcare.


What's the big lesson?
The findings underline the life-changing impact of emissions on child health and the need for action, researchers said.
"This research comes at a critical time ahead of COP26," Professor Alan Dangour, director of LSHTM's Centre on Climate Change and Planetary Health, said in a statement.
"(It) shows the opportunity we have of improving the health of young people while also contributing to the fight against climate change."


Related stories:
Landmark ruling links death of UK schoolgirl to pollution
Air pollution costs each American $2,500 a year in healthcare - study
London recruits residents in push for clean air, green homes
(Reporting by Sonia Elks @soniaelks; Editing by Lyndsay Griffiths. Please credit the Thomson Reuters Foundation, the charitable arm of Thomson Reuters, that covers the lives of people around the world who struggle to live freely or fairly. Visit http://news.trust.org)