Energy price caps have helped limit inflation, but many fear rising bills in a country previously rocked by "yellow vest" protests
By Elisabeth Jeffries
LONDON, Aug 1 (Thomson Reuters Foundation) - Laura and her partner Yann should be celebrating as he prepares to finish a software engineering apprenticeship in France and start a full-time job. Instead, they are full of anxiety.
Inflation has already forced the family to cut back heavily on food bills, and with Yann's take-home pay set to fall when he starts a new job in September, the future looks uncertain.
Read more: The Inflation Diaries series
"It's an unpleasant situation," said Laura, 28, a full-time mother to two young children in the Landes region of Western France, who asked not to be identified by her full name.
"We try to stay positive and look for solutions but as soon as we have the slightest problem, such as when my partner took time off work due to illness, we have to resort to borrowing in order to manage."
French inflation has risen to 6.5% from 1.9% in June last year, according to the national statistics office, with the war in Ukraine and the impacts of COVID-19 pushing up food and fuel prices worldwide.
The rising cost of living in recent months has caused anger and protests in France, which was shaken by the "yellow vest" movement that emerged in late 2018 in protest at fuel taxes and living costs.
The government has poured billions of euros into measures such as energy price caps that have kept inflation lower than in many other eurozone countries. Lawmakers also lifted benefits such as pensions in an effort to shield citizens.
But many are still struggling to cope. Laura said her household's shopping bills for basics such as food, nappies and cleaning products have risen from around 250 euros ($254) per month a year ago to 400 euros now.
"I love cooking and making interesting dishes but most ingredients have gone up, even vegetables", said Laura.
The family is getting a weekly box of fresh fruit and vegetables supplied by Secours Catholique, a French charity, costing just two euros for low-income households.
However, this saving has not been enough to make up for the cost of other bills, so the family has more vegetarian meals.
"We eat a lot less meat, apart from chicken", she said.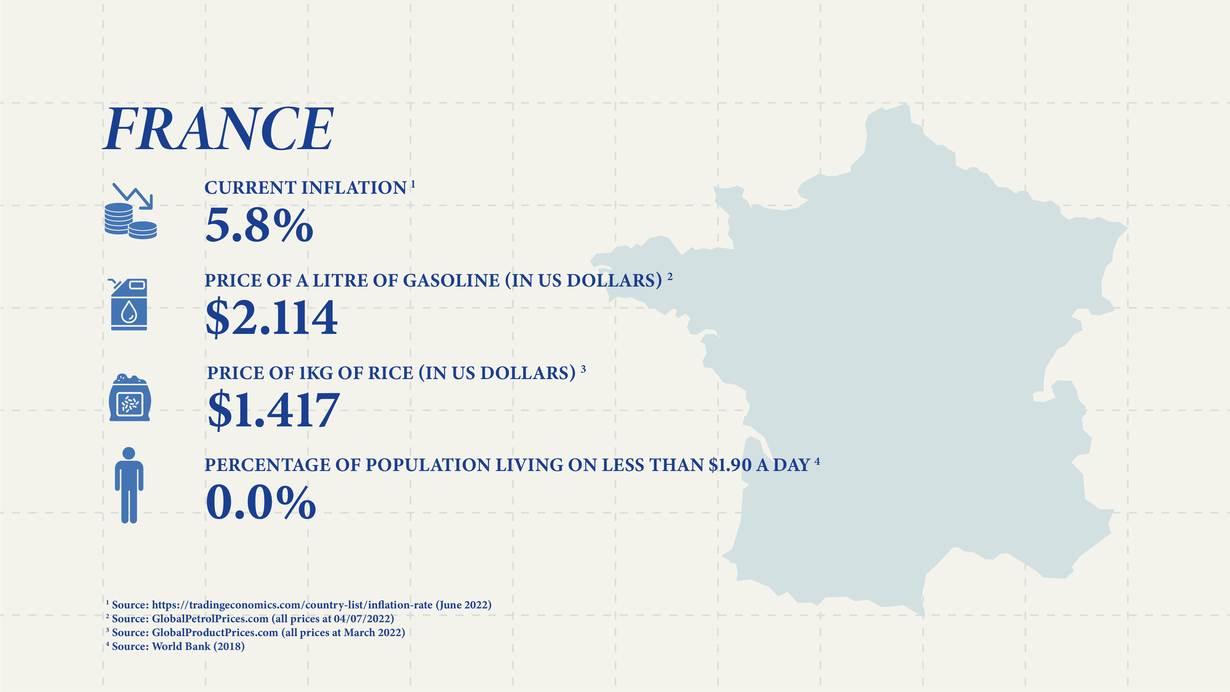 BUSINESS IMPACT
Petrol and energy bills are another worry for households and businesses alike.
Energy prices have risen 4% since last year – less than in many countries.
Diesel prices are soaring, though, meaning a tankful of fuel now costs Laura 86 euros compared to 55 last year.
In Alsace, Christophe Isenmann, managing director of packaging business "Bleu comme une Orange", said he has seen the cost of the cardboard he needs to make his products rise by 65% since last year.
Isenmann responded by hiking his own prices three times over the same time period, with another increase likely in September. Even so, his profits have dipped as inflation bites across his bills.
A third of small and medium enterprises have seen costs rise by at least 10%, according to a survey for the national SME trade association. Many say they feel unable pass this on for fear of losing clients.
While Isenmann feels confident about the future - supported by industrial clients who need his products consistently - Laura is wondering how her family will cope if prices continue to rise.
"I've had to consider moonlighting," she said, as she mulled picking up part-time work to supplement the family's income.
($1 = 0.9850 euros)
Explore our interactive map below for more stories about the human impact of the cost of living crisis in our three-part series on The Inflation Diaries
More from Part Three of The Inflation Diaries series:
Mexico's informal workers hit hard as high prices fuel poverty
Soaring energy and rent prices leave Australians with little left
Lebanese struggle to put food on the table as inflation tops 200%
Venezuelans exit hyperinflation but see few reasons to celebrate
In Germany, many struggle as Russian gas squeeze drives up prices
(Reporting by Elisabeth Jeffries; Editing by Sonia Elks. Please credit the Thomson Reuters Foundation, the charitable arm of Thomson Reuters, that covers the lives of people around the world who struggle to live freely or fairly. Visit http://news.trust.org)
Our Standards: The Thomson Reuters Trust Principles.