The inflation diaries: Mexico's unprotected informal workers will be hit hard as inflation fuels poverty
By Diana Baptista
MEXICO CITY, Aug 1 (Thomson Reuters Foundation) - After 30 years of selling deep-fried fish empanadas on a stall outside a Mexico City market, record cooking oil and corn prices are threatening to put Angeles Cadena out of business.
"The situation is bad. Every week, little by little, the costs are increasing," Cadena, 45, told the Thomson Reuters Foundation. "It's actually becoming cheaper for me not to work in this anymore."
The conflict in Ukraine has hit global grains and fertilizer supplies, pushing the price of corn to a nine-year high in April and forcing Mexicans to cut back on staple snacks such as tacos and empanadas.
Vegetable oil prices in Mexico have increased by 23% during the last year, according to the latest data by the National Institute of Statistics and Geography, driving inflation that is running at a 21-year high of nearly 8%.
Read more: The Inflation Diaries series
Most of Cadena's customers can no longer afford to eat her 23-peso ($1.10) empanadas, while her own family has had to cut down on meat.
"We are currently living day-to-day, eating nothing but beans. Everybody says a crisis is coming, and I feel very stressed and very sad. What is going to happen to us?" she said.
In a June report, the Economic Commission for Latin America and the Caribbean (ECLAC) warned that 2.5 million people would fall into poverty in Mexico during 2022 due to rising inflation related to the COVID-19 pandemic and the conflict in Ukraine.
People working in the informal economy, who represent 55% of all Mexican workers, are particularly at risk of falling into poverty, according to the latest national employment survey.
Informal workers such as Cadena do not have health insurance, social security, or any kind of labor protection to help them weather tough economic times.
During the first three months of 2022 - even before a spike in global food prices, 39% of Mexicans could not afford the basic food basket, according to CONEVAL, an institute that measures poverty in the country.
Food insecurity has been a growing problem in Mexico since the pandemic. Between 2019 and 2021, 26% of the population suffered from moderate or severe food insecurity, according to a recent report by the United Nations' Food and Agriculture Organization (FAO).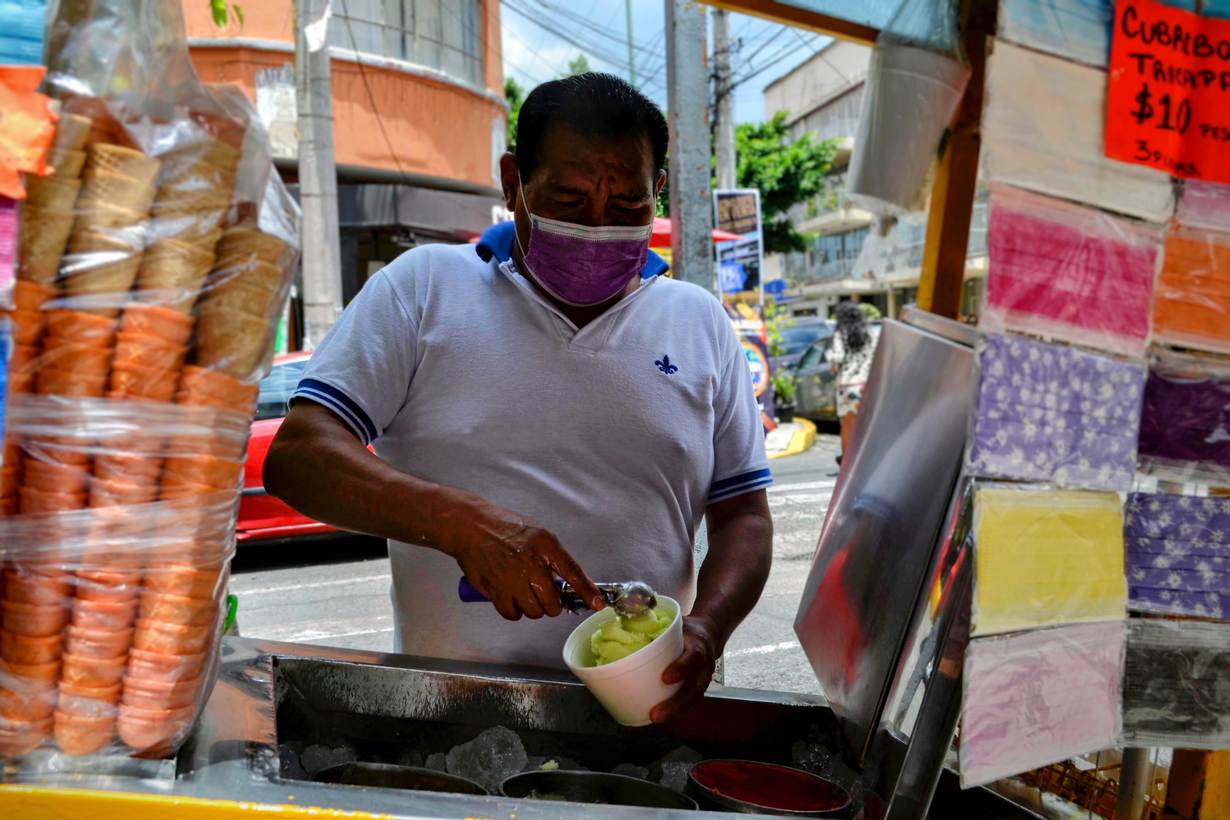 At his small ice cream stall in the capital, Hector Castro, 40, said he was also struggling to stay afloat after 27 years in his family-run business.
"It's been very difficult, as the costs of all products are increasing," he said, lamenting a jump in the price of a bag of small plastic spoons from 45 pesos to 90 over the last year.
Despite working for more than 12 hours a day, Castro said he barely makes enough money to cover food, rent and transport from his home in Atlacomulco, almost two hours away from Mexico City, where he owns a small maize field.
He said higher fertilizer prices had hampered his family's prospects of making extra money from their crop.
"Any plan of buying a house or working the field is out of the window. Everything we earn now is just enough to keep the business afloat," Castro said.
($1 = 20.8208 Mexican pesos)
Explore our interactive map below for more stories about the human impact of the cost of living crisis in our three-part series on The Inflation Diaries
More from Part Three of The Inflation Diaries series:
In France, families turn to charity food boxes as inflation bites
Soaring energy and rent prices leave Australians with little left
Lebanese struggle to put food on the table as inflation tops 200%
Venezuelans exit hyperinflation but see few reasons to celebrate
In Germany, many struggle as Russian gas squeeze drives up prices
(Reporting by Diana Baptista; Editing by Helen Popper. Please credit the Thomson Reuters Foundation, the charitable arm of Thomson Reuters, that covers the lives of people around the world who struggle to live freely or fairly. Visit http://news.trust.org)
Our Standards: The Thomson Reuters Trust Principles.