Internationally, there are 491 large-scale farmland deals in 78 countries, says campaign group GRAIN
RIO DE JANEIRO - Global investors have spent more than $90 billion buying agricultural lands the size of Finland in deals criticized by rights groups for displacing small farmers, according to research published on Tuesday.
Internationally, there are now 491 large-scale farmland deals covering territory in 78 countries, said the analysis from GRAIN, a Barcelona-based campaign group.
Activists have condemned the deals as "land grabs" hurting developing countries while supporters say large-scale foreign land investments can alleviate poverty and help boost domestic farm productivity.
The report found that while the total area covered by large-scale agricultural investments has declined by five million hectares over the past four years, the number of financial deals to secure the land has increased.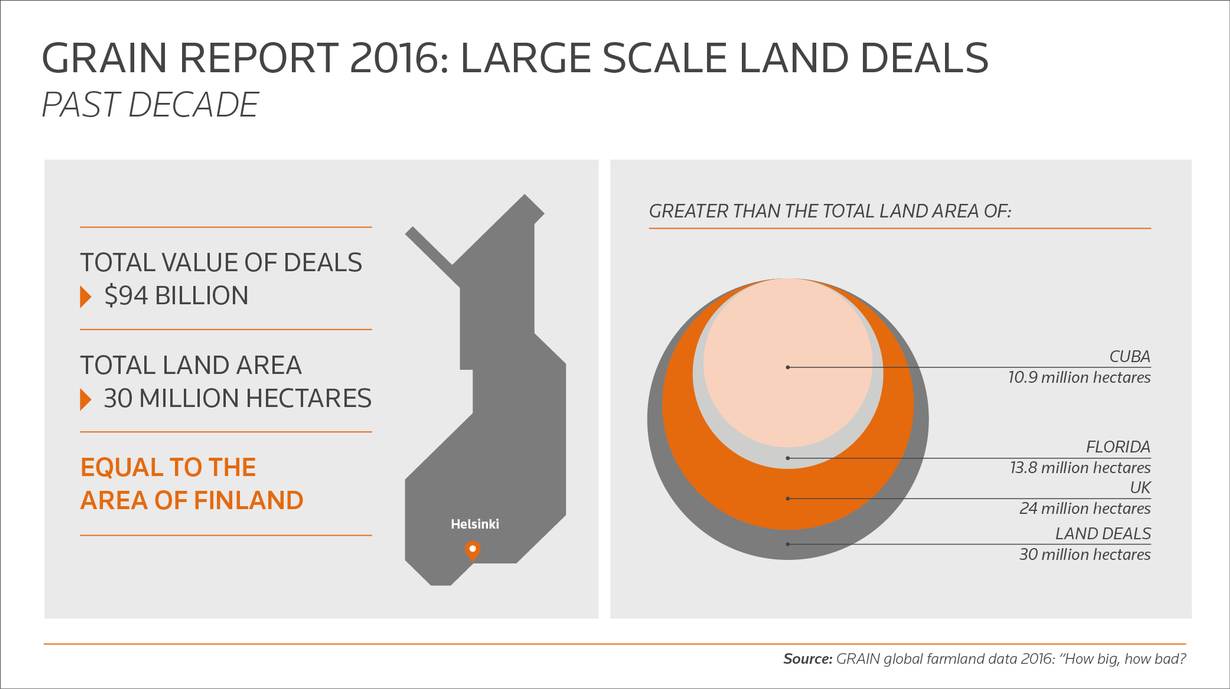 Many of the largest investments are in Africa with money from the Gulf states, East Asia and other international investors pouring into Sudan, Mozambique and other countries, the report said.
Palm oil, feed for livestock, sugar, corn, wheat and rice are some of the key crops produced through the international land deals.
GRAIN reported that the largest land deals were signed between 2008 and 2012 when global food prices reached record highs. Some of these deals have since collapsed.
"Now there are more deals on the table covering slightly less land," GRAIN researcher Renee Vellve told the Thomson Reuters Foundation.
"Land grabbing is not just a passing fad linked to the food crisis: it is structural," Vellve said in a phone interview from Paris.
"The serious, hard core deals are here to stay," she said, although "some of the more crazy schemes have collapsed."
The report cited a plan by Libya's ousted leader, Muammar Gaddafi, to build a giant rice farm in drought-hit Mali and a Chinese proposal to open a Hawaii-sized palm oil plantation in the Democratic Republic of Congo as two of the high profile deals which failed to proceed.
Vellve said data is not available to estimate how many people have been displaced globally by these large-scale land deals.
However the number of conflicts linked to land investments has risen substantially since 2008, she said, citing an example in Cameroon where protests from small farmers have helped stall the building of a 70,000 hectare palm oil plantation.
Food produced under the agreements is often exported to foreign markets rather than consumed by hungry people in the host country, GRAIN said.
In Mozambique alone, half a million people could be displaced from their ancestral territories to make way for a 600,000 hectare farm producing hay and other feed for livestock in what is thought to be the world's fifth largest land deal, Vellve said.
Supporters of large agricultural investments say they bring crucial capital into poor countries, boosting farm output and creating jobs for local people.
The deals also lead to a transfer of technology into developing nations making local farms more efficient, backers say.
(Reporting By Chris Arsenault Editing by Paola Totaro:; Please credit the Thomson Reuters Foundation, the charitable arm of Thomson Reuters, that covers humanitarian news, women's rights, trafficking and climate change. Visit news.trust.org)
Our Standards: The Thomson Reuters Trust Principles.