The maps aim to prevent deforestation by collecting information such as the rate of tree loss and forest fires
MILAN - A new satellite-driven mapping project has been launched to help palm oil companies identify and weed out growers who slash rainforest and violate anti-deforestation pledges.
Known as the 'PALM Risk Tool', the technology pinpoints nearly 800 mills, mostly in Southeast Asia, where raw palm fruit is processed into oil.
The tool collects information on the surrounding environment - including the rate of tree cover loss, forest fires and the location of protected reserves.
This is automatically analysed and each site is scored at a low, medium or high risk of future environmental harm and marked on an interactive map which has been made publicly available online.
The project's developers, Global Forest Watch (GFW), a non-profit organisation that monitors forest landscapes, said the tool works because most growers can be found within a 50 km (30 mile) radius of the mills because fresh palm fruit must be processed quickly - usually within 24 hours of harvesting.
Anne Rosenbarger, Southeast Asia Commodities Manager for GFW, said the tool can help palm oil buyers investigate their own supply chains to prevent deforestation.
Since 2014, well over half the global palm oil trade has been covered by voluntary agreements between major producers to ensure "no deforestation".
However, few companies can effectively trace their supply chain to farm level, Rosenbarger said, because many large companies could have many hundreds of suppliers.
Certifying each grower as sustainable is still the ideal, added Rosenbarger, but this would take a "long, long time" to achieve.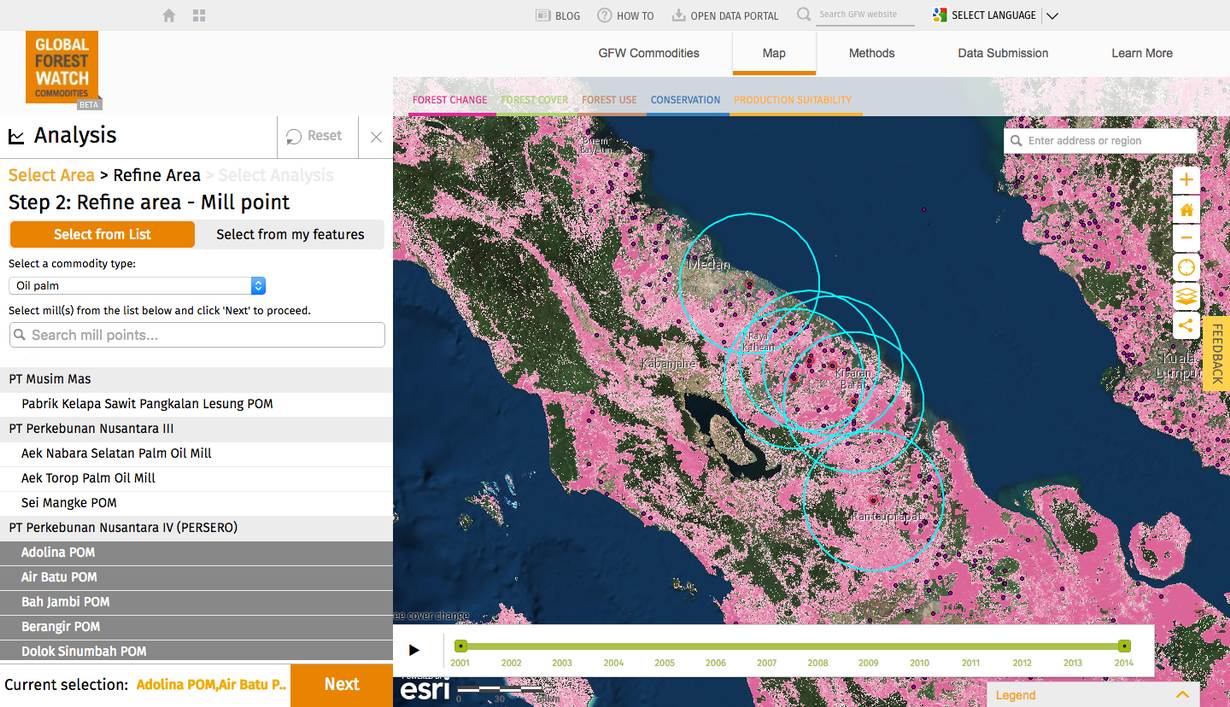 The tool has been created at a time when palm oil producers are becoming increasingly aware of the potential cost of failures to prevent environmental damage in their supply chains.
In March, one of the world's largest palm oil producers, Malaysia's IOI Group, was suspended from the industry's sustainability body, the RSPO, following complaints from environmentalists that IOI had illegally chopped down rainforests in Indonesia.
The decision prompted several multi-nationals to drop IOI as a supplier.
Palm oil, commonly used in soap, cosmetics and food spreads, has been one of the fastest expanding crops in the past few decades. But the industry is now facing pressure over deforestation and forest fires that result from "slash-and-burn" techniques used by growers to clear land.
"HIGH RISK"
The tool was piloted with a group of GFW partners including consumer goods maker Unilever, who announced it had identified 29 mills as "high risk".
A spokesperson for Unilever said the company is now working with the World Resources Institute - GFW's lead partner - and sustainability consultants Daemeter on a more detailed analysis of the identified mills, including research into forest cover and fires.
The company said it asks suppliers found to be in breach of its sustainability policy - which includes a "no deforestation" commitment - to create an action plan to resolve issues.
Rosenbarger said the tool does not prove that growers are responsible for any environmental damage in the area around the mill. However the data provides companies such as Unilever with signposts of "where to find more information".
The PALM Risk Tool was launched at the RSPO European Roundtable Meeting on June 8 in Milan, Italy where palm oil producers, buyers, and NGOs met to discuss the future of the industry.
Please visit place, our new portal which shines a spotlight onto how land and property rights can empower communities worldwide
(Reporting by Matthew Ponsford, Editing by Paola Totaro; Please credit the Thomson Reuters Foundation, the charitable arm of Thomson Reuters, that covers humanitarian news, women's rights, traficking, property rights and climate change. Visit http://news.trust.org)
Our Standards: The Thomson Reuters Trust Principles.