Until the government delivers promised irrigation to saffron fields, falling yields will not improve, spice growers warn
By Athar Parvaiz
PULWAMA, India, Nov 29 (Thomson Reuters Foundation) - Farmers say a multi-million dollar plan, launched in 2010 to revive saffron cultivation in Indian-administered Kashmir by helping counter erratic rainfall, has yet to ensure the most basic requirement for their crop: irrigation.
Putting in place sprinkler irrigation in saffron fields, which have traditionally depended on rain, was a key objective of the INR 4-billion ($58.34 million) National Mission on Saffron, led by India's agriculture ministry.
It was due to end early this year, but has been extended until March 2018 because it has yet to achieve its aims.
Saffron farmers, who grow the "king of spices" in fields sprawling across several thousand hectares in the southern part of the Himalayan state of Jammu and Kashmir, have complained for years that a lack of rainfall at crucial times has led to a decline in production - and say things are getting worse.
One or two spells of rain in September and October are vital for the crop to flower. But in most years since the late 1990s, it either hasn't rained in those months or has rained too much, said farmer Dilawar Reshi.
In Lethpora-Pulwama, where most saffron production is concentrated, farmers said their concerns about irrigation have yet to be addressed.
"The most important thing the government was supposed to do for us was to make water available for our crop," said farmer Imtiyaz Ahmad Bhat. "Though a few tube-wells have been dug in some places, we are yet to see the water in saffron fields."
The world's most expensive spice, saffron - whose tiny orange strands are used for seasoning and colouring from southern Europe to South Asia - is grown mainly in Kashmir, Iran and Spain.
One kg (2.2 lb) of Kashmiri saffron fetches around INR 150,000 ($2,188) on domestic and international markets.
Saffron is Jammu and Kashmir state's second largest industry after horticulture, supporting some 20,000 families and contributing $34 million annually to the economy, according to Firdous Nahvi, a saffron expert at Sher-e-Kashmir University of Agricultural Sciences and Technology.
Saffron has been cultivated since 500 AD in the mountainous Kashmir valley, which is the only place in India where it is grown. Production here reached its peak in the 1990s at an annual average of around 15.5 tonnes from 5,700 hectares (14,085 acres), but both the land farmed for saffron and yields have declined since then.
According to the Kashmir agriculture department, annual production per hectare is less than a third of the 6 kg achieved in other parts of the world.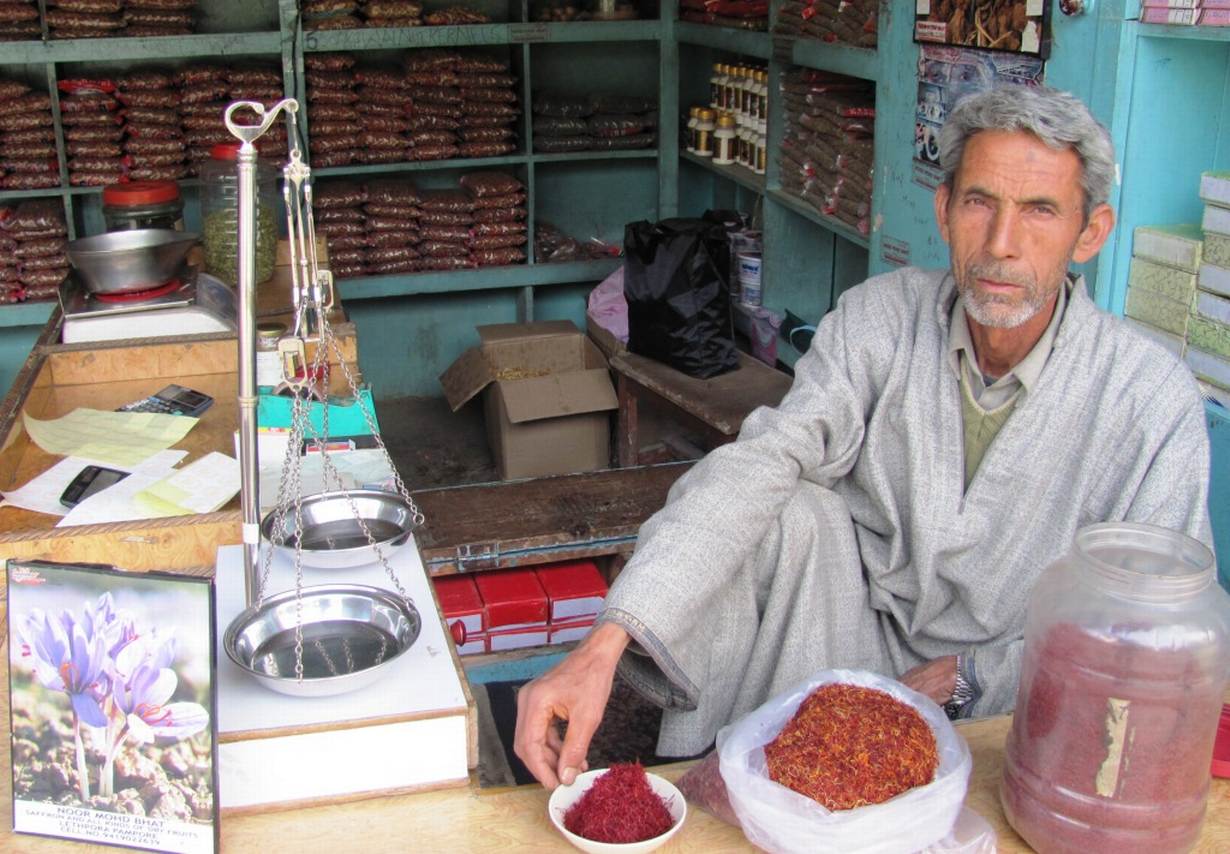 'LAND MAFIA'
The government's plan to rehabilitate the industry earmarked $30 million to install sprinkler irrigation for saffron cultivation. But farmers are still waiting, they say.
One of them, Ghulam Mohammad Reshi, said he and his peers had asked the government many times about the irrigation but "we didn't get any satisfactory answer".
Officials in Kashmir's agriculture department blamed property developers for blocking the progress of the project.
Kashmir's Joint Director of Agriculture Aijaz Altaf Andrabi said his department had dug 103 tube-wells of a required 128, but pipes had yet to reach the fields as local construction firms with "nefarious designs" had prevented the Mechanical Engineering Department (MED) from expanding the pipe network.
"There is a land mafia in the area which wants to convert the saffron land into residential colonies and commercial establishments," he said.
"The mafia feels that if the irrigation facilities are in place for saffron cultivation, it will further motivate the growers to pursue saffron farming - so they create hurdles."
But farmers questioned this explanation, arguing the government was using it as a pretext for not providing the promised irrigation.
Bhat expressed doubt that the alleged actions of a few developers could affect the entire saffron-growing region.
"The reality is that the government has failed to create even a single sprinkler irrigation facility in five and a half years. That is why its officers are fabricating the excuses that the land mafia is stopping them from doing the work," he said, echoing the views of other farmers in the area.
A top official with the MED, who did not want to be named, said the "land mafia" had created problems indirectly in one or two places, but that was not the only reason irrigation has yet to be installed.
The MED has been unable to coordinate the many companies involved in the project, he added.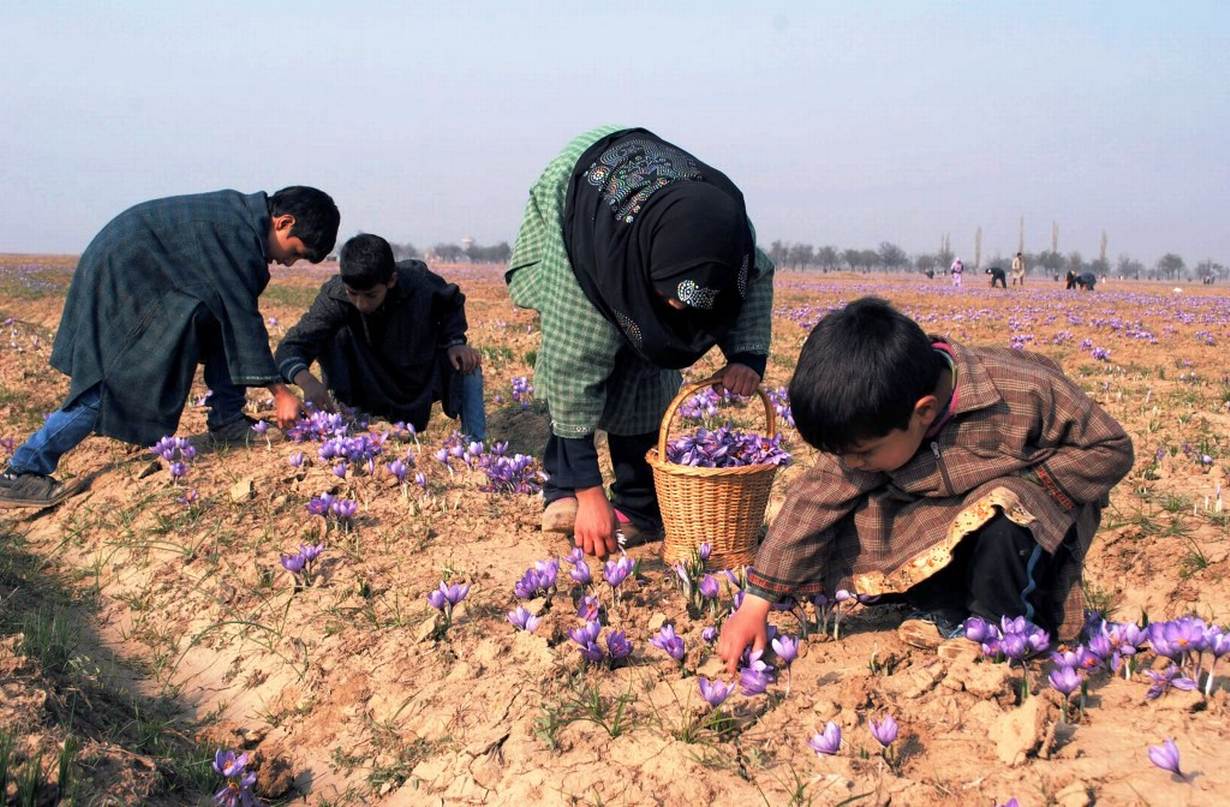 WATER CRITICAL
Agriculture director Andrabi said 2,135 hectares of saffron-growing land - of a total of 3,715 hectares - were being rejuvenated by helping farmers restore soil health with better use of fertilisers, introducing the latest seed varieties, planting more seeds, and acquiring new technology.
Farmers have received INR 25,000 for each eighth-of-an-acre plot on which they adopt modern methods, he added.
Even with this financial support, farmers said improved technology and seeds made no difference because their crop was suffering due to a lack of irrigation.
Nahvi, who has carried out extensive research on saffron and helped the government design the revival plan, said saffron yields are falling because of the irrigation problem.
Until 1999-2000, Kashmir received well-distributed precipitation of 1,000 to 1,200 mm per year, in the form of rain and snow, but that has now decreased to 600 to 800 mm, he added.
"Creating irrigation facilities was the critical part of the project because we have observed in recent years that it doesn't rain when the crop needs the moisture," he said. "In any part of the world, farming is unthinkable without water."
($1 = 68.5655 Indian rupees)
(Reporting by Athar Parvaiz; editing by Megan Rowling. Please credit the Thomson Reuters Foundation, the charitable arm of Thomson Reuters, that covers humanitarian news, women's rights, trafficking, property rights and climate change. Visit http://news.trust.org)
Our Standards: The Thomson Reuters Trust Principles.