"Land titles have been issued to villagers with help from the company"
By Chris Arsenault
KAMPONG SPEU PROVINCE, Cambodia, Nov 29 (Thomson Reuters Foundation) - Like spots on a leopard's hide, small wooden houses and tiny fenced plots dot the sprawling Grandis Timber teak plantation in western Cambodia.
Investing in a swathe of land almost double the size of Manhattan, the timber giant is opting to allow residents and families to stay on the property where they have lived and worked for generations.
Rights groups have criticized many large land deals in the Southeast Asian nation, saying the concessions resulted in the displacement of more than 770,000 Cambodians.
In contrast, nobody has been forced to move by Grandis Timber, company spokesman, Nico Strydom, told the Thomson Reuters Foundation.
Backed by European investors, Grandis Timber built its plantation around the people already living on 9,000 hectares (22,000 acres).
Grandis Timber leased the land from the government, Strydom said.
"The underlying argument for this is that the company will experience a lower level of risk if neighbours are happy," he said in an email.
Appropriately, Cambodian officials call it the "leopard skin strategy" as it creates a patchwork of residents and companies working side by side.
Analysts say this should be the way for Cambodia to balance its economic growth with local land rights.
"In the long term, companies should be very happy with their investments in Cambodian land, even if they lost some due to the leopard skin policy," said Chan Sophal, director of the Centre for Policy Studies in Phnom Penh.
"Grandis Timber seems to stand out as one of the good models," Sophal said.
FROM THE GROUND UP
The concession sits about 80km (50 miles) west of the capital, in forests previously burned down by small farmers in a rush for land.
Developed in 2009, the land is now covered with small teak trees. Grandis Timber, which has a 50-year lease, does not expect to make a profit from its investment for more than 20 years as the trees are still growing.
"This company has a long-term plan," said Yim Nam, deputy director of the provincial agriculture ministry.
The firm has set aside land as protected forest and works with local villagers to combat illegal logging, Nam said.
"They obey the laws and have better conditions than other projects," Nam said. "Land titles have been issued to villagers with help from the company."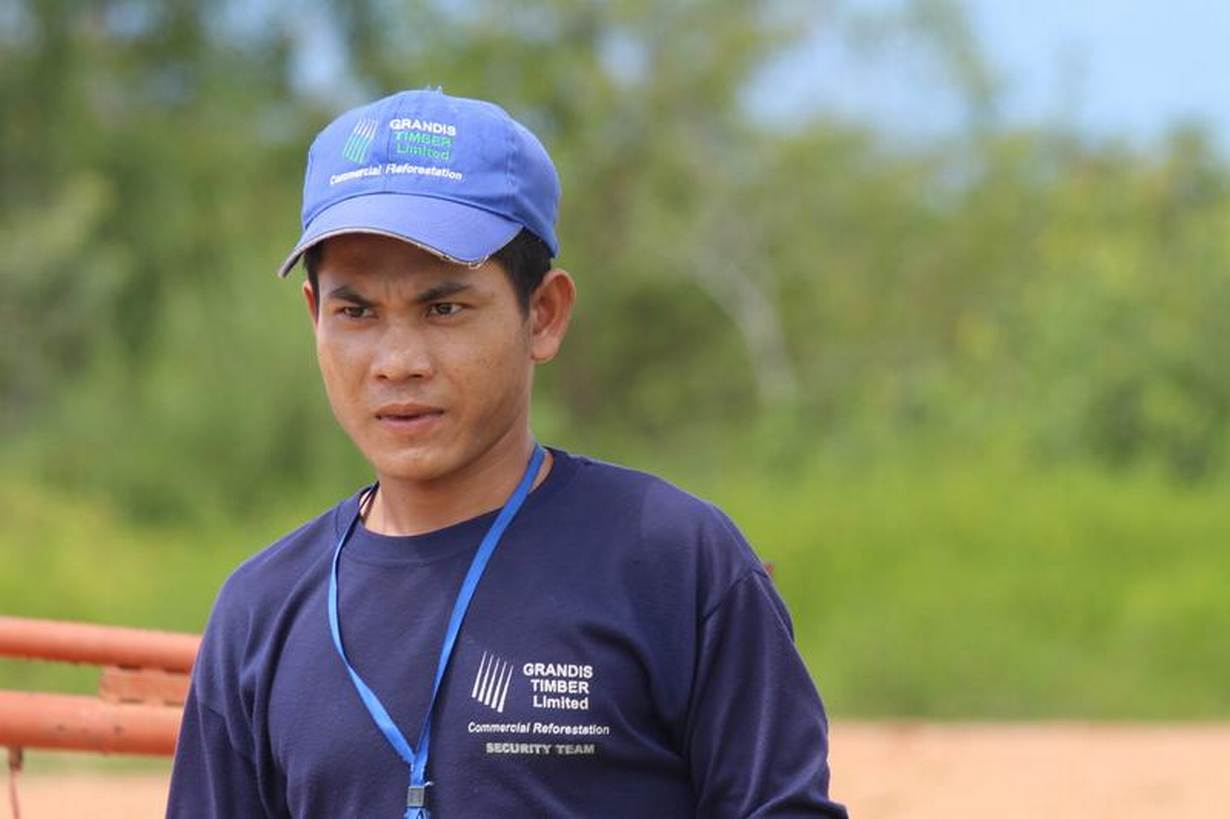 DANGEROUS LEGACY
When Grandis Timber first arrived, most people in the area did not have formal land title deeds.
Following the Khmer Rouge genocide that began in 1975, most of Cambodia's land records and traditional systems of property demarcation were destroyed.
Maoist fighters forced millions of people into the countryside in an orgy of violence that left an estimated two million dead.
Officials have been trying to rebuild a system of property ownership, but the process has been slow. Several million farmers still lack formal papers for the land where they live and work, according to government data.
Grandis Timber officials teamed up with Cambodia's government and student volunteers to measure and demarcate the land used by more than 400 households living on its plantation, Strydom said.
"The majority of these (residents) now have legal title to the land," he said.
However, this is not the case for many other farmers. Campaigners say a lack of clear titles is partially responsible for land conflicts nationwide.
"The company measured the land and made a title certificate for me," said Chum Sy, 60, who grows rice and corn on seven hectares (17 acres) inside the concession.
He has lived on this land since before the Khmer Rouge but had never owned the territory officially until the company came.
"It protects me from being encroached on by other groups," he said.
Some houses inside the concession stand on sturdy stilts and are colourfully painted in the local style, owned by small businesses or successful farmers.
Others are shacks fashioned from scrap wood and corrugated iron inhabited by desperately poor farmers and day labourers.
This level of poverty is common in rural Cambodia, a country where - despite rapid economic growth - the average annual income is less than $1,100, according to the World Bank.
Sy Seng, 56, lives with eight relatives in a wooden structure with no walls. He is not familiar with the leopard skin strategy, but is happy to have a title for his 1.5 hectare plot.
"My daughter works for the company earning about $4 per day. We would be happy if the company hired all of us," Seng said.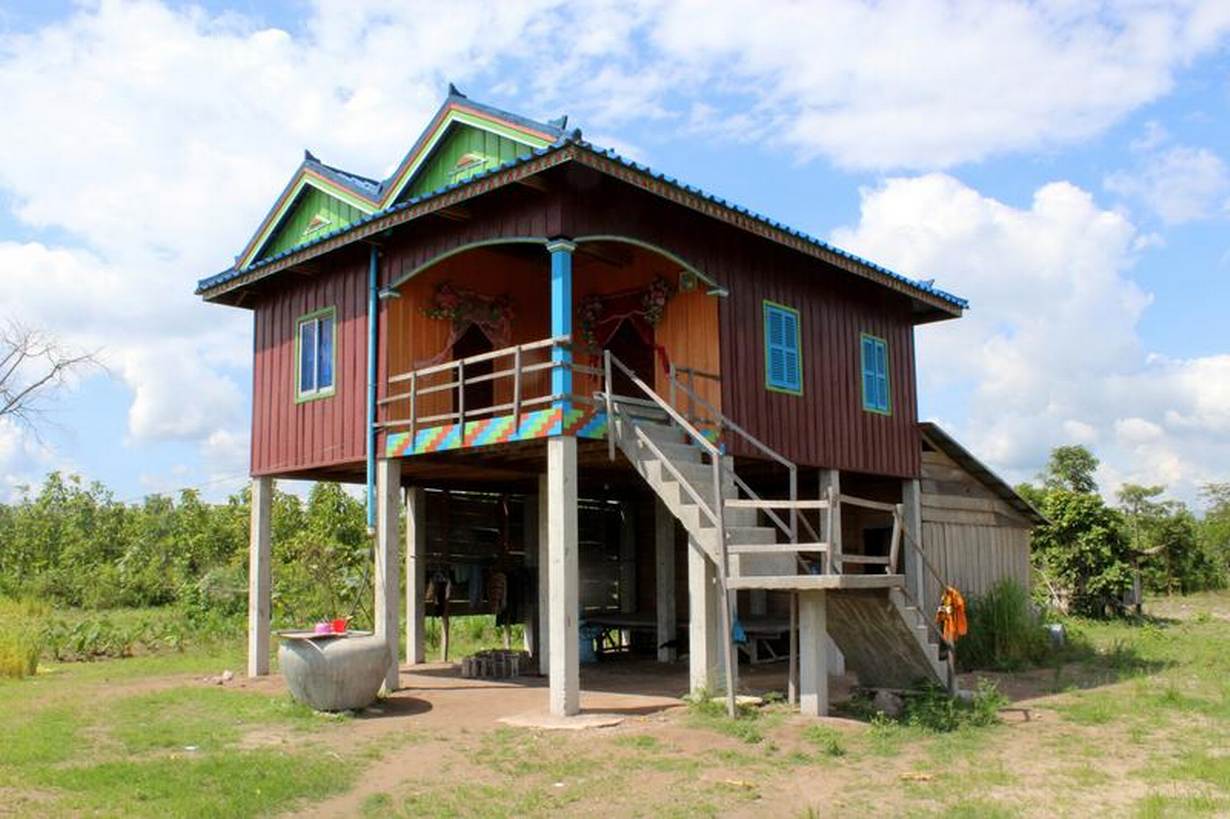 Grandis Timber employs more than 1,000 local residents, some as day labourers and others on a monthly wage, said Nam, the agriculture ministry official.
He hopes more firms will invest and use the leopard skin policy so rural residents can work and keep their land.
Sim Sam, 27, lives with his wife and child in a modern wooden house near the entrance of the concession. He runs a business selling cold drinks and food to labourers working on the site, after inheriting the home from family members.
He complained about needing to ask permission from the company to bring products from the market into his store but added that most of his customers work for Grandis Timber.
"Lots of customers come in the evening when they finish work," said Sim. "I think things will keep getting better in the future."
Travel support for this reporting was provided by OpenLandContracts.org, an initiative of the Columbia Center on Sustainable Investment.
(Reporting By Chris Arsenault, editing by Jo Griffin and Paola Totaro; Please credit the Thomson Reuters Foundation, the charitable arm of Thomson Reuters, that covers humanitarian news, women's rights, trafficking and climate change. Visit news.trust.org)
Our Standards: The Thomson Reuters Trust Principles.