Longer hours of unpaid work to gather scarce water, firewood and food are putting women – and their paid jobs – at risk
By Andrew Mambondiyani
MARWENDO, Zimbabwe, Jan 6 (Thomson Reuters Foundation) - Rhoda Mhlanga looked tired.
Even so, Mhlanga, who lives in a remote village in eastern Zimbabwe, managed to smile as she served food to her customers - mostly long-distance truckers traversing the Mutare-Chiredzi highway.
She serves food 12 hours a day at her small eatery in the Tanganda business centre - but it wasn't the day job that was overwhelming her.
It was the double shift so many women around the world face - their paid work as shift one, and the second shift of hours of unpaid, domestic work they are often expected to do in addition.
For Mhlanga and many other women, that unpaid work has been steadily increasing over the past few years for what may seem like a surprising reason: climate change.
Over the past decade, Zimbabwe has received erratic rainfall, which experts have linked to climate change. That makes agriculture more unsustainable and unpredictable.
The droughts have taken a toll on the country's agriculture-based economy. Crops and livestock, starved of water, have died, leaving many families food insecure.
During last year's drought, one of the most devastating in decades, over 4.5 million Zimbabweans were left without enough food.
Life has become especially difficult for many people in rural areas, particularly women who are traditionally responsible for providing food, water and firewood for their families.
For Mhlanga, the droughts, the lack of stability, and the constant threat of falling deeper into poverty mean she must wake up very early in the morning and not sleep until late at night, balancing her business with providing her family the most basic necessities.
She spends up to three hours a day looking for firewood, she said.
"There are no more trees left around here, and we need to look at new spots. We have no choice; we need to cook for our children," she said.
With only a few drought-resistant baobab, mopani, and acacia trees still standing in her sun-baked area, many women sneak into off-limits areas such as game parks to find wood, risking arrest and hefty fines.
Their efforts are consuming huge chunks of their working hours, making life harder for them and their families.
And as droughts lengthen, the amount of time they can spend on paid work - the kind that shows up in a country's GDP - is shrinking. Meanwhile, unpaid work is growing - a little understood side effect of climate change.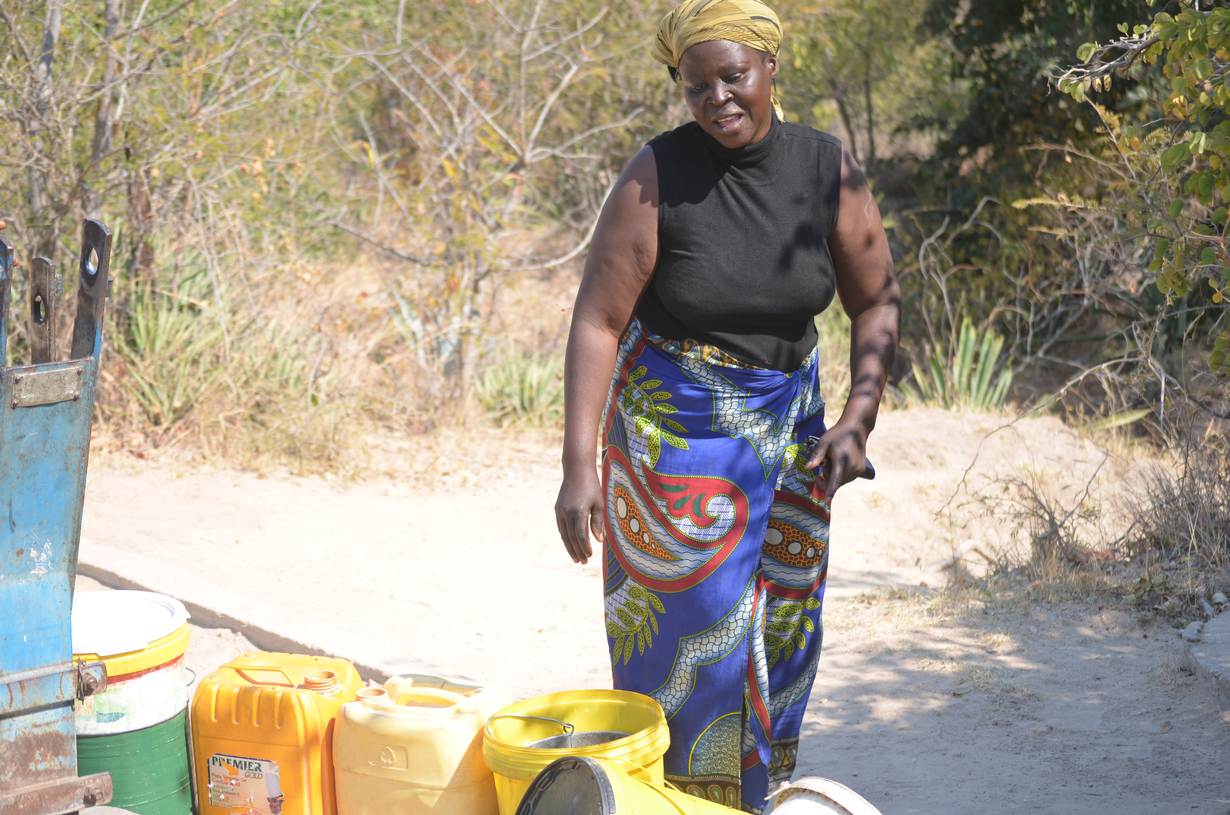 LIVES AT A 'VIRTUAL STANDSTILL'
Until a decade ago, Chisumbanje, which lies about 100 kilometers (62 miles) south of Tanganda, was a thriving cotton and maize farming region. Now it's essentially a desert, and a place where women spend hours, and travel sometimes six miles a day, looking for water, food and firewood.
Because only 40 percent of Zimbabweans have access to electricity, according to the World Bank, many of these families need firewood to cook.
Sekai Siyapeya, who lives in the region, often starts her day at 4 a.m. and goes to bed around 9 p.m. after cooking supper for her family. In the morning she prepares food for her children before they dash off to school, after which she rushes to do odd jobs at Chisumbanje Ethanol Plant.
A mother of nine, Siyapeya ekes out a living doing menial jobs at the plant, but the pay is barely enough to sustain her big family.
A few years ago, before worsening droughts began, Siyapeya and her family could grow their own food and had enough to eat, she said. They also used to grow cotton, which they sold, giving them enough money to take them until the next harvest.
But with the drought, income from cotton farming has dried up, and they cannot grow their own food anymore. Nor does Siyapeya have the time, given her large family and the hours she must spend to find the essentials to feed them, to build skills to find other work.
On the days that she goes to fetch firewood instead of working at the plant, she loses much-needed money as the family breadwinner; her husband is unemployed. But he is also one of the highly traditional men - common enough in rural Zimbabwe - who maintains that household chores are reserved for women.
Society still frowns at men who fetch water or firewood or cook. So while Siyapeya's husband spends most of his time at home, he does not help with domestic work.
Ultimately, men must be part of any solution to cut the time women spend on unpaid work, said local traditional leader Kudzai Mungazi. His wife, Christine Mungazi, wakes at 3 a.m. to look for water before she takes her products, including tomatoes and green vegetables, to sell at her roadside market stall.
"My life is now revolving around looking for water," she said. "At times I don't get the water until 12 p.m., which means I have to bring my wares to the market late in the afternoon. This is affecting my business."
"Without water, our lives have come to a virtual standstill. We can't do any other activity except looking for it," she said.
In the past, the local government helped communities drill boreholes to increase access to water. But Kudzai Mungazi said his family had not received help despite pleas to local authorities.
Effectively dealing with worsening drought, however, may require not just well drilling but efforts to change the traditions that leave women solely responsible for much household work.
"Yes, culturally these duties were part of the daily lives of women. But with these recurrent droughts we should find a way of helping women," said Kudzai Mungazi, who said he helps his wife collect firewood. "The problem of water should not be a women's issue - it affects all of us."
MEN STEP UP?
In an effort to encourage men to help with household work, volunteers trained by international humanitarian organisation World Vision are talking to rural communities, and in particular men, about the importance of sharing housework.
Prosper Hobwana from Farai village in Chipinge district is one such volunteer. During household visits he speaks to villagers on the importance of sharing responsibilities among men and women, pointing to the changing climate and the burdens it is putting on women.
The initiative, launched in 2015, is slowly gaining traction. But Hobwana said there were still resistance.
"Some men still find it hard to help women cooking or looking for firewood because of our cultural beliefs. Men believe these jobs are for women," he said.
Creating effective policies and other interventions to address the problem and improve women's lives and incomes will likely require better data on and understanding of the hours that women spend every day on unpaid work, including what that is "worth" to the economy, experts say.
"An income-generating (government) project targeting women cannot succeed if the women are spending most of their time looking for water or firewood", warned Kudzai Mungazi.
A senior official in Zimbabwe's Statistics Agency (ZimStats), who asked that his name not be used because he was not authorised to speak to the press, said most of the surveys conducted by his agency to measure hours of work were funded by donor agencies.
"At the moment we have not been commissioned to do a survey specifically on unpaid work. I hope soon we might get funding for research on unpaid work," the official said.
He added such data would help the government come up with policy and economic interventions to benefit women.
Eddie Cross, a Zimbabwe legislator and economist, said that quantifying unpaid labour - not just measuring it in hours, but attempting to assign it a market value - would be a daunting task.
"Unless you do a detailed field survey on a comprehensive basis, you can have no idea what women are doing with their time each day," he said. "If you then value that at the minimum wage ($250 a month) the results would be huge - (unpaid work would) probably be bigger than all other economic activities," Cross said.
CLEAN COOKSTOVES
In Africa, collecting fuel for cooking accounts for up to an hour each day for many women, said Corinne Hart, director of gender and humanitarian programmes for the Global Alliance for Clean Cookstoves.
"Women can spend up to five hours per trip and sometimes have to sleep overnight in the forest because they have travelled so far," she said.
More widespread use of energy efficient or renewable energy-powered cooking could help cut the time needed to gather fuel and cook food, she said, pointing to successes in Africa and South Asia.
Many of today's more efficient cookstoves reduce fuel use by 30-60 percent, resulting in fewer greenhouse gas emissions and reducing impacts on forests, habitats, and biodiversity.
Zimbabwe's Finance and Economic Development Minister, Patrick Chinamasa, acknowledged the impact of the current drought on women in the country, and admitted there was no clear government policy to tackle the issues surrounding unpaid work.
He said the government was working towards ensuring the availability of clean water to drought-stricken areas by fixing broken boreholes and sinking new ones, and said the national government, rural district councils and development partners were working to ensure the availability of water in stressed rural communities.
But for Rhoda Mhlanga of Marwendo, working lengthening double shifts remain a reality as Zimbabwe's droughts strengthen.
"Our local river has dried up, and we now have to queue at the local borehole for water for drinking and other domestic uses," she said - one more hour each day in her already long workday.
This story was produced as part of the Global Gender Parity Initiative journalism project at New America, which explores stories about under-reported gender equality issues, and is supported by the Hewlett Foundation.
(Reporting by Andrew Mambondiyani; editing by Laurie Goering :; Please credit the Thomson Reuters Foundation, the charitable arm of Thomson Reuters, that covers humanitarian news, climate change, women's rights, trafficking and property rights. Visit http://news.trust.org/climate)
Our Standards: The Thomson Reuters Trust Principles.