In the "beating heart" of Addis Ababa, the livelihoods of thousands of entrepreneurial Ethiopians are at threat as land prices spike
By Tom Gardner
ADDIS ABABA, Jan 11 (Thomson Reuters Foundation) - Every morning as Addis Ababa wakes up, thousands of men roam the city streets collecting all kinds of recyclable waste, from plastic and clothing to fridges and electrics.
By sundown these men, known as Quralews after their morning refrain calling out for scrap metal, make their way to Minalesh Terra, a highly-organised section of Merkato, the largest open-air marketplace in the Ethiopian capital.
Here craftsmen transform these discarded materials into an array of new goods - from stoves and furniture to household appliances and religious items - for re-sale in city stores, eventually reaching households in Ethiopia's nine regions.
This is the "beating heart" of Addis Ababa, "a place where almost anything you could imagine can be produced, bought and sold", said researcher Bisrat Kifle from the Ethiopian Institute of Architecture, Building Construction and City Development.
A 2013 study estimated nearly 5,000 Quralews, mostly young men, roamed the city as part of the informal industry that supports as many as 300,000 people - from the Quralews to craftsmen, middle men and shop keepers.
But as Ethiopia's capital expands and prime land becomes more valuable - a trend echoed across Africa which has some of the world's fastest growing cities - long-time residents of Minalesh Terra fear there might not be room for them in the district's future.
"The government has seen how valuable this land is. It might now try to take it from us," said Wosene Kassa, representative of one group of recyclers and craftsmen in Minalesh Terra.
FORMALISING THE INFORMAL
Built during the five years of Italian occupation between 1936 and 1941, Merkato - of which Minalesh Terra is the largest, and most informal part - is in dire need of modernisation.
Situated in the capital's elevated north-east, most of its ramshackle buildings in tightly packed alleys are decades old and made of mud, straw and corrugated iron, creating a health and environmental hazard, according to urban planning experts.
Increasingly, however, government attention has focused on the loss of tax revenue from the market's thriving small, informal businesses and unregistered trade networks.
Formalising the area and legitimising these businesses has been a government objective for more than a decade with a city master plan envisaging a modern multi-storey marketplace but this has not come to fruition.
"It is super ambitious," said Kifle.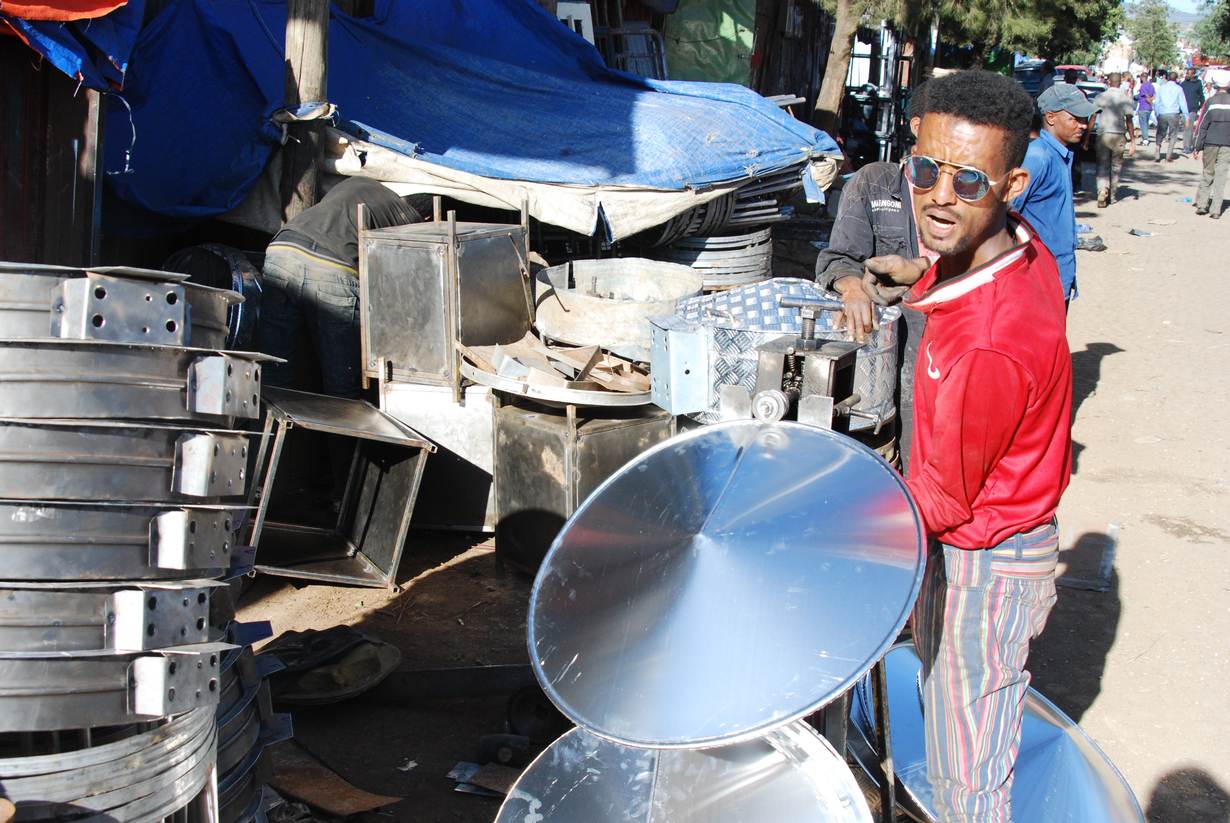 New plans to redevelop the "informal" and "unplanned" parts of Addis Ababa were first announced in 2011.
In Ethiopia all land is owned by the state and, under the project, large plots of city land, including areas long occupied informally, were offered for lease to investors.
Strict rules on how the land could be developed were imposed as were time limits on construction but with a deadline for completion of 2020, the plan sparked conflict, pitting residents against developers and informal traders against investors.
Meanwhile prices in central Addis Ababa hit unprecedented heights with the average price of a square metre of land soaring to 31,850 birr ($1,450) in 2013/14 from 2,000 birr in 2008/09.
"We need to use every square inch of land," said Mathewos Asfaw, general manager of the Master Plan Project Office.
According to housing experts an auction system used to sell land in the city has contributed to the rise.
Last year a record bid of 355,555 birr ($16,000) for one square metre of land in Merkato was made by an investment company, making land in central Addis Ababa some of the most expensive in Africa, according to analysts.
POOR DRIVEN OUT
While many Minalesh Terra traders welcome the prospect of modernisation, they fear these prices will drive out the poor.
Workeneh Legesse, who repairs fridges in Chide Terra, a sub-district on the southern edge of Minalesh Terra, said his father - like himself - worked in the area for over 50 years.
"He thinks the place needs to change. But it needs to be done carefully, otherwise it will be a tool to get rid of us," he told the Thomson Reuters Foundation.
City authorities deny this. Asfaw told the Thomson Reuters Foundation that occupants of Minalesh Terra would be encouraged to continue serving the city.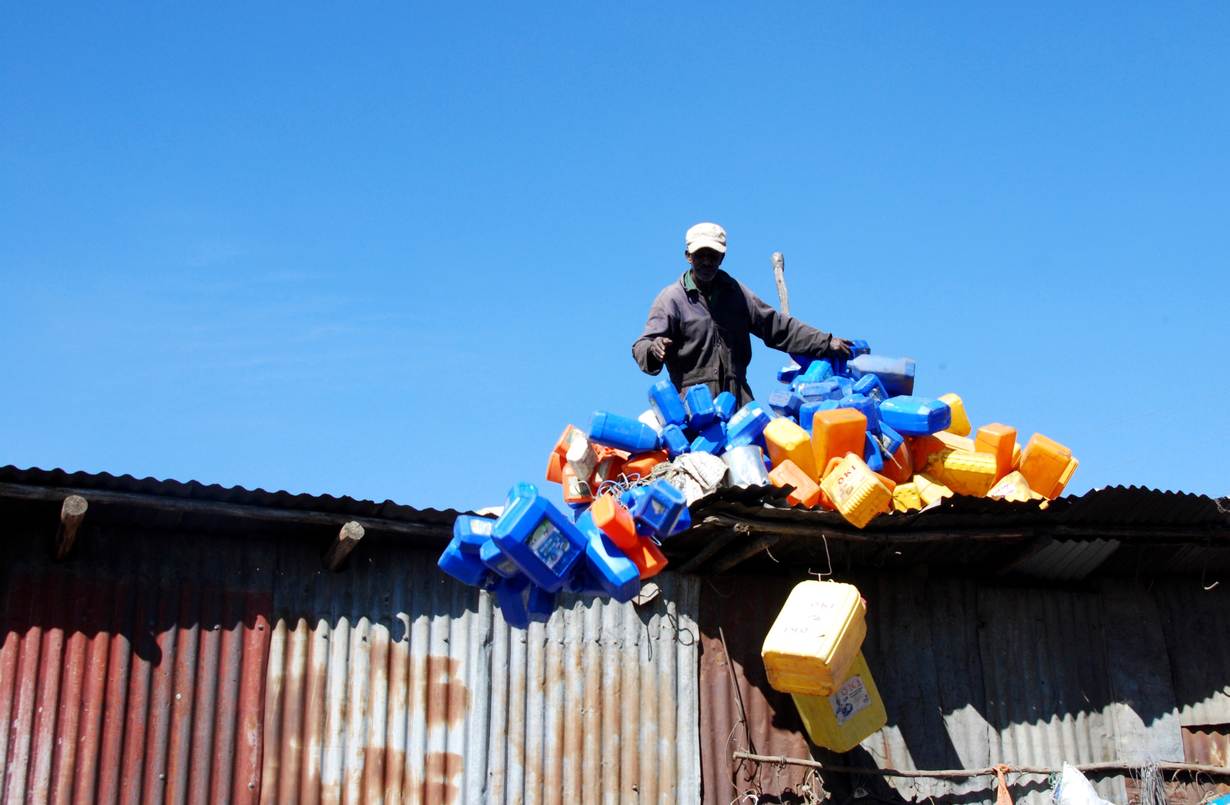 "The area will be upgraded and supported by modern technology and services," he said.
Endale Wagaye, a tradesman who has recycled bottles for three decades, fears his livelihood will disappear if redevelopment pushes ahead without proper consultation.
"The government sees this place only as chaos," he said. "As a citizen it should be our right to develop this place ourselves."
Wagaye has joined many of his fellow traders who have created about 21 local associations - known as share companies in Ethiopia - to try to assert control over development.
His association, of which Kassa is secretary, is known as the Barrels and Bottles Share Company and represents 128 tradesmen who have invested a considerable portion of their savings over the years.
This pooled capital has been used to design a multi-storey mall on the main street of Minalesh Terra which also contains an open-plan workspace for recycling. The local association hopes to have this approved by the authorities next year.
Fasil Giorghis, an architect and academic based in Addis Ababa, said past attempts to bring in big local and foreign investors for mass development of the area "scared everybody".
"The only way to stay in business was for occupants to form associations and propose their own multi-storey buildings," he said, adding the government had encouraged this involvement.
"The authorities favour associations as a policy matter."
While private investors have to bid for land through public auctions, associations are able to seek formal leases for their land at low prices through private negotiation with authorities.
"The government is tempted by the huge amount of money that private leasing brings but but politically their instincts are with associations," Kifle said.
($1 = 22.3300 birr) (Reporting by Tom Gardner, Editing by Paola Totaro and Belinda Goldsmith; Please credit the Thomson Reuters Foundation, the charitable arm of Thomson Reuters, that covers humanitarian news, women's rights, trafficking, property rights and climate change. Visit news.trust.org)
Our Standards: The Thomson Reuters Trust Principles.