"What we're opposed to is austerity and more cuts to refuges and services for women"
By Sally Hayden
LONDON, June 2 (Thomson Reuters Foundation) - Activists occupying part of a former women's prison in London said they want a women's centre and housing for the local community built on the historic site, not luxury apartments.
Holloway Prison was the biggest women's jail in western Europe until it was shut last year. Inmates over its 150-year history included British suffragettes and female fighters from Ireland's Easter Rising.
"What we're opposed to is austerity and more cuts to refuges and services for women," activist Niku Archer, 24, told the Thomson Reuters Foundation on Friday.
"Once you're in the prison system it's hard to get out, and there aren't enough services supporting women who are survivors of both domestic violence and prison."
After the jail was closed, the British government appointed property consulting company Bilfinger GVA to manage the land and advise on its sale. Activists believe it will be sold off as real estate because of the high cost of property in London.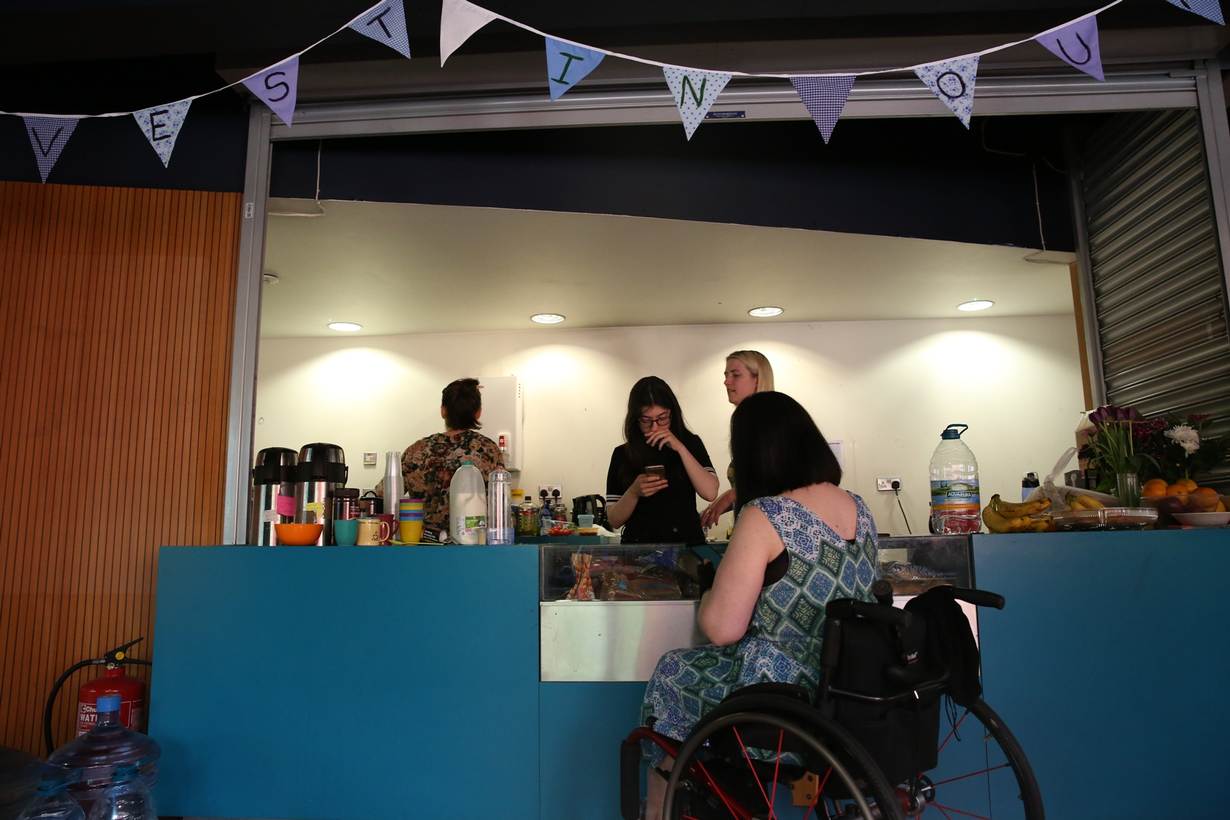 The site has attracted attention from opposition leader Jeremy Corbyn, who called it the "biggest opportunity" to alleviate a housing shortage in the area - his parliamentary constituency where he is running for re-election in Britain's June 8 vote.
On Saturday, members of Sisters Uncut, a direct action group with a few hundred London members that protests against cuts to women's services, got into the former prison's visitors' centre by climbing through a broken window.
At least a dozen have been sleeping there throughout the week, organising activities including quilting, yoga, boxing, and talks from campaign groups supporting sex workers, asylum seekers, and fighting for more social housing.
Nandini Archer, 25, said they want the visitor's centre to be turned into a women's centre, and the main site to be used for affordable housing. Her mother taught writing workshops in the prison when it was still open.
"It's a site of a lot of violence. It has quite a sad history. The suffragettes were here," Archer said. "There is a real local hope that it could be turned into something positive."
Another protester, 29-year-old Li Hitchen, told the Thomson Reuters Foundation the Conservative government's spending cuts were undermining essential social services.
"Anyone who works in the sector can see that it's getting worse. The first things to go are services like refuges for marginalised people," said Hitchen, who used to work for a homeless charity.
"I believe very strongly in public space being used for public good. The space has such a violent legacy as well so it's even more important."
(Reporting by Sally Hayden @sallyhayd, Editing by Ros Russell.; Please credit the Thomson Reuters Foundation, the charitable arm of Thomson Reuters, that covers humanitarian news, women's rights, trafficking, property rights, climate change and resilience. Visit http://news.trust.org)
Our Standards: The Thomson Reuters Trust Principles.