Felling of trees to widen roads is worsening the city's air pollution and putting health at risk, residents say
By Saleem Shaikh and Sughra Tunio
ISLAMABAD, Dec 11 (Thomson Reuters Foundation) - A decade ago, artist Suleman Shams left Lahore and moved his family to Pakistan's tree-lined capital, drawn by the city's green and peaceful character.
Two years ago, however, the 41-year-old developed asthma and today can't go outside his home without wearing a mask over his nose and mouth.
As the capital has expanded, with construction of ever more homes and businesses and with roads being widened to accommodate growing traffic, the city's legions of trees are disappearing, Shams and other residents say, leading to worsening pollution and rarer rain.
"Since 2013, I have seen Islamabad losing its green grandeur as trees are fast vanishing from the city, making it only a dusty city," Shams complained.
But residents are now pushing back.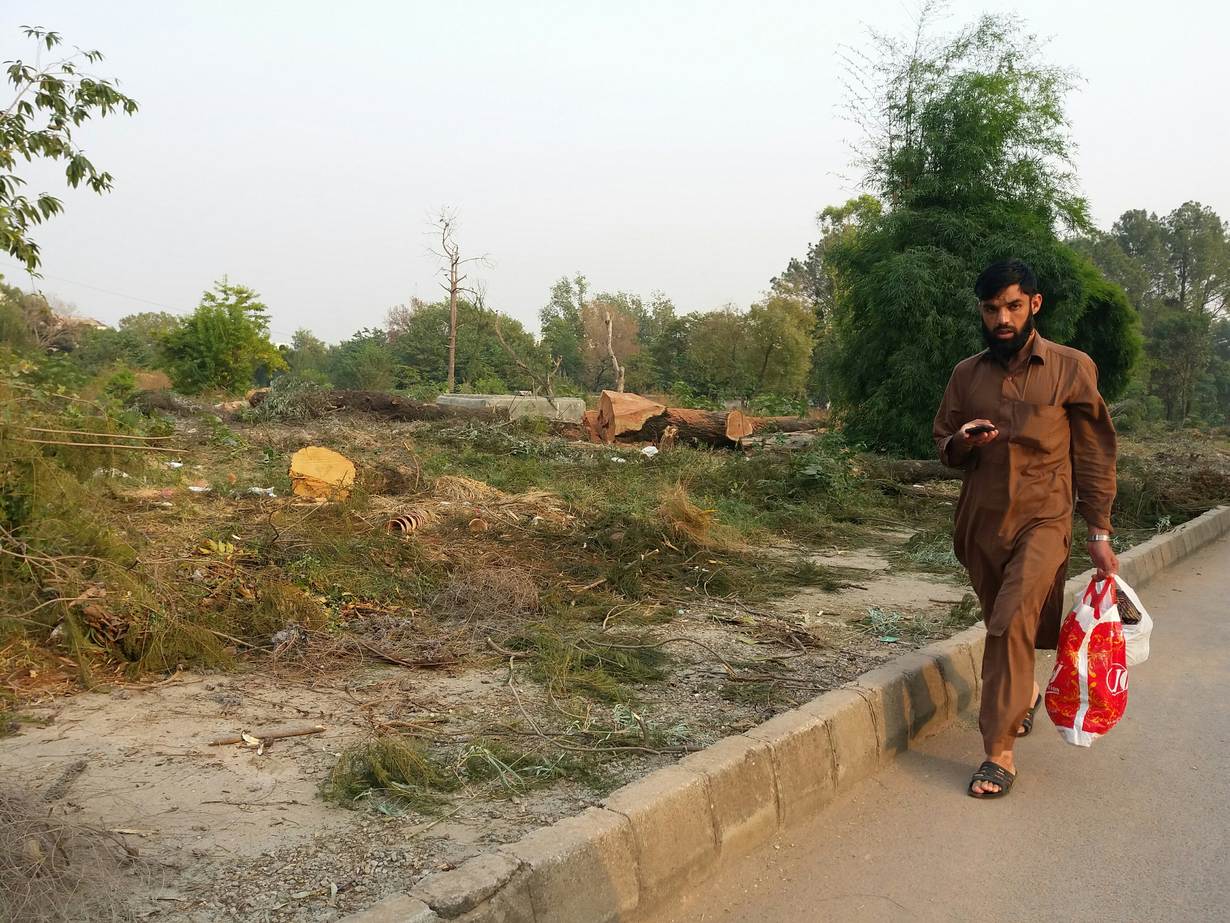 After authorities in October cut down more than 200 mature trees in 24 hours to make way for the expansion of Attaturk Avenue, near the Prime Minister's office, the National Commission for Human Rights, backed by the Supreme Court of Pakistan, stepped in to halt plans to cut more than 400 additional trees on the project route, in response to public outrage.
The Supreme Court called for the commission to hold an inquiry into whether such tree cutting was legal, and ordered the suspension of Suleman Sheikh, the Islamabad Capital Development Authority's director-general for environment.
The human rights commission, which sits under the Federal Law and Human Rights Ministry, directed the authority to look into purchasing machinery to transplant trees up to 14 inches in diameter rather than fell them.
In a telephone interview with the Thomson Reuters Foundation, Sheikh said he now believed such a purchase was a good idea.
"As construction, road expansion and other development activities will inevitably continue to happen in the future to accommodate rising number of vehicles and people coming from surrounding towns and villages, for the authority owning such a transplanting machine is now a must to protect the capital city's green character," he said.
Saving trees, he said, is "vital for keeping air quality from deteriorating further".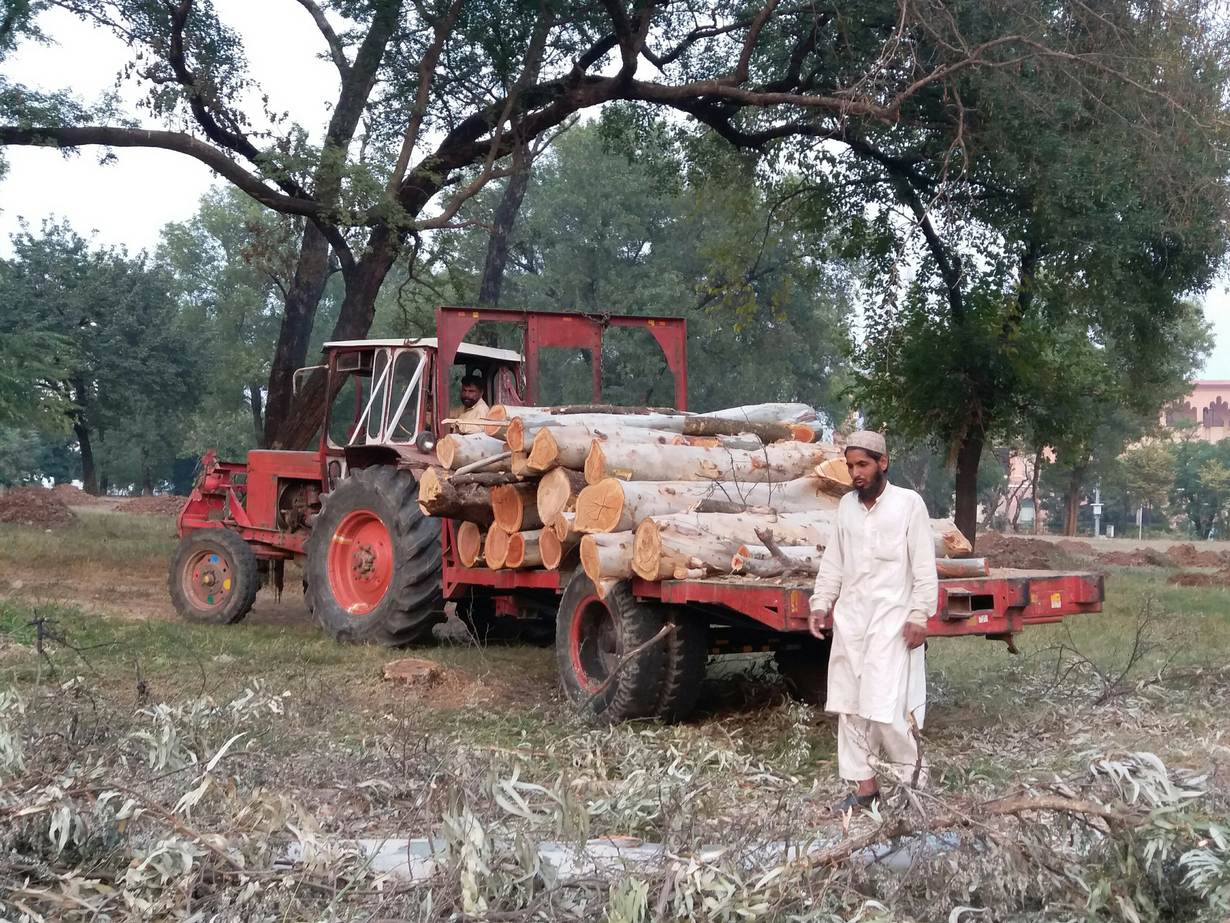 TREE PLANTING
Asad Kayani, a planning and design expert at the Capital Development Authority, said the body was planting more than 2,400 saplings across the city to compensate for the trees being cut.
But tree felling protestor Shumaila Nawaz said the new saplings – five to seven feet tall – could not make up for the loss of hundreds of 30- to 40-year-old trees, which are better at absorbing air pollution and regulating rainfall.
"The new tree saplings, even if honestly planted by the authority, will take another three to four decades to be equally able to yield environment and health benefits for the city and its residents," she told the Thomson Reuters Foundation.
"Taking down old trees and planting new small trees elsewhere in the city is not going to help address the worsening state of air quality of the capital city," she said.
According to a 2015 report published the Lancet medical journal, nearly 22 percent of annual deaths in Pakistan – or around 311,000 each year – are caused by air pollution.
Another 2017 study, by the U.S.-based Health Effects Institute, noted that fine particulate in the air – a particularly problematic pollutant known as PM2.5 – had risen sharply in Pakistan in recent years.
Dr. Munawar Khan Mahsud, a lung specialist at the Pakistan Institute of Medical Science, said he had seen increasing complaints of lung problems and respiratory infections in recent years, a period when tree cutting in Islamabad had been on the rise.
Today about 5,000 to 8,000 patients at the institute, the largest state-owned medical facility in Islamabad, seek treatment for respiratory problems each year, up from 400 to 500 a year in 2001, he said.
He attributed the increase to a "rising number of vehicles, rampant tree cutting and dust particles from soaring construction activities in and around the city".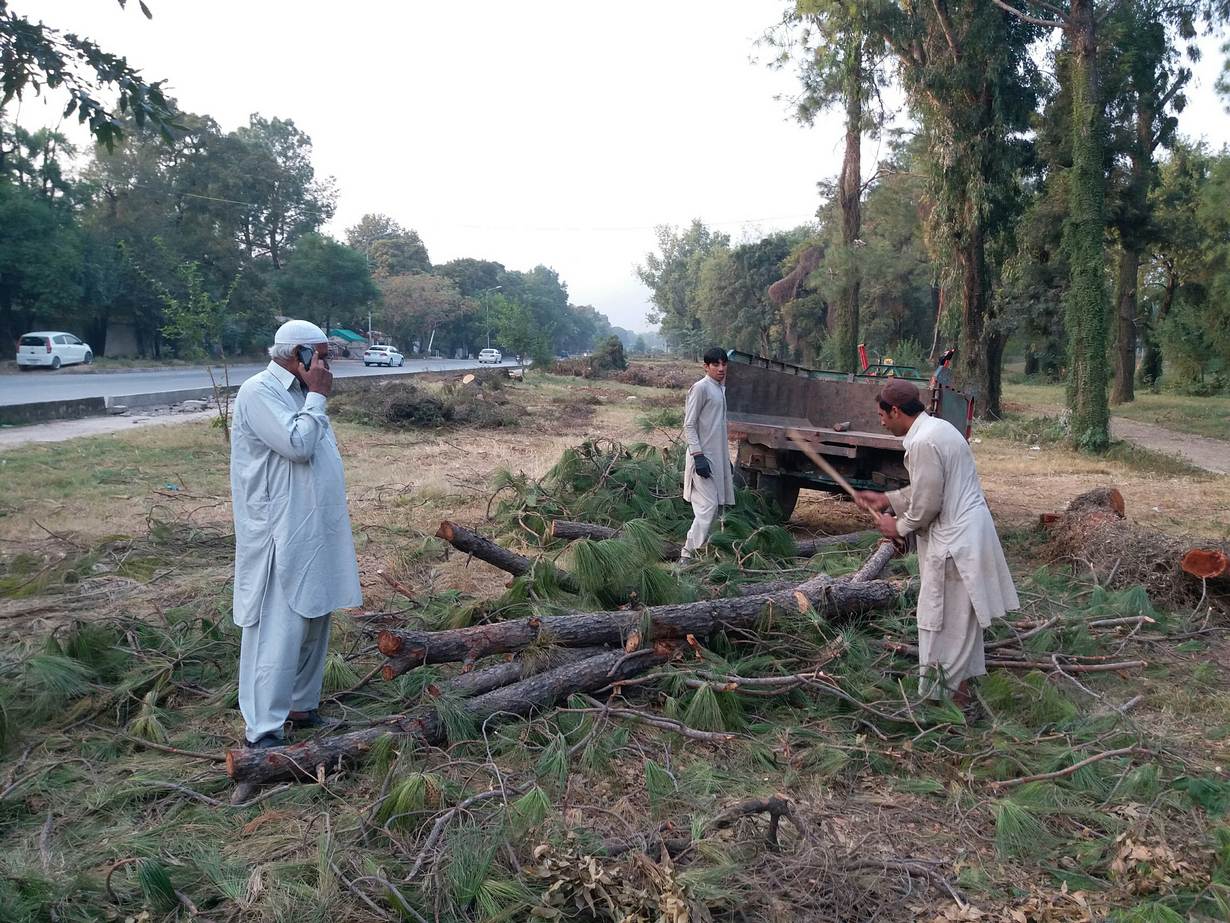 'NO LONGER SUSTAINABLE'
Riffat Naseem Malik, an environmental scientist at Quaid-e-Azam University in Islamabad, said tree cutting protests have helped the capital's authorities realise that prioritising development projects at the costs of trees was no longer sustainable.
Shams, who joined the protests against tree cutting, said the occasional tree has always been taken down in the city to make way for development.
But in the last three or four years, as growing numbers of trees have been cut to make way for expansion of the bus network, roads and overhead bridges, air quality has noticeably worsened and sky-clearing rains also have become rarer, the artist said.
"How can one remain unmoved and let the enemies of trees and environment play havoc with the health of people and the environment of the city?" he asked.
Protesters are saying "we will not put up with them chopping down trees in the name of development projects and devastating our lives", he added.
(Reporting by Saleem Shaikh and Sughra Tunio; editing by Laurie Goering :; Please credit the Thomson Reuters Foundation, the charitable arm of Thomson Reuters, that covers humanitarian news, climate change, resilience, women's rights, trafficking and property rights. Visit http://news.trust.org/climate)
Our Standards: The Thomson Reuters Trust Principles.