Protests have erupted in recent years as evictions from forests and farm land have risen to make way for mines and power plants
By Rina Chandran
CHIANG MAI, Thailand, May 17 (Thomson Reuters Foundation) - Visitors to Chiang Mai, the heritage town in Thailand's north famed for its glittering Buddhist temples, were greeted this month by green ribbons tied around trees lining the city centre.
The ribbons, and street protests in Chiang Mai and in Bangkok, are the latest demonstrations of rising anger with the military government's policies that activists say are forcing farmers off their land and denying rights to forest dwellers.
In Chiang Mai, residents protested the building of luxury government houses in a forest; in Bangkok hundreds marched to demand justice for those removed from their land and an end to intimidation of activists.
"Farmers and villagers are being prosecuted for farming our land and living in the forest, which we have done for generations," said Prateeb Rakhangthong of the Southern Peasants' Federation of Thailand.
"The government is giving land to industries, and claiming to conserve the forests by charging us with trespassing and removing us from the land we have always lived on," he said resting under a tarpaulin tent at a protest site in Bangkok.
About a third of Thailand's 69 million people depend on land for a living, but 10 percent of the population owns about 90 percent of private land, according to rights groups.
Protests have erupted in recent years as evictions from forests and farm land have risen to make way for mines and power plants that villagers say are hurting the environment and their livelihoods.
The ruling junta, which took power in a 2014 coup, has unveiled plans for about a dozen large industrial zones, and introduced a Forest Reclamation Policy that activists say targets indigenous communities without formal titles.
Government officials have said the forest policy aims to increase forest cover, that the Special Economic Zones that it will create are key to faster growth, and that surveys to determine community land rights are ongoing.
"People wanted to see something completed in one or two years," Wanchai Sornsiri, a spokesman of the government's Political Reform Committee, told a news conference.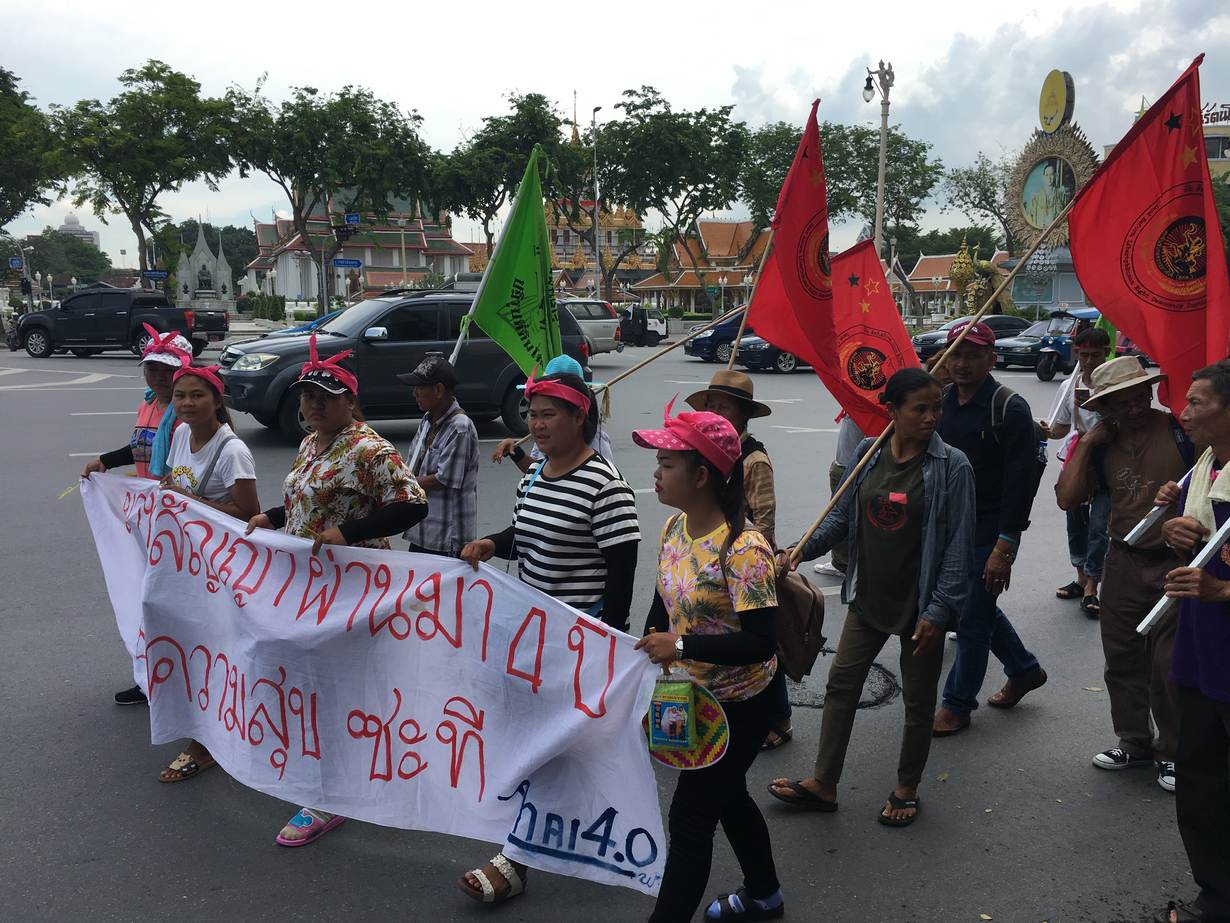 INEQUALITY
Traditionally, Thai households had secure usufruct, or user, rights to agricultural land, meaning they could claim only as much land as they could cultivate themselves.
The result was "a rather egalitarian distribution of land", said Jessica Vechbanyongratana, a professor of economics at Chulalongkorn University in Bangkok.
Major reforms in 1901 granted property rights only to those with title deeds, leading to the concentration of securely deeded land primarily in urban areas and some farm land in the central plains, she said.
"Ironically, the attempt to make land rights more secure had the unintended consequence of making land rights insecure for the majority of households ... and is the historical root of current land inequality," Vechbanyongratana said.
Over the years, the government designated land in the provinces as national forest reserves, depriving many communities of their customary rights.
Under a 2010 deal by the Abhisit Vejjajiva government, 50 communities were promised collective rights. But subsequent administrations failed to honour this commitment.
Protesters in Bangkok this month, led by The People's Movement for a Just Society, or P-Move - which represents farmers, the urban poor and people who have been forced from their land - demanded a resumption of collective titling.
"The growing numbers of protests is a result of the military government's policies to centralise land, forest and natural resources management without consulting with local communities," said Sutharee Wannasiri at lobby group Fortify Rights.
"Moreover, land rights activists have to operate under laws which severely restrict their fundamental freedoms, while the criminal prosecutions of forest and rural communities have put several in prison," she told the Thomson Reuters Foundation.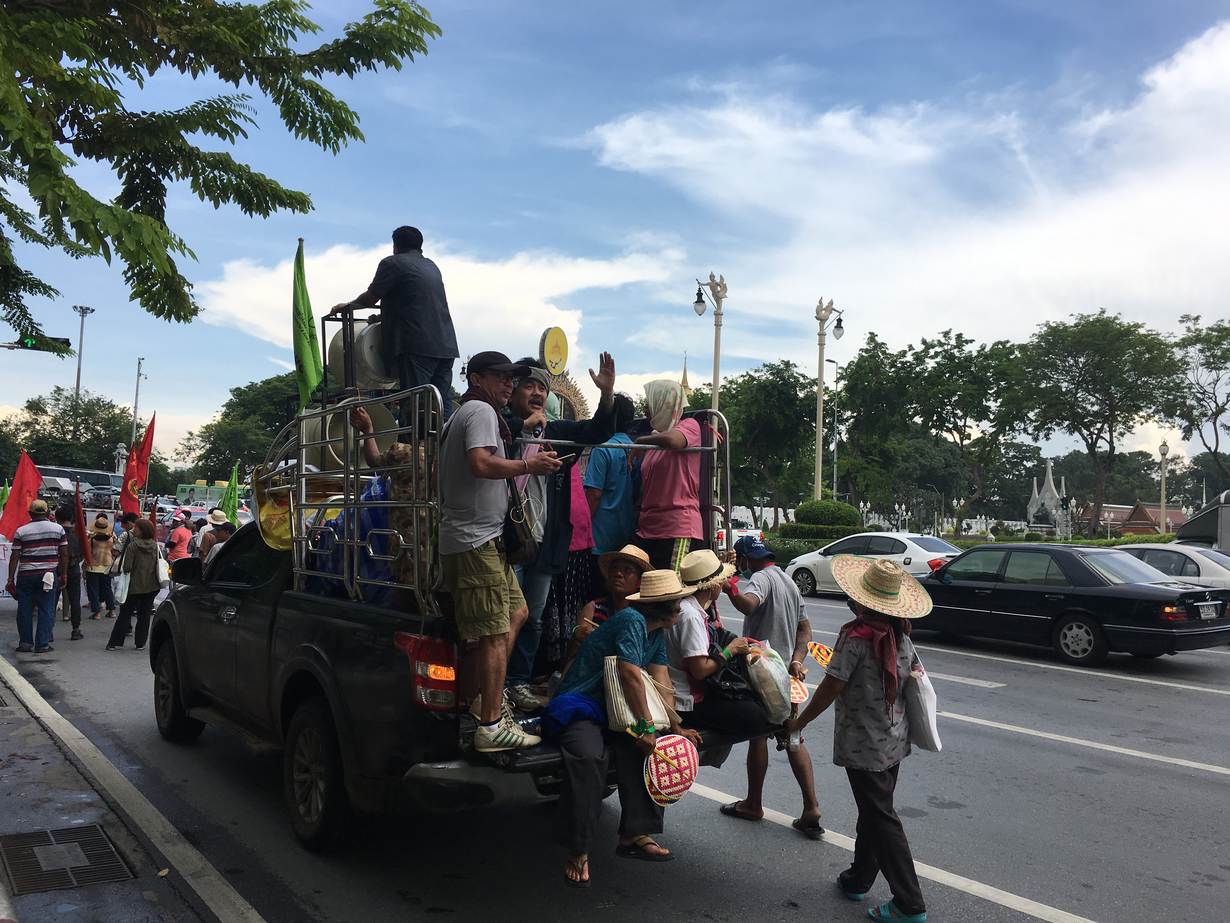 COMMON GOALS
Thailand was rocked by often deadly, on-off street protests between 2008 and 2014.
The ruling junta has banned public gatherings since it took power in a 2014 coup, saying it was necessary to keep the peace ahead of a promised general election.
Since then, protesters face more intimidation, with women activists at greater risk of violence and harassment, according to rights groups.
But the protests are also drawing younger, urban people, and bringing together fragmented groups, said Pranom Somwong at rights group Protection International.
"People have got better at mobilising and organising, with various movements joining forces because they realise they have common goals," she said.
In a novel protest earlier this year, activists with We Walk set off from Bangkok to reach Khon Kaen in northeastern Isan province about a month later, campaigning for democracy, as well as reforms in education, healthcare and land rights.
"People usually go to Bangkok to protest, but we wanted to take the power from Bangkok to the provinces, where people are truly struggling," said Nutthawut Uppa, one of the walkers, in the northern town of Phitsanulok.
"Land rights are critical because so many still depend on land for their livelihood. Without land there is no security, no life," he said.
In Chiang Mai, street protests that erupted in April over luxury housing for judges in the foothills of the sacred Doi Suthep mountain were among the biggest since 2014.
Faced with more unrest in one of the country's most popular tourist stops, the government backed off last week and said no one would live in the housing estate, and that the area will eventually be restored to the forest.
Protesters in Bangkok also appeared to have scored a victory, ending demonstrations after coming to an agreement with the government on administering community rights.
"The government wants to solve problems for every group among all Thai people," said government spokesman Sansern Kaewkamnerd.
P-Move leaders said they would resume protests if the government failed to honour its pledge.
"We want a community title for our land," said Thongpoon Songma of the Isan Land Reform Network, as he prepared to leave Bangkok.
"This land was passed down by our grandparents, and we want to give it to our children and grandchildren without fear of it being taken away. We will not rest till we get the title."
(Reporting by Rina Chandran @rinachandran, editing by Katy Migiro. Please credit the Thomson Reuters Foundation, the charitable arm of Thomson Reuters, that covers humanitarian news, women's rights, trafficking, property rights, climate change and resilience. Visit news.trust.org to see more stories.)
Our Standards: The Thomson Reuters Trust Principles.