Small farmers in Brazil are bolstering organic food production amid rising health and environmental concerns over industrial farming
By Karla Mendes
PLANALTINA, Brazil, June 21 (Thomson Reuters Foundation) - Every week, farmer Thiago Kaiser fills his truck with dozens of boxes of organic food to be delivered directly to those who will eat it in Brasilia, Brazil's capital city.
Kaiser is one of a growing number of Brazilian farmers paid by customers to grow organic fruit and vegetables through a shared-production system.
His farm does not sell any of its produce on the open market, including restaurants and supermarkets.
"We have our co-farmers, who are the people who finance our planting. It is a relationship of trust," Kaiser told the Thomson Reuters Foundation beside a vegetable garden on his family farm in Planaltina, some 34 miles (55 km) from Brasilia.
"When you go to the supermarket, you choose what you are going to eat ... Our co-farmers don't know what we'll deliver to them," he added.
Organic agriculture has grown in popularity around the world in recent years, amid rising health and environmental concerns over industrial farming, and pressure for more sustainable use of soil, water and other natural resources, according to a 2017 report published by Codeplan, a state-run company that carries out development work in Brazil's Federal District.
Growing demand for food low in fat and sugar makes fruit and vegetables key weapons in the battle against obesity and malnutrition, giving an extra boost to the organic market.
The model adopted by Kaiser, known as "Community Supported Agriculture" (CSA), is a system in which local residents finance and participate in food production.
The farmer calculates the cost of producing food for a group of people, who pay a monthly fee. They agree to buy seasonal vegetables and fruits, and to split the costs of crop failure.
"If we can produce a good harvest of lettuce, they will receive two, three or four lettuces - but if I have a problem with rain and cannot produce lettuce, they will also understand," Kaiser said.
Organic fruit and vegetables are delivered to collection points on a weekly basis, but customers can also visit the farm, take part in decisions about what to plant, suggest new crops and help with the harvest themselves.
"For people with children, we say it's priceless," said agronomist Abilio Vinicius Barbosa Pereira.
"Children grow up knowing the name of the food and placing value on food, on land and on the environment in practice."
Pereira joined a CSA group in his Brasilia neighbourhood in November, and pays about $80 per month. Since then, his children are eating far more fruit and vegetables.
"We visit farms, and my children recognise the name of the plants, and are encouraged to eat vegetables children usually don't want to eat," Pereira said.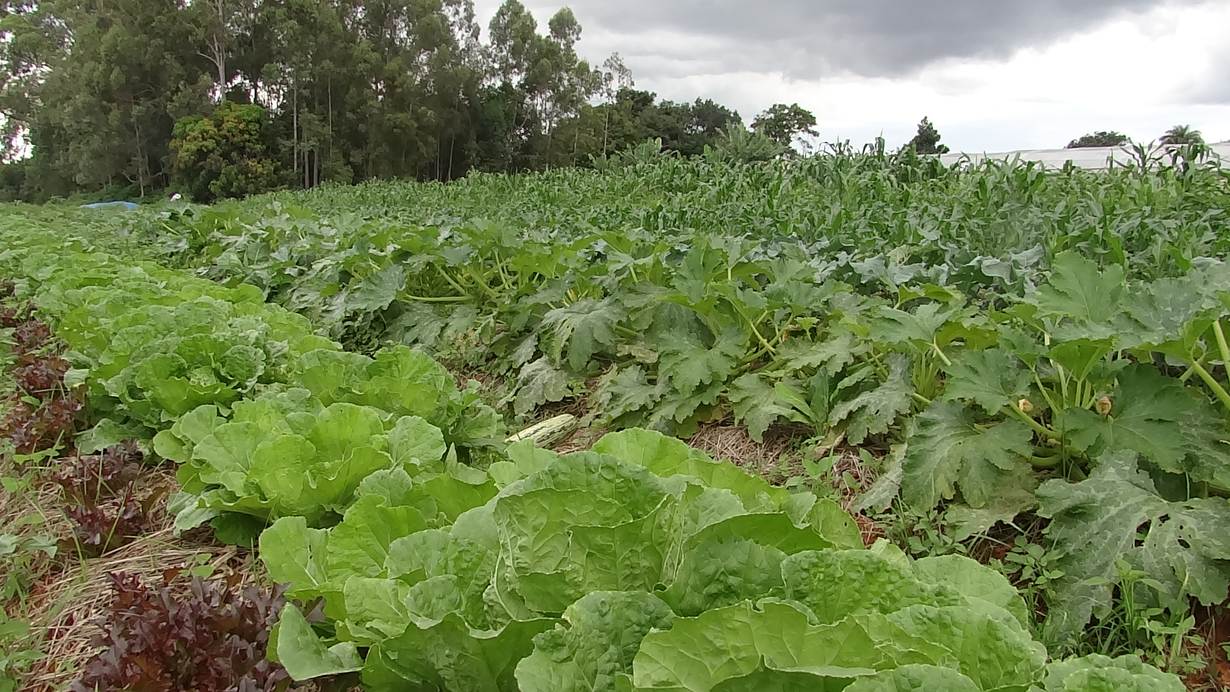 GROWING MARKET
Brazil's organic food sales reached some 2.5 billion reais in 2016 ($663 million), with annual growth of 20-30 percent, according to the Codeplan report. About 70 percent of organic production is exported to Europe.
Organic production represents the fifth largest supply chain in the Federal District, where Brasilia is located, making about 30 million reais per year, according to Codeplan.
"There is rising consumer awareness about the importance of eating healthily," said Ana Maria Resende Junqueira, agronomy professor at the University of Brasilia (UnB).
In cities like Brasilia, where per-capita income is highest, the price of food comes as low as fifth in consumers' list of concerns, she noted.
"The main concern is food contamination. Eighty percent of people seeking organic food do it because of health issues," Junqueira said, citing a 2017 survey on organic food consumption in Brasilia she co-authored.
Lower-income families are also showing an interest. But organic crops still cover just 2 percent of planted land in one of the world's top agricultural nations, she added.
Would you pay farmers directly for your food instead of shops?

This community scheme in Brazil cuts out the middleman - consumers pay a monthly fee to become 'co-farmers' and get a monthly fruit and veg selection in return. Read the full story here: https://t.co/hFcOvFVD85 pic.twitter.com/cXcOE8FLlc

— Thomson Reuters Foundation News (@AlertNet) June 21, 2018
"CRAZY"
Small farmers like Kaiser are bolstering organic food production in the Federal District. But it is an uphill task amid agribusiness dominated by monoculture and chemical inputs. Kaiser remembers the first organic crop on his family's farm: green pepper, a vegetable normally grown using high levels of pesticides. His neighbour told him he was "crazy" and would not produce anything.
"When I showed the green pepper to him without a drop of pesticide he could not believe it. It's a culture change," said Kaiser.
About 80 farms across Brazil produce organic food on the CSA model, introduced from Germany. They supply some 100 consumer groups, while another 20 are being set up, according to Wagner Santos, executive director of CSA Brasil, a non-profit group behind the shared-production model.
About 5,000 "co-farmers" are involved in the CSA projects, while 15,000 people receive the organic food they grow.
Given the high cost of organic farming in Brazil, the potential for consumers to finance it is important, said Junqueira.
At the same time, they can oversee the production process, and get to know the farmer and the land in person.
"They know the origin of the products and the farmer has a guaranteed sale," said the academic. "Both sides win - and society wins, because it's a production system that preserves the environment and respects seasonality."
($1 = 3.7708 reais)
(Reporting by Karla Mendes; Editing by Megan Rowling. Please credit the Thomson Reuters Foundation, the charitable arm of Thomson Reuters, that covers humanitarian news, women's rights, trafficking, property rights, climate change and resilience. Visit http://news.trust.org to see more stories.)
The Thomson Reuters Foundation is reporting on resilience as part of its work on zilient.org, an online platform building a global network of people interested in resilience, in partnership with The Rockefeller Foundation.
Our Standards: The Thomson Reuters Trust Principles.