The promise of instant cash meant developers were able to tempt Maasai to sell their ancestral land, often far below market value
By Kagondu Njagi
KAJIADO, Kenya, Nov 26 (Thomson Reuters Foundation) - Five years after Naponi Taiko's husband died, his relatives chased her and the couple's two children off their parcel of land in southern Kenya.
Back then, Taiko was in her late teens. Today, aged 44 and with a further three children, she works in a bar in one of the rugged entertainment joints that dot Kajiado, a town about 50 kilometres (31 miles) south of the capital Nairobi.
The bar pays her 5,000 Kenyan shillings a month ($50), of which about a fifth goes on rent for a single room. That does not leave much for food and school fees for her children.
"I am helpless. I go to people looking for handouts. Sometime I get, sometimes I do not. My salary cannot sustain me and my family," Taiko told the Thomson Reuters Foundation.
Taiko is from the Maasai tribe and, if she still had her 90 acres near the village of Osilialie, would have a large herd of cattle grazing on it, ensuring her future. But that land is gone - her husband's relatives sold it to a developer in 2011.
Landlessness is a widespread problem in Kenya's pastoralist communities, said Ole Timoi, programme manager at Dupoto-e-maa, a community-based organisation that has worked with the Maasai since 1993 on education, infrastructure and land.
In 2014, more than 70 percent of pastoralists interviewed said they had sold land; less than a third of those had used the proceeds to buy more land, according to a study by Youth Empowerment Support Services (YESS), a local non-profit.
The YESS study also found that 22 percent of interviewees would sell their land if they needed to, and that half knew of people who had sold land and who were now destitute.
Timoi said the promise of instant cash meant developers were able to tempt Maasai to sell their ancestral land, often far below market value. After years spent living in poverty, many Maasai are easily convinced, he said.
Yet once they spend the cash - mostly on alcohol and concubines - they have nowhere to go, he said. Many end up begging in towns or engage in cattle rustling, charcoal-manufacturing or poaching.
"It is leading to a collapse of the pastoralist lifestyle. Communities who have lost land through sales are facing a crisis that they cannot easily recover from," said Timoi.
The solution, he said, is zoning, where Maasai communities agree to amalgamate their joint holdings and then decide which parcels to use for grazing, and when.
Zoning is not a legal status, he explained, but a practical strategy for the community. Joint use of the land precludes it from being sold to developers, and also means it is not over-grazed, which protects livelihoods in times of drought.
Today more than 3,000 Maasai pastoralists with about 30,000 acres of communal land use the zoning system in Kajiado County, he said, with land sales down 5 percent as a result.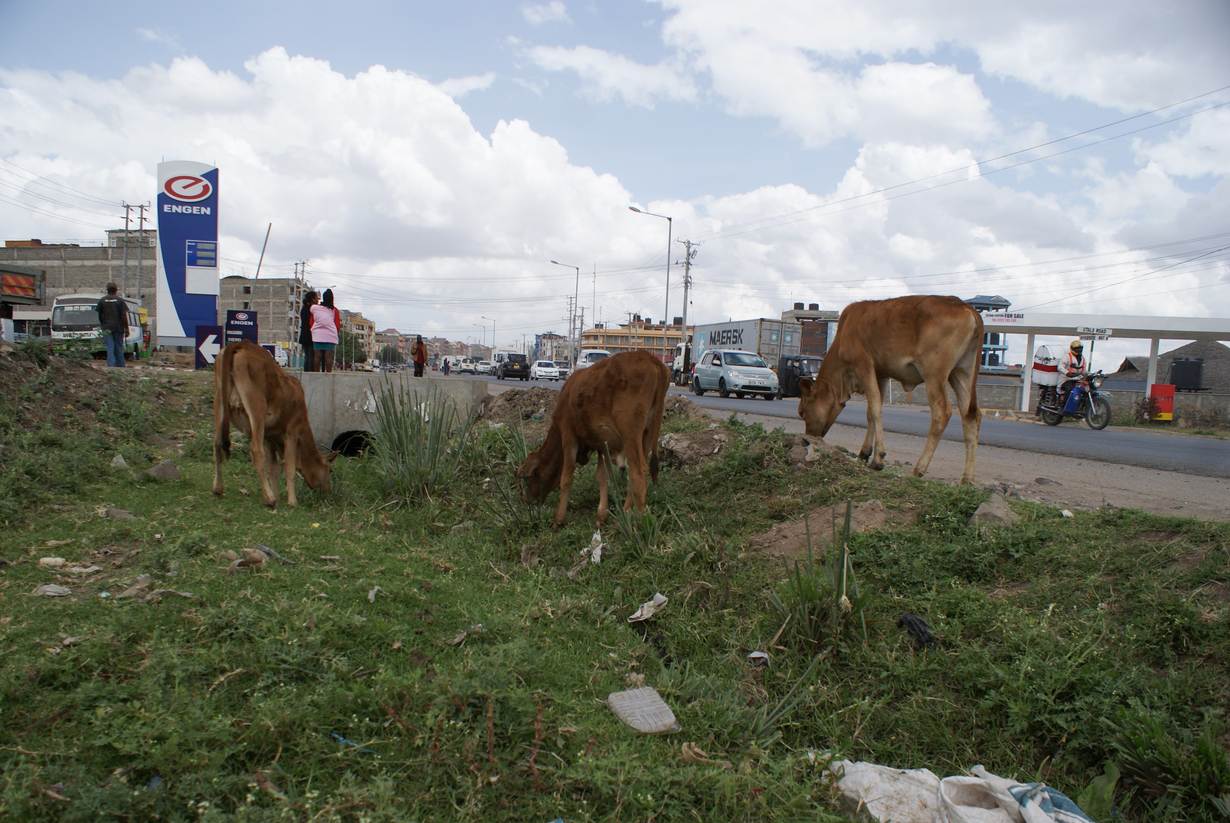 DECLINING HOLDINGS
The YESS study found that households in Kajiado County once owned about 534,000 acres of land in the 1920s, but that this number had declined to 474,000 by 2014. Most was sold to developers in the last two decades.
But the issue goes back further - to the 1960s when Maasai communal land was combined into so-called group ranches.
That allowed the Maasai, who still owned their parcels of land, to access government loans while maintaining their lifestyle, the YESS study noted. The group ranch was used as collateral.
But when some members were unable to repay their debts, the government's Agricultural Finance Corporation threatened to auction their land, the study stated. Some Maasai secretly sold their land to pay off their loans, which angered others.
As a result, the group ranches were subdivided. That ensured indviduals could get freehold title to their acreage, and the result was a surge of land sales to developers, said Maasai elder Julius Ntiang'au.
Group ranching is no longer practised because it leads to the land being divided and sold, said Ntiang'au.
The constitution recognises pastoralist land as community land. It can be owned under the customary land tenure system, where pastoralists sharing an identity - like belonging to the same clan - can own it collectively, said Ntiang'au.
"This is good for us because under this system, we are able to enjoy a vast grazing territory, where we can move freely with our livestock," he said in a telephone interview.
The challenge, though, is that the communal system can lead to conflict over rights like pasture and water, he said. When that happens, those who feel aggrieved can divide the land, taking their share as an individual or as part of a group - then sometimes selling that land.
"This is why some clans are improvising zoning - to ensure pasture is well managed and that each member enjoys grazing rights peacefully at their territory," he said.
Some Maasai - like the clan of 26-year-old Lemarpe Sankari from Ooilen village - have retained their 1,500 acres of land in community ownership, despite being approached to sell by developers.
Timoi's organisation persuaded the families to keep their land as a community asset for grazing livestock, amid repeated drought and water stress.
"We agree to graze our cattle in a section of the land until the grass is almost finished. Then we move to the next section, and the next. Before we return to the first section, the grass will have grown again," said Sankare Tarankei, a local priest.
Timoi said the zoning system removed the desire to sell "because it is owned by the community".
"Scarce resources like water are also shared by as many community members as possible," he said.
ONGOING TENSIONS
Much of the Maasai land sold in recent decades has been used for homes, entertainment venues and to grow crops, said Tarankei.
"About a decade ago all this used to be pastoralist land," said Tarankei, sweeping his hand to demonstrate a vista of modern homes.
"It has all been bought."
These days when herders try to graze livestock near this privately owned land, he said, they are chased away.
"Sometimes there are conflicts as herders force their way into private property to graze their livestock. These tensions will continue for a long time because drought is also degrading grazing land," he said.
Back in Kajiado, barworker Taiko is hopeful that some of her late husband's land will be returned to her. To that end she filed a case in 2016 with the National Land Commission, a government agency that mediates disputes.
But she faces a lengthy wait - cases typically take at least five years.
"I am fighting for my children. We do not deserve this suffering," she said.
(Reporting by Kagondu Njagi; Editing by Robert Carmichael and Zoe Tabary. Please credit the Thomson Reuters Foundation, the charitable arm of Thomson Reuters, that covers humanitarian news, women's and LGBT+ rights, human trafficking, property rights, and climate change. Visit http://news.trust.org to see more stories.)
Our Standards: The Thomson Reuters Trust Principles.