"Tourism is booming, but we are excluded. And we are worried that we will lose the cases and be removed from here"
By Rina Chandran
RAWAI BEACH, Thailand, Dec 4 (Thomson Reuters Foundation) - When Sutem Lakkao's grandmother and father died, they were buried much as their ancestors had been: on the beach, close to their beloved boats so they could listen to the waves and watch over the Chao Lay community of fisherfolk in their afterlife.
But when his time comes, Sutem will be laid to rest in a cemetery where all he will hear is the roar of traffic on Phuket, Thailand's largest island and a key tourism destination.
The land in which Sutem's ancestors were buried now heaves with daytrippers taking selfies, while the Urak Lawoi community of the Chao Lay are confined to a small patch of Phuket's Rawai beach that is also claimed by developers and individuals.
"Our way of life of the olden days is gone - when we could fish anywhere, and we had a connection to the land because of our ancestors' burial site and spiritual shrines," said Sutem.
"We do not have that connection any more," he said standing on the sandy beach of Koh He, a small island off Phuket's southern coast, where his ancestors were once buried.
The Chao Lay, or people of the sea, have lived on the shores of Thailand and Myanmar for generations, fishing and foraging.
Some, like the Moken, are nomadic, spending weeks on the sea and free-diving to spear fish. Others, like the Urak Lawoi on Rawai beach in Phuket, have a more settled life while fishing in the Andaman Sea with their traps of rattan and wire.
They grabbed the world's attention in 2004 when they escaped the devastating Indian Ocean tsunami by fleeing to higher ground when they saw the waters recede.
But the community may be facing its greatest threat yet as marine conservation efforts limit their traditional fishing grounds, and a tourism boom pits them against developers keen on the patch of land that their boats, homes and shrines sit on.

SHARED BY MANY
At the heart of the struggles of the Chao Lay - also known as "Sea Gypsies" - is not just their right to the sea and land, but also a more fundamental question of legality and identity, said Narumon Arunotai at Chulalongkorn University in Bangkok.
"Their culture and traditions are not protected by the Constitution, and they do not have title deeds and permits, so it is difficult for them to assert their claim," she said.
"But they were there long before the tourists and the conservationists. If managed well, indigenous rights can go well with conservation and tourism," she said.
Across the world, indigenous people are fighting for the recognition of their rights to land, forest and water.
While they own more than half the world's land under customary rights, they have secure legal rights to only 10 percent, according to Washington D.C.-based advocacy group Rights and Resources Initiative (RRI).
From Peru to Indonesia, laws aimed at conserving forests are leading to the evictions of indigenous people.
The Chao Lay's right to the sea is even more tenuous as they often lack permits and licences for fishing, and get arrested or fined for straying into newly established marine protected areas or island parks that authorities say are key to conservation.
The Chao Lay in Phuket, which lies about 700 kilometres (430 miles) southwest of Bangkok, face more than two dozen cases related to encroachment of land and trespass of national parks.
Two families on Rawai beach lost their cases, and have to leave the homes in which they had lived for about 40 years.
Four cases have found in favour of the Chao Lay on the basis of DNA evidence culled from old bones, as well as pictures of a 1959 visit to Rawai by the revered late King Bhumibol Adulyadej.
In a separate case, dozens of Chao Lay were injured in 2016 in clashes on Rawai beach protesting a developer who had a land title and a permit to build holiday villas, which villagers said would cut access to their boats and shrines.
Government officials ordered an investigation and a halt to construction, according to a report by advocacy group Human Rights Watch (HRW), which said the Chao Lay had suffered "decades of poverty, marginalisation and discrimination".
"They generally do not assert ownership rights because they believe that land and water should not be owned or controlled by one person, but rather shared by many," said Brad Adams at HRW.
"Yet they themselves face eviction from their ancestral land," he said.
A 2010 Cabinet resolution to respect the traditions of Thailand's Karen indigenous people and the Chao Lay, and to allow them access to national parks, has not been effectively implemented, campaigners say.
A draft law to establish special social and cultural zones for indigenous groups could resolve conflicts over land and sea with shared rights, said Thanyaporn Chankrajang, an assistant professor at Chulalongkorn University.
"The small-scale, seasonal fishing that the Chao Lay practise is not harmful to marine life or the environment," she told the Thomson Reuters Foundation.
"Shared rights in marine national parks can be easily implemented, monitored and evaluated, and help protect the environment, as well as their income."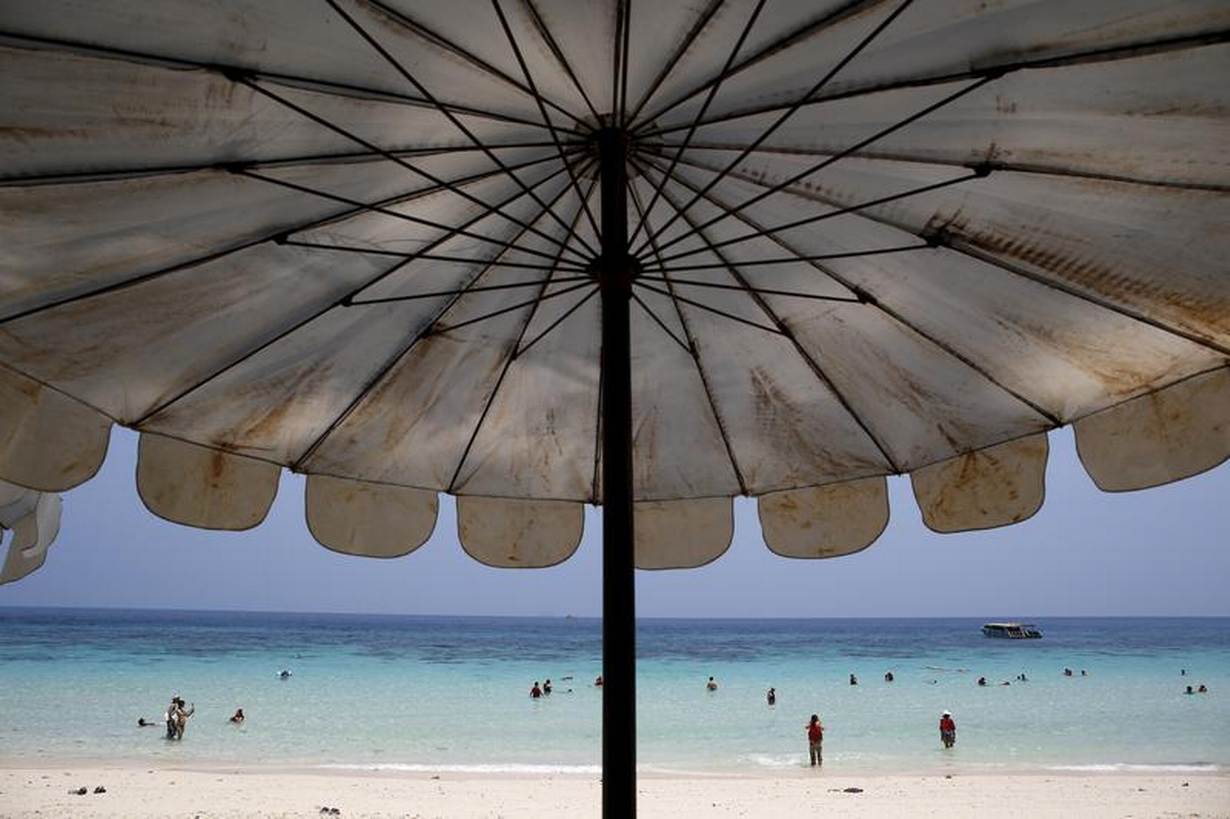 CHANGED LIVES
At the small village in Rawai, the open drains and modest tin-and-wood homes of the Urak Lawoi stand in sharp contrast to Phuket's plush hotels.
Their wooden boats and old-fashioned fishing traps - which can be as big as a small car - are an anomaly amidst the speed-boats carrying tourists for snorkelling and parasailing.
Faced with restricted areas and a dwindling catch because of pollution and overfishing by commercial fleets, more Chao Lay are seeking jobs on land in construction and in hotels, said Ri Fongsaithan, an Urak Lawoi community elder.
"Our lives have changed. We have to go farther and dive deeper to catch fish, and that is affecting our health," he said, looking at children playing noisily in the sea.
"Tourism is booming, but we are excluded. And we are worried that we will lose the cases and be removed from here."
A spokesman at the governor's office in Phuket said the authorities had allocated a site on a nearby island for the Urak Lawoi to move to, but that they were not willing to relocate.
The site is far from the beach and their shrines, said Niran Yangpan, an assistant to the village leader.
"We have already adapted to many changes and challenges, and we are willing to adapt further and respect the law," he said.
"But they must also respect our right to the land and to the sea. It is all we have."
This story is part of a special in-depth series on who owns the oceans - find more coverage here.
(Reporting by Rina Chandran @rinachandran; Editing by Robert Carmichael. Please credit the Thomson Reuters Foundation, the charitable arm of Thomson Reuters, that covers humanitarian news, women's and LGBT+ rights, human trafficking, property rights, and climate change. Visit http://news.trust.org to see more stories.)
Our Standards: The Thomson Reuters Trust Principles.