Akanksha Kumari, 25, has become the first woman engineer to work in Coal India's underground mines - and says she wants to push for social and environmental change
By Anuradha Nagaraj
CHENNAI, India, Sept 2 (Thomson Reuters Foundation) - As a child, Akanksha Kumari woke up every morning in Barkagoan village in India's eastern Jharkhand state to her grandfather returning home with a bag of coal to light the kitchen fire.
That early experience sparked her ambition to enter the world of mining - a job primarily done by men.
Earlier this week, the 25-year-old engineer became the first woman to be hired to work in the underground mines of Central Coalfields Limited, a subsidiary of Coal India Limited, the world's largest coal mining company.
"When I was applying for the job, there was no 'female' option for this role," Kumari told the Thomson Reuters Foundation over the phone from the north Karanpura coalfields.
"I wanted to work in the underground mines and I wrote to all the top brass of Coal India asking for the category to be open for women. It worked and I am very happy I made it through the interview," she added.
Having grown up surrounded by coal reserves, Kumari said she understands both the good and bad sides of mining.
"If there are natural reserves, they will be mined - and if we don't, how will we light up our villages?" asked Kumari, whose parents were both school teachers.
But that doesn't mean her colleagues don't see change coming.
"At my workplace, there are everyday discussions on how to make the switch to green energy, how many years it will take and the need for steady power supply for the people in villages like the one I grew up in. There are no easy answers," she explained.
To meet India's growing power needs, the government is ramping up coal production, setting a target for state-run Coal India Limited to produce 1 billion tonnes annually by 2024, up from about 800 million tonnes now.
At the same time, India - the world's third-largest greenhouse gas emitter - has set targets for 2030 to generate 450 gigawatts of renewable energy, five times current capacity, and to shrink its carbon emissions per unit of gross domestic product by 33-35% from 2005 levels.
Kumari believes it will take her country many decades to switch over to green energy - in the meantime, she thinks all mining companies should focus on the welfare of the people who are directly or indirectly affected by their activities.
"I have seen the challenges faced by people living in the shadows of mines," she said. Problems for locals include environmental pollution, degraded land after mines close and a lack of other job opportunities outside mining.
In college, Kumari volunteered to help families struggling with those challenges - and she still speaks up today for informal women labourers panning or digging at mining sites.
"The welfare of people has to naturally be woven into the workings of mining companies. Many already do it and the process has to pick up pace and be ongoing. Everyone should benefit."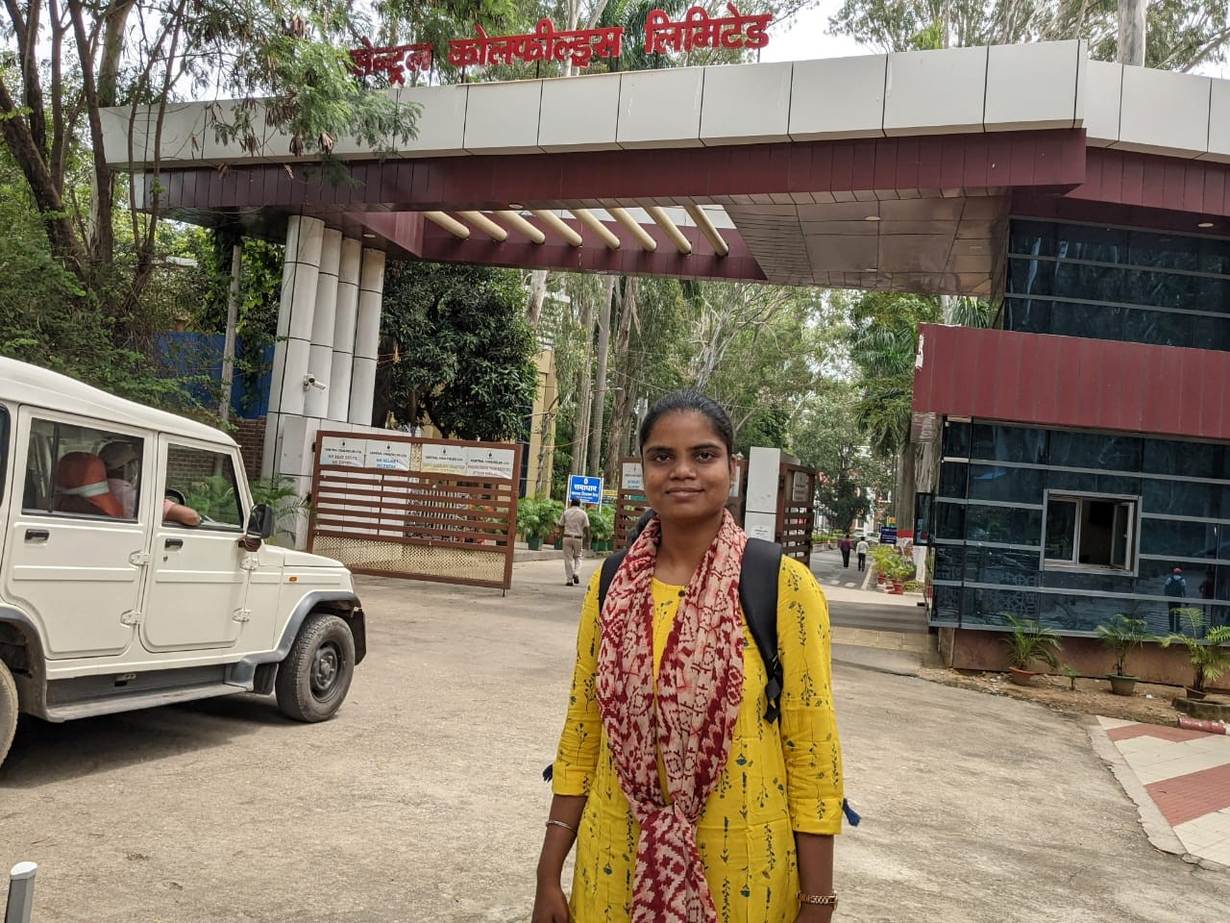 SUSTAINABLE MINING?
India's coal ministry has a sustainable development plan in place that includes the treatment and use of surplus mine water for irrigation and drinking purposes in and around mining areas.
It also promotes eco-tourism and leisure facilities on former mine sites and encourages bamboo plantations along coal transport routes and near thermal power plants.
Kumari is also on a personal mission to motivate girls from the school she studied at to dream big and enter the workforce instead of marrying right after finishing college.
"I have been inundated with congratulatory calls and that is when I realised the significance of my achievement," she said, adding that for the first time her mother had brushed aside fears of her working underground and felt proud.
"I want to use this opportunity to question so many things around me - early marriage of girls, environmental issues around mining, my well-meaning colleagues expecting me to come out of a mine before sunset. And then I want to find solutions."

Read more:
Parched villages in India's coal-mining hubs hunt for scarce water
Bucking global shift to cleaner energy, Zimbabwe digs deeper into coal
India's coal mining ambition hurts indigenous group, Amnesty says
(Reporting by Anuradha Nagaraj @AnuraNagaraj; Editing by Megan Rowling. Please credit the Thomson Reuters Foundation, the charitable arm of Thomson Reuters, that covers the lives of people around the world who struggle to live freely or fairly. Visit http://news.trust.org)
Our Standards: The Thomson Reuters Trust Principles.