The inflation diaries: Turks are cutting spending to the bone, with little hope of relief from soaring living costs in the coming months
By Beril Eski
ISTANBUL, July 25 (Thomson Reuters Foundation) - As the tourist season gets into full swing in the Turkish Riviera town of Kas, cafe owner Pelin Miskioglu would normally be busy dealing with crowds of customers sitting down to a traditional Turkish breakfast.
The resort is a popular destination for the country's middle classes who enjoy starting their day with a leisurely brunch, which often includes bread, olives, eggs, jams and cold cuts.
But as living costs soar, Miskioglu said many of her regulars can no longer afford to travel for a beach holiday, and those visitors who do arrive are cutting back on spending.
Read more: The Inflation Diaries series
"Breakfasts have become a luxury. People can only afford to eat one meal outside, maybe only drinks," said Miskioglu.
Annual inflation has soared to 24-year highs of nearly 80%, according to official data, while academics and researchers at the independent Inflation Research Group say the true figure is more than double that.
A precipitous slide in the value of the lira has fuelled Turkey's inflation crisis.
Surging prices have made ordinary goods a luxury. Some 45% of people said they could no longer afford red meat and 36% cannot buy vegetable oil, according to a survey of 638 Istanbul residents in March by the city's municipal authorities.
Businesses are also suffering. Miskioglu has had to lay off five of her 11 employees, simplify her menu and increase prices. The cost of a full breakfast has risen to 170 Turkish lira ($9.58) from 85 lira last year.
"Until this year, we hadn't changed our prices during the season. This year, we're increasing them for the fourth time," she said.
"But we're not out of the water yet."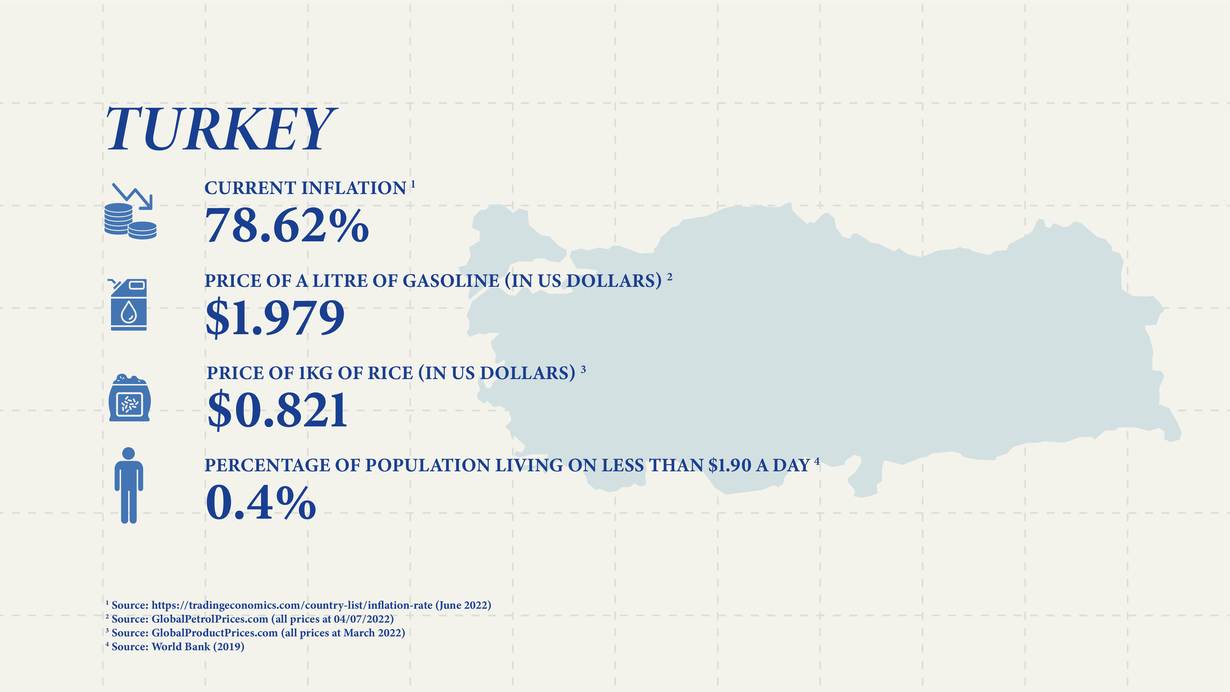 UNCERTAIN FUTURE
Elsewhere in Kas, hotel and bar Onur Ardic has also been hit by the crisis.
"I have had to increase prices more than the inflation because I cannot see what tomorrow will bring," said Ardic.
"People used to come here and relax. This year, they all talk about the price of fuel ... Even the conversations have changed."
Countries around the world have been facing rising food and fuel costs, largely driven by the impact of the Ukraine war and the COVID-19 pandemic. These have served to compound Turkey's woes.
President Tayyip Erdogan has rejected the raising of interest rates in order to cool inflation, saying that interest is contrary to Islamic principles.
Increases to the minimum wage over the past six months have provided some relief for about 10 million low-paid workers, but wages are still failing to keep pace.
The impacts have been felt across society.
In Istanbul, zero-waste cafe owner Ozge Kiris said her regular customers have disappeared as they can no longer afford to eat out. Now she mainly serves expats who earn in foreign currency.
Erdogan has called for "patience" and predicted Turkey will be relieved of the burden caused by inflation by February or March next year.
In Kas, however, Miskioglu does not share his sense of hope as she considers her small business.
"I don't think we will be able to survive this," she said.
($1 = 17.7530 liras)
Explore our interactive map below for more stories about the human impact of the cost-of-living crisis in our three-part series on The Inflation Diaries
More from Part Two of The Inflation Diaries series:
Brazilian small businesses struggle to survive as food prices rise
Interest rate hikes add to Polish families' inflation pains
Inflation-weary Zimbabweans forced to find sidelines to survive
Tunisians struggle to buy basics as prices rise, economy crumbles
Rising costs leave Spaniards feeling isolated and anxious
(Reporting by Beril Eski; Editing by Sonia Elks. Please credit the Thomson Reuters Foundation, the charitable arm of Thomson Reuters, that covers the lives of people around the world who struggle to live freely or fairly. Visit http://news.trust.org)
Our Standards: The Thomson Reuters Trust Principles.